Osmile ED1000 - Lone worker solutions for Enterprise security management up to 50 lone workers
Osmile provide lone worker solutions at a very low cost, 1 Osmile lone worker alarm APP can manage 50 lone worker watch. Once you purchase Osmile ED1000 lone worker watch, you are authorized to down load Osmile APP. (You can see all your 50 lone workers daily activities through your Android or IOS cell phone)
Osmile ED1000 Lone Worker Protection Function:
1. 4G/5G Phone Call (Two ways communication)
2. 4G/5G Video Call (Two ways communication)
3. Precise real time GPS Positioning
4. GPS motion tracker (Historical Path)
5. Remote camera (Assisting to locate parents)
6. Remote Microphone (Assisting to locate parents)
7. Geofence (Notification, when worker is out of set distance)
8. SOS Alert Emergency Button (lone worker alarm)
9. Multi-language translation
10. Watch Anti-lost function
11. Support multi-manager caring worker function
12. (Includes Wireless Headset) For lone worker to speak to manager in a noisy environment.
Osmile ED1000 Lone Worker Health Monitoring Functions:
1. Heart rate monitoring
2. Blood Pressure monitoring
3. Blood Oxygen Monitoring
4. Medicine Reminder
5. Sedentary
6. Sleep
7. Steps
Osmile ED1000 sos alert lone worker monitorning device is not a medical device, should not use for medical purposes. All data derived are only for reference.
Osmile ED1000 lone worker device other functions:
1. Social Medical Communication: Line, WeChat etc
2. Find watch function
3. Alarm Clock
4. Phone Book
5. Multi-language support : Chinese/ Danish/ Dutch/ English/ French/
German/ Greek/ Hindi/ Hungarian/ Indonesian/ Italian/ Malay/ Pilipino/ Polish/ Portuguese/ Russian/ Spanish/ Swedish/ Thai/ Turkish/ Vietnamese
Osmile ED1000 Spec:
Model:Osmile ED1000
Wireless transmission:4G/5G Nano Sim Card
System requirement:Android 4.4 含以上 ; IOS 9.0 以上
CPU : SP9820E
Screen Size : IPS 1.4'
Resolution:240 * 240 pixel
Touch:Capacitive touch
Screen : IPS touch screen
Camera:3.0 mp
GPS Sensitivity : - 159 dBm
Battery Capacity:780 mAh Lithium Battery
Voltage:5V
Charging method:Magnetic USB Charging
Charging time:3 hours
Operating time:Around 3 days
Watch material:ABS + PC
Strap Color:Black White, Black Dark Green, Black Dark Grey, Light Green Gray, Light Green White, Purple Black, Pink Black, Green Black, Grey Red, Blue Black, Green Purple, Grey Orange, Grey Blue Grey Black, Red Black
Watch Size:25.7 * 4.1 * 1.5 cm
Watch weight:53g
Waterproof Level:IP67 (not support hot shower and swim)
Warranty:12 months (Support fast repair, but not artificial damage)
Life Customer Support:Osmile lone worker alert watch come with lifetime customer support
Buy Osmile lone workers systems today! Very easy to set up! Osmile gives your company best lone worker protection at very low cost!
Remarks:
Osmile ED1000, needs to be charge once in 3 weeks, when it is not in use.
Osmile ED1000, not support hot shower, or swimming.
Declaration
Osmile does not be resiponsible for leagl issue such as SOS dial out function failure, or GPS positioning. Customer should aware that SOS dialing out, and GPS positioning may not succeed for factors such as 4G/5G signal of Telecom company is too weak or no signal, human operation error, setting error etc.
Osmile Technology Co., Ltd
B2B professional cloud health analysis smart bracelet manufacturer
Customize: Hospital, Heath Centre, Care Home, Cloud Smart Bracelet
SOS Alert Application : Fast Help When You Need it
Most
SOS Alert : Emergency Support
SOS Alert helps lone workers in a crisis. If they feel at risk or need support, they simply select the SOS Alert option on their device Osmile ED1000 . This will immediately open a two-way call with highly trained staff at the Alarm Receiving Centre (ARC). The ARC operates 24/7/365, guaranteeing a response in seconds.
Escalation
The ARC officer has secure access to the worker's personal emergency escalation protocol and real-time GPS location. This lets us direct emergency services straight to the worker, bypassing 119 call centers and saving critical time. If there is a false alarm, the worker can simply tell the ARC to stand down.
Virtual buddy
SOS Alert can also be used as a virtual buddy. The ARC operative will stay on the call with a worker, should they feel at risk. For example, if they're working late at night and are uncomfortable in a poorly lit car park, ARC staff can stay alert as they walk to their vehicle.
Active Listening
The ARC staff use the initial seconds of the call for active listening, in case a vulnerable worker can't speak freely. Calls are recorded, and the recordings are admissible as evidence in court, for example in case of prosecution for an assault.
Worker Down Application : No-movement and fall alarm
Osmile ED1000 uses the built-in motion sensors in the watch to enable Worker Down. Osmile ED1000 then monitors the movement of the watch and its orientation. If, for example, lone worker after a fall, and the Osmile ED1000 fall alert is triggered, and the lone worker didn't touch the Osmile ED1000 button to switch it off, then an alarm Worker Down will send to (ARC) to call for help.
The operatives there will access the worker's GPS location and call the worker's phone to see if they're OK. In the event of a false alarm, the worker can simply, switch off the fall alarm or advise the ARC to 'stand down'. If ARC staff can't contact the worker via their watch, they will automatically follow the next steps in the person's individual escalation procedure, and can quickly dispatch emergency services to the worker's location.
GPS Application : Locate Finding your workers in a crisis
GPS Locate : Pinpoint accuracy
When using Osmile ED1000, the lone worker's GPS location is reported to the system every ten minutes as standard (although this frequency can be customised), and whenever a SOS Aler or Worker Down Alert is raised.
About GPS
The Global Positioning System (GPS) tracking system uses a network of satellites linked via Osmile ED1000 to the lone worker's device or app. The network consists of 30 satellites broadcasting radio signals in a permanent near-earth orbit of approximately 20,000 km. Now used widely around the globe, GPS was initially set up for US military navigation. The first satellite in the system, Navstar 1, was launched in 1978.
Trilateration
From any point on the globe, four GPS satellites are visible all the time. At regular intervals, they each transmit the current time and their location. The signals reach your lone working device, and Safe Hub calculates how long the message took to reach you and your distance from the satellite. By overlaying the information from three of the visible satellites, GPS can pinpoint your location. This process is called trilateration.
Customized use
Osmile ED1000 lets us customize the settings for each client to ensure the use of GPS Locate complies with their individual policies and procedures around privacy. So you can choose exactly who can see a worker's GPS location, and how that information can be used. Each activity performed within Safe Hub is tracked to allow for monitoring and compliance.
Benefit of Lone Worker GPS Watch
1. Reduction of Risk for Lone Workers
2. Reduction of Liability for Employers
3. Call for Emergency Help Immediately
4. Tracking Enables More Effective Administration
5. Fewer Employees Required in the Field
Lone workers
A Lone Worker (LW) is an employee who performs an activity that is carried out in isolation from other workers without close or direct supervision. Such staff may be exposed to risk because there is no-one to assist them and so a risk assessment may be required. Lone workers are now often supported by cloud-based automated monitoring systems and specialised monitoring call centres - often referred to as an 'Alarm Receiving Centre' or 'ARC' in the UK, or 'Emergency Dispatch Center' or 'EDC' in the US.
Examples of lone workers
There are different types of lone workers including:
People working at home such as telecommuters, affiliated marketers, writers
Workers in the energy industry or oil and gas Industry including upstream workers like surveyors, land managers, drillers, and midstream or downstream workers such as refinery workers and drivers
Construction workers
Mobile workers such as traveling salesmen, truck drivers, health visitors, repair technicians
People who work in any type of manufacturing facility
People working outside normal hours such as security guards, cleaners
Utility workers such as meter readers or technicians
Countries with lone worker legislation
The following countries have enacted lone worker legislation:
Australia
Canada (Provinces of Alberta, British Columbia, Manitoba, Saskatchewan)
France
Germany
Ireland
New Zealand
Spain
United Kingdom

In Australia
Australia has legislation regarding lone workers and their employers. As of the 1st of January 2014, it has become compulsory for employers to monitor the health and well being of any of their employees working remotely or in isolated conditions. Control measures are now in place to ensure effective communication and worker monitoring are in place as well as access to assistance of emergency services for isolated or remote workers. Regulation 48 from the Managing the Work Environment and Facilities Code of Practice 2011 outlines definitions of isolated and remote workers as well as possible control measures and should be read for more information in regard to this law.'
Guidance Note, Working Alone 2009

In Canada
The definition of a Lone Worker in Canada is someone who is alone at work or when they are on their own; when they cannot be seen or heard by another person. Lone worker regulations are complicated by the fact that there are fourteen jurisdictions – one federal, ten provincial and three territorial. Some of the provinces in Canada have enacted legislation regarding employer's responsibility towards Lone Workers by having their governments create health and safety legislation. The legislations outline the general rights and responsibilities of the employer, the supervisor and the worker. Ontario, Nova Scotia and Yukon have no lone worker specific regulations.

Alberta
Alberta's Occupational Health and Safety Code: An Explanation of the "Working Alone" Requirements 2009
Working Alone (Part 28 of the Occupational Health and Safety Code) 2009

Additional Province-issued documents include:
Working Alone Safely – A Guide for Employers and Employees 2000

British Columbia
Working Alone or in Isolation Regulation 2011[
WorkSafeBC OHS Regulations General Conditions Part 4 2009

Manitoba
Code of Practice for Workers Working Alone or in Isolation 2006
Workplace Health and Safety Regulation Part 9

Saskatchewan
The Occupational Health and Safety Regulations 1996

In France
France has enacted laws protecting lone workers.
Code du travail - Article R4512-13 2008
In Germany
Germany has codified laws mandating when it is legal to work alone and how those workers must be protected.
§ 5 Arbeitsschutzgesetz

In Ireland
The Health and Safety Authority of Ireland identifies lone workers as those who work by themselves without close or direct supervision. Anybody who works alone, including contractors, self-employed people and employee, is classed as a lone worker.
Legislation relevant to the safety of lone workers in Ireland:
Section 19 of the Safety, Health and Welfare at Work Act 2005
The Irish law S.I (Statutory Instruments) No. 467/1997 – Safety, Health and Welfare at Work (Extractive Industries) Reglulations 1997

In New Zealand
Employment New Zealand defines working alone as 'Working alone is when work is done in a location where the employee can't physically see or talk to other staff.
The Health and Safety at Work Act 2015, requires employers to maintain regular contact with employees working alone or in isolation, if this is not possible, they should check in with a designated person at regular intervals. The employer must also provide an effective means of getting help quickly in an emergency.

In Spain
Spain has codified laws governing the protection of lone workers.
Ley 31/1995 de Prevención de Riesgos Laborales 1995

In the United Kingdom
The UK has a Code of practice relating to the 'Provision of lone worker services' via the British Standard, BS 8484. In August 2016, the standard was republished, and BS 8484:2016 was introduced (This supersedes BS 8484:2011 which will be withdrawn on 28 February 2017).
Other UK legislation relevant to the safety of lone workers:
The Health and Safety at Work Act 1974
The Management of made Health and Safety at Work Regulations 1999
Safety Representatives and Safety Committees Regulations 1977(a) and The Health and Safety (Consultation with Employees) Regulations 1996(b)
The Corporate Manslaughter and Corporate Homicide Act 2007
Fire Act 2005

In November 2015, The Sentencing Council introduced a 'Definitive Guideline for Health and Safety Offences, Corporate Manslaughter and Food Safety and Hygiene Offences', effective in sentencing from 1 February 2016.[21] Fines imposed are considered in accordance with a number of factors:
the culpability of an organisation or individual;
the likelihood of harm;
financial information relating to an organisation - i.e. fines can now be directly linked to the turnover of a business or the earnings of an individual

Managing lone workers
Common practices used by companies to manage the personal safety of their Lone Workers are:

Conducting Risk Assessments

Documenting a Lone Worker Policy

Implementation of a Buddy System

Lone Worker Training

Conflict Management Training

Use of monitoring systems and equipment (Panic Alarms, Mandown (fall/impact) Detectors, Pendant Trackers, GPS based Mobile apps.
Other Application that could use Osmile ED1000 GPS watch for emergency and safety management, such as the following:



Security Guard: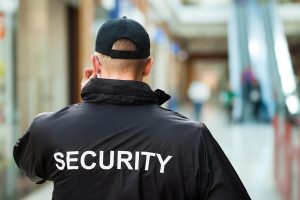 A security guard (also known as a security inspector or security officer, or Protective agent) is a person employed by a government or private party to protect the employing party's assets (property, people, equipment, money, etc.) from a variety of hazards (such as waste, damaged property, unsafe worker behavior, criminal activity such as theft, etc.) by enforcing preventative measures. Security guards do this by maintaining a high-visibility presence to deter illegal and inappropriate actions, looking (either directly, through patrols, or indirectly, by monitoring alarm systems or video surveillance cameras) for signs of crime or other hazards (such as a fire), taking action to minimize damage (such as warning and escorting trespassers off property), and reporting any incidents to their clients and emergency services (such as the police or paramedics), as appropriate. Security guard is a dangerous job, as their safety might be threatened at any time, while enforcing rules and regulations, they definitely need to be back up by the best gps trackers and sos emergency button device, such as Osmile ED1000 GPS watch.

Peace of Mind Knowing Lone Workers Are Monitored At All Time
Osmile customizable lone worker GPS location and emergency alert system is designed to provide protection for your employees working in remote locations. Employees at risk can create liabilities for employers, and an emergency alert system helps to mitigate those concerns with the assurance of emergency preparedness.

When it comes to employee safety, lone workers out in the field or on-the-go are more vulnerable to danger and harder for employers and managers to keep safe. Whether lone workers or traveling employees are in urban or rural environments, their individual risk profiles will indicate their particular needs. The Osmile technical team can customize a security solution to help you ensure that your workers in the field always have an emergency support system in place, no matter where they are.

Osmile Lone Worker is the ideal solution for any organization to provide to their remote or traveling employees to ensure safety and emergency preparedness. As a fully customizable emergency alert system, it provides lone workers with immediate emergency assistance and provides their employers with peace of mind. Osmile Lone Worker comes with the option of our 24/7 monitoring, or you can monitor in-house with our APP based platform, giving managers the ability to protect their workers at all times.

What is GPS?
Discover everything you need to know about GPS and how it is used today.
GPS, or the Global Positioning System, is a global navigation satellite system that provides location, velocity and time synchronization.

GPS is everywhere. You can find GPS systems in your car, your smartphone and your watch. GPS helps you get where you are going, from point A to point B. What is GPS? Read this article to learn more about how it works, its history and future advancements.

What is GPS and how does it work?
The Global Positioning System (GPS) is a navigation system using satellites, a receiver and algorithms to synchronize location, velocity and time data for air, sea and land travel.

The satellite system consists of a constellation of 24 satellites in six Earth-centered orbital planes, each with four satellites, orbiting at 13,000 miles (20,000 km) above Earth and traveling at a speed of 8,700 mph(14,000 km/h).

While we only need three satellites to produce a location on earth's surface, a fourth satellite is often used to validate the information from the other three. The fourth satellite also moves us into the third-dimension and allows us to calculate the altitude of a device.

What are the three elements of GPS?
GPS is made up of three different components, called segments, that work together to provide location information.

The three segments of GPS are:

Space (Satellites) — The satellites circling the Earth, transmitting signals to users on geographical position and time of day.

Ground control — The Control Segment is made up of Earth-based monitor stations, master control stations and ground antenna. Control activities include tracking and operating the satellites in space and monitoring transmissions. There are monitoring stations on almost every continent in the world, including North and South America, Africa, Europe, Asia and Australia.

User equipment — GPS receivers and transmitters including items like watches, smartphones and telematic devices.

How does GPS technology work?
GPS works through a technique called trilateration. Used to calculate location, velocity and elevation, trilateration collects signals from satellites to output location information. It is often mistaken for triangulation, which is used to measure angles, not distances.

Satellites orbiting the earth send signals to be read and interpreted by a GPS device, situated on or near the earth's surface. To calculate location, a GPS device must be able to read the signal from at least four satellites.

Each satellite in the network circles the earth twice a day, and each satellite sends a unique signal, orbital parameters and time. At any given moment, a GPS device can read the signals from six or more satellites.

A single satellite broadcasts a microwave signal which is picked up by a GPS device and used to calculate the distance from the GPS device to the satellite. Since a GPS device only gives information about the distance from a satellite, a single satellite cannot provide much location information. Satellites do not give off information about angles, so the location of a GPS device could be anywhere on a sphere's surface area.

When a satellite sends a signal, it creates a circle with a radius measured from the GPS device to the satellite.

When we add a second satellite, it creates a second circle, and the location is narrowed down to one of two points where the circles intersect.

With a third satellite, the device's location can finally be determined, as the device is at the intersection of all three circles.

That said, we live in a three-dimensional world, which means that each satellite produces a sphere, not a circle. The intersection of three spheres produces two points of intersection, so the point nearest Earth is chosen.

Here is an illustration of satellite ranging: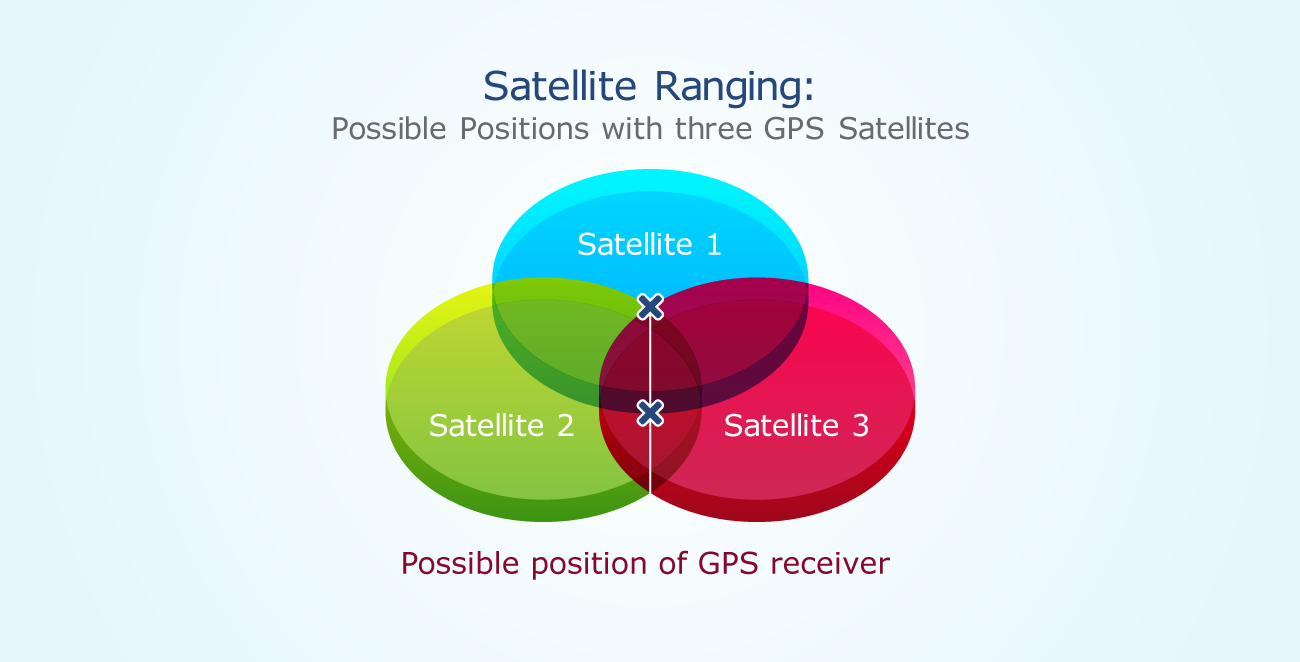 As a device moves, the radius (distance to the satellite) changes. When the radius changes, new spheres are produced, giving us a new position. We can use that data, combined with the time from the satellite, to determine velocity, calculate the distance to our destination and the ETA.

What are the uses of GPS?
GPS is a powerful and dependable tool for businesses and organizations in many different industries. Surveyors, scientists, pilots, boat captains, first responders, and workers in mining and agriculture, are just some of the people who use GPS on a daily basis for work. They use GPS information for preparing accurate surveys and maps, taking precise time measurements, tracking position or location, and for navigation. GPS works at all times and in almost all weather conditions.

There are five main uses of GPS:
Location — Determining a position.

Navigation — Getting from one location to another.

Tracking — Monitoring object or personal movement.

Mapping — Creating maps of the world.

Timing — Making it possible to take precise time measurements.
Some specific examples of GPS use cases include:
Emergency Response: During an emergency or natural disaster, first responders use GPS for mapping, following and predicting weather, and keeping track of emergency personnel. In the EU and Russia, the eCall regulation relies on GLONASS technology (a GPS alternative) and telematics to send data to emergency services in the case of a vehicle crash, reducing response time.

Entertainment: GPS can be incorporated into games and activities like Pokémon Go and Geocaching.

Health and fitness: Smartwatches and wearable technology can track fitness activity (such as running distance) and benchmark it against a similar demographic.

Construction, mining and off-road trucking: From locating equipment, to measuring and improving asset allocation, GPS enables companies to increase return on their assets.

Transportation: Logistics companies implement telematics systems to improve driver productivity and safety. A truck tracker can be used to support route optimization, fuel efficiency, driver safety and compliance.




Other industries where GPS is used include: agriculture, autonomous vehicles, sales and services, the military, mobile communications, security, and fishing.

How accurate is GPS?
GPS device accuracy depends on many variables, such as the number of satellites available, the ionosphere, the urban environment and more.

Some factors that can hinder GPS accuracy include:
Physical obstructions: Arrival time measurements can be skewed by large masses like mountains, buildings, trees and more.

Atmospheric effects: Ionospheric delays, heavy storm cover and solar storms can all affect GPS devices.
Ephemeris: The orbital model within a satellite could be incorrect or out-of-date, although this is becoming increasingly rare.

Numerical miscalculations: This might be a factor when the device hardware is not designed to specifications.

Artificial interference: These include GPS jamming or spoofs.
Accuracy tends to be higher in open areas with no adjacent tall buildings that can block signals. This effect is known as an urban canyon. When a device is surrounded by large buildings, like in downtown Manhattan or Toronto, the satellite signal is first blocked, and then bounced off a building, where it is finally read by the device. This can result in miscalculations of the satellite distance.

A brief history of GPS
Humans have been practicing navigation for thousands of years using the sun, moon, stars, and later, the sextant. GPS was an advancement of the 20th century made possible by space-age technology.

GPS technology has been used globally throughout history. The launch of Russia's Sputnik I satellite in 1957 ushered in the possibility of geolocation capabilities and soon after, the U.S. Department of Defense began using it for submarine navigation.

In 1983, the U.S. government made GPS publically available, but still kept control of the available data. It wasn't until 2000 that companies and the general public gained full access to the use of GPS, eventually paving the way for greater GPS advancement.