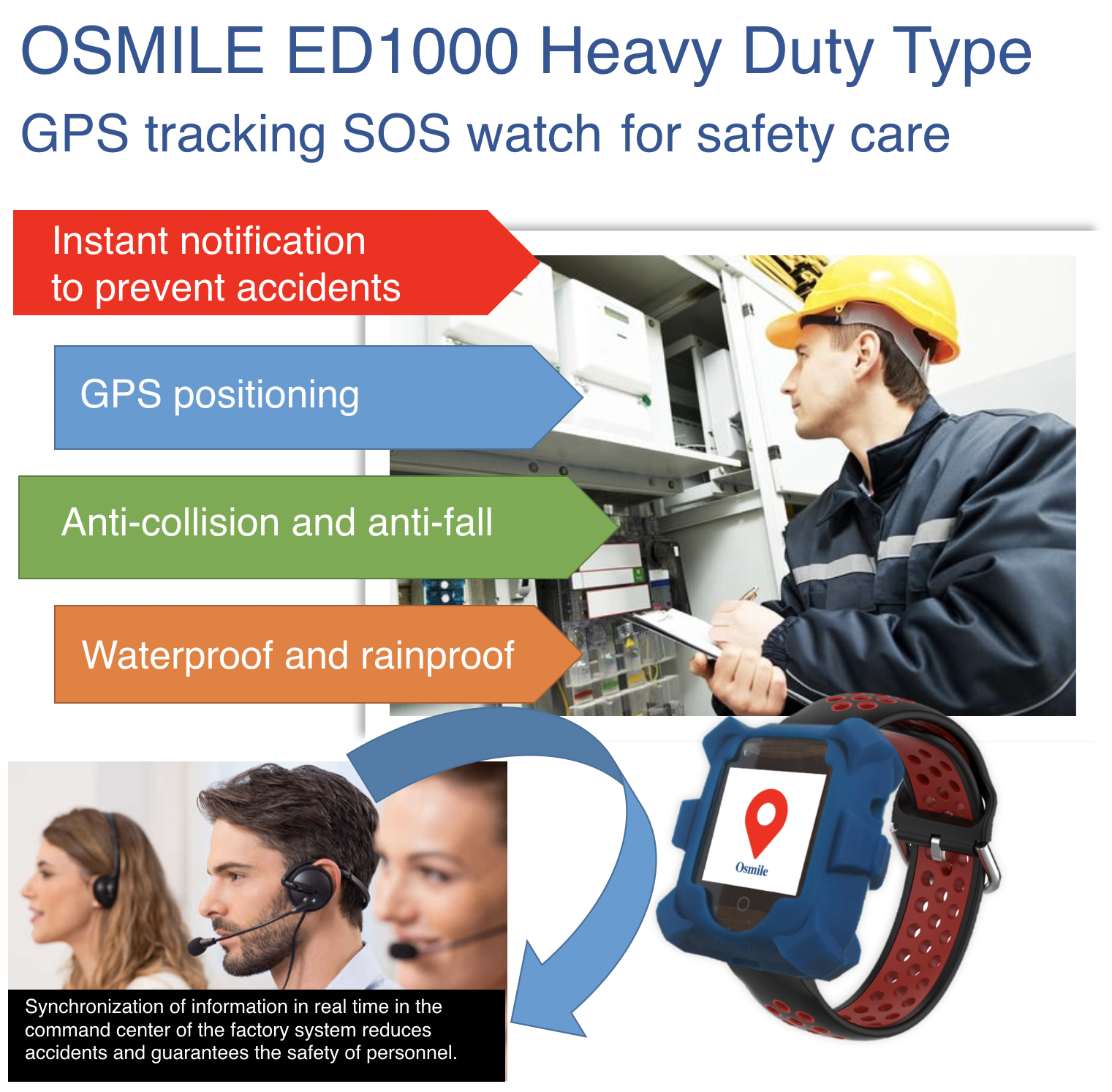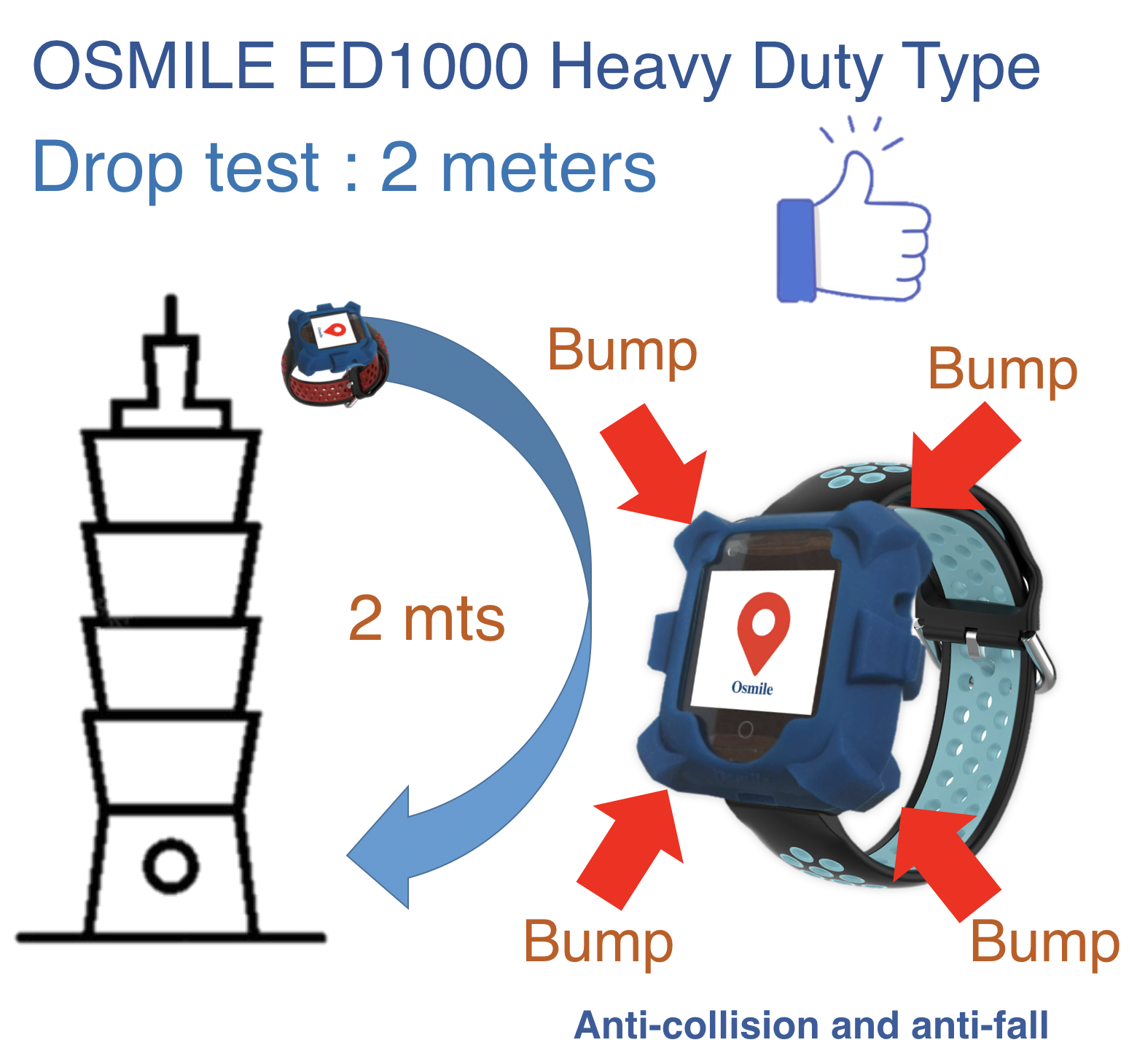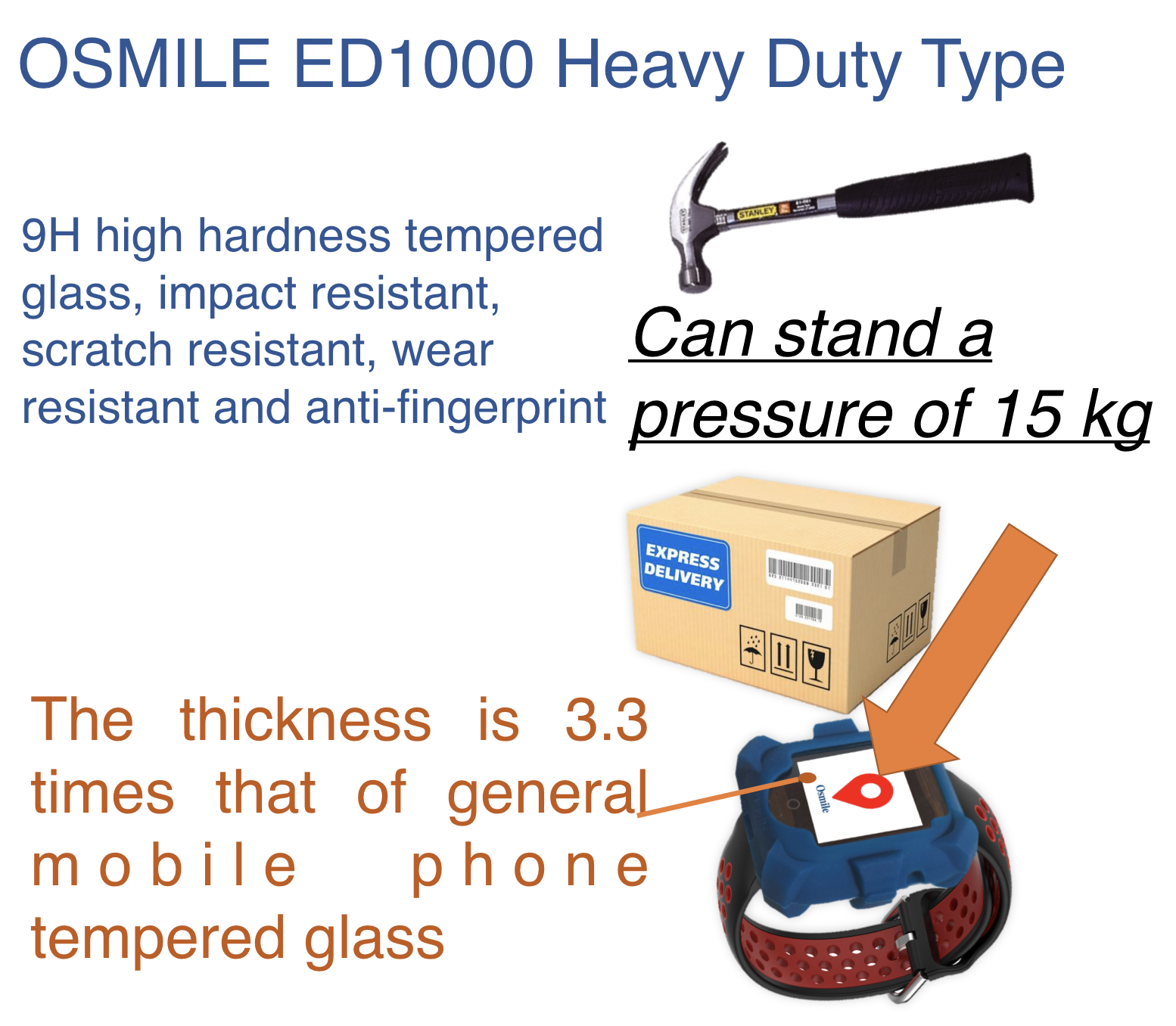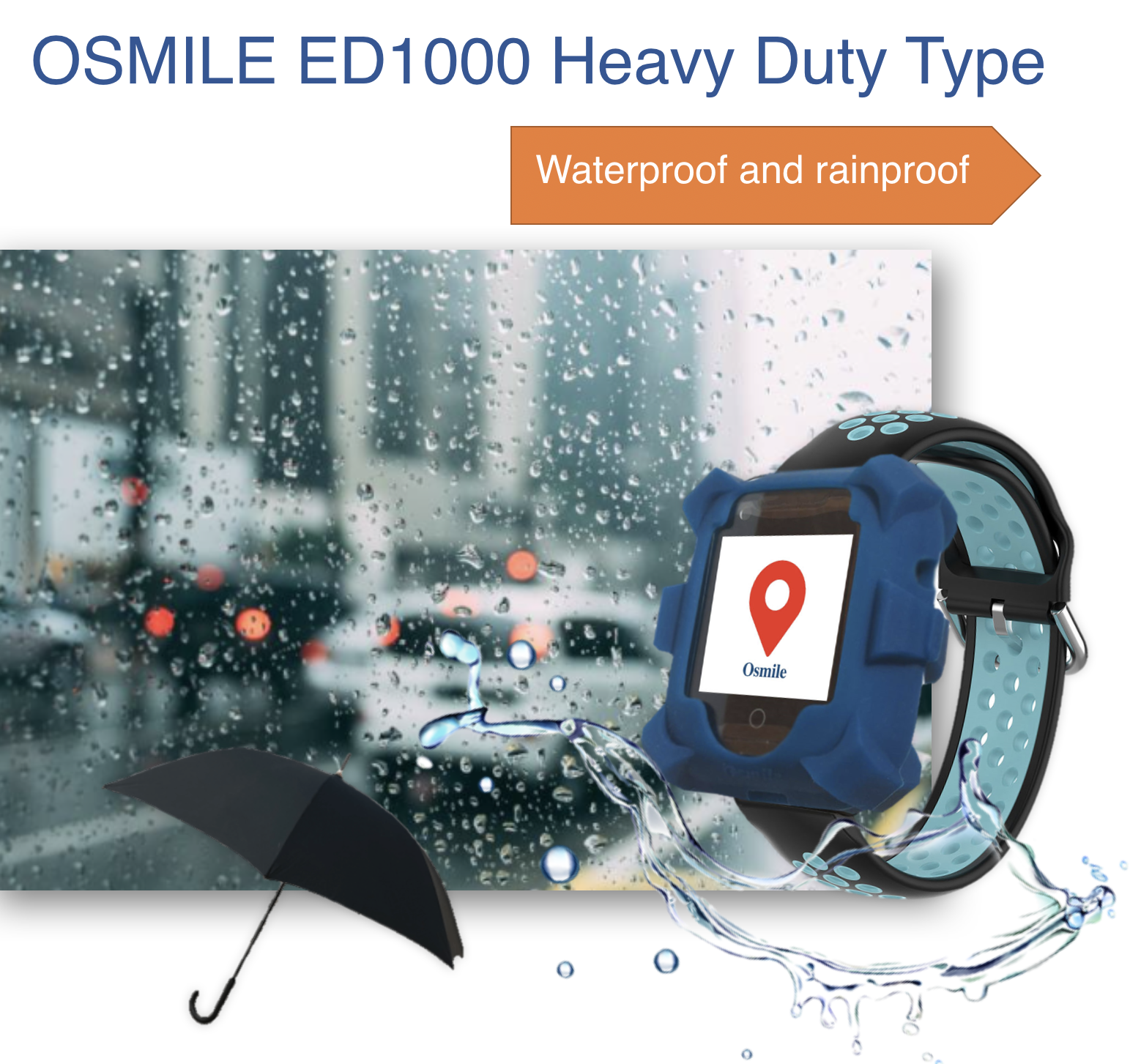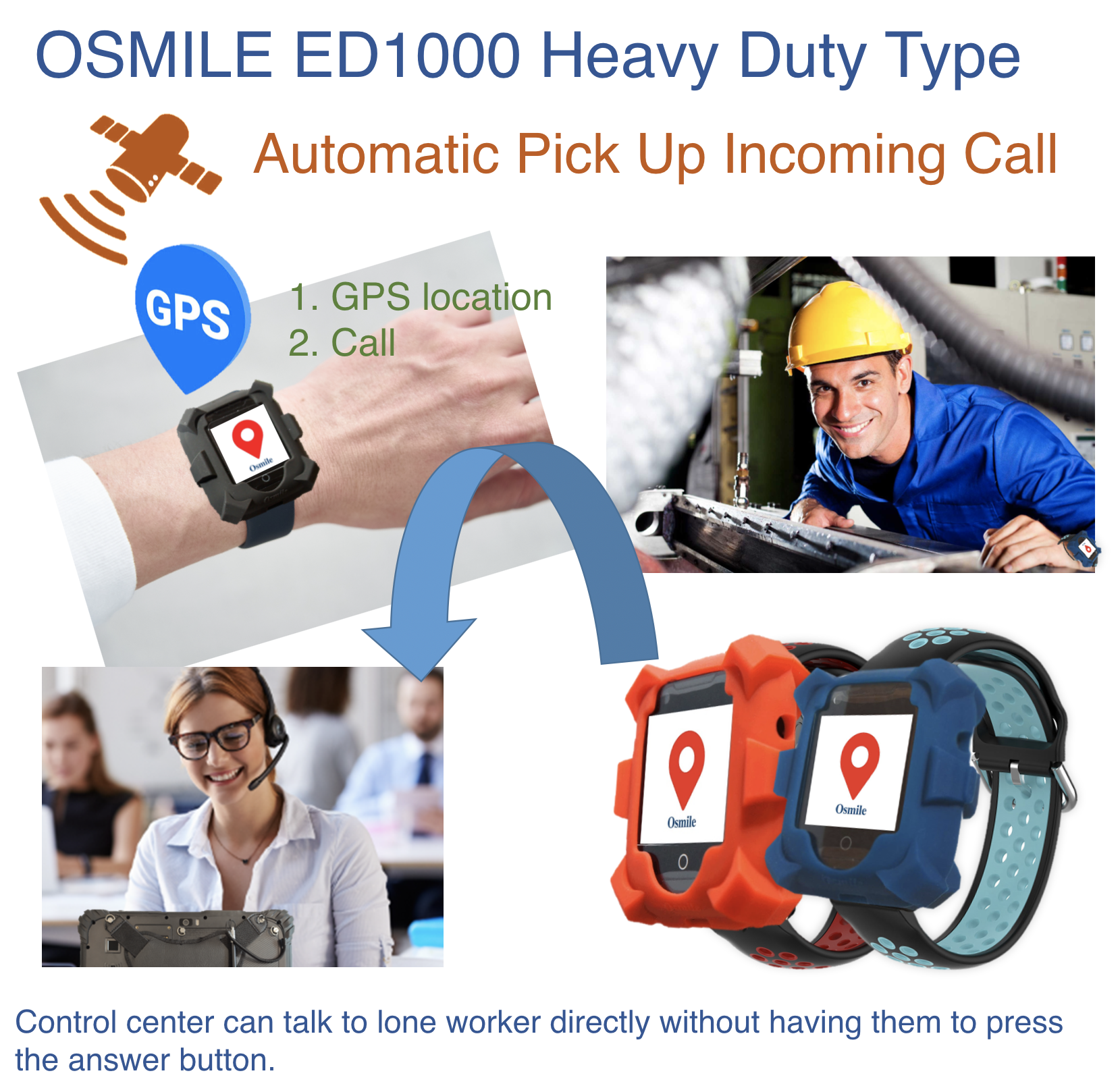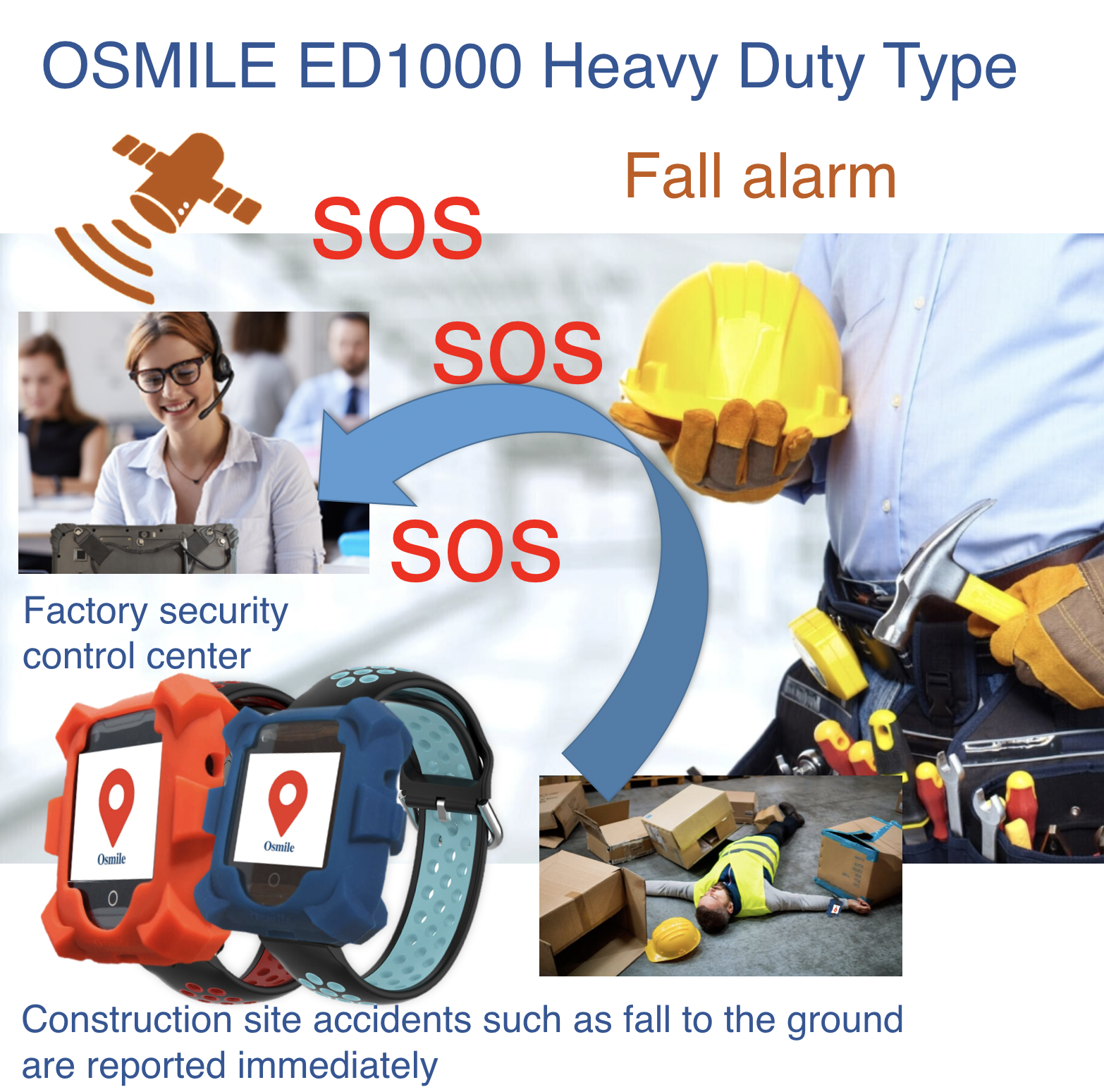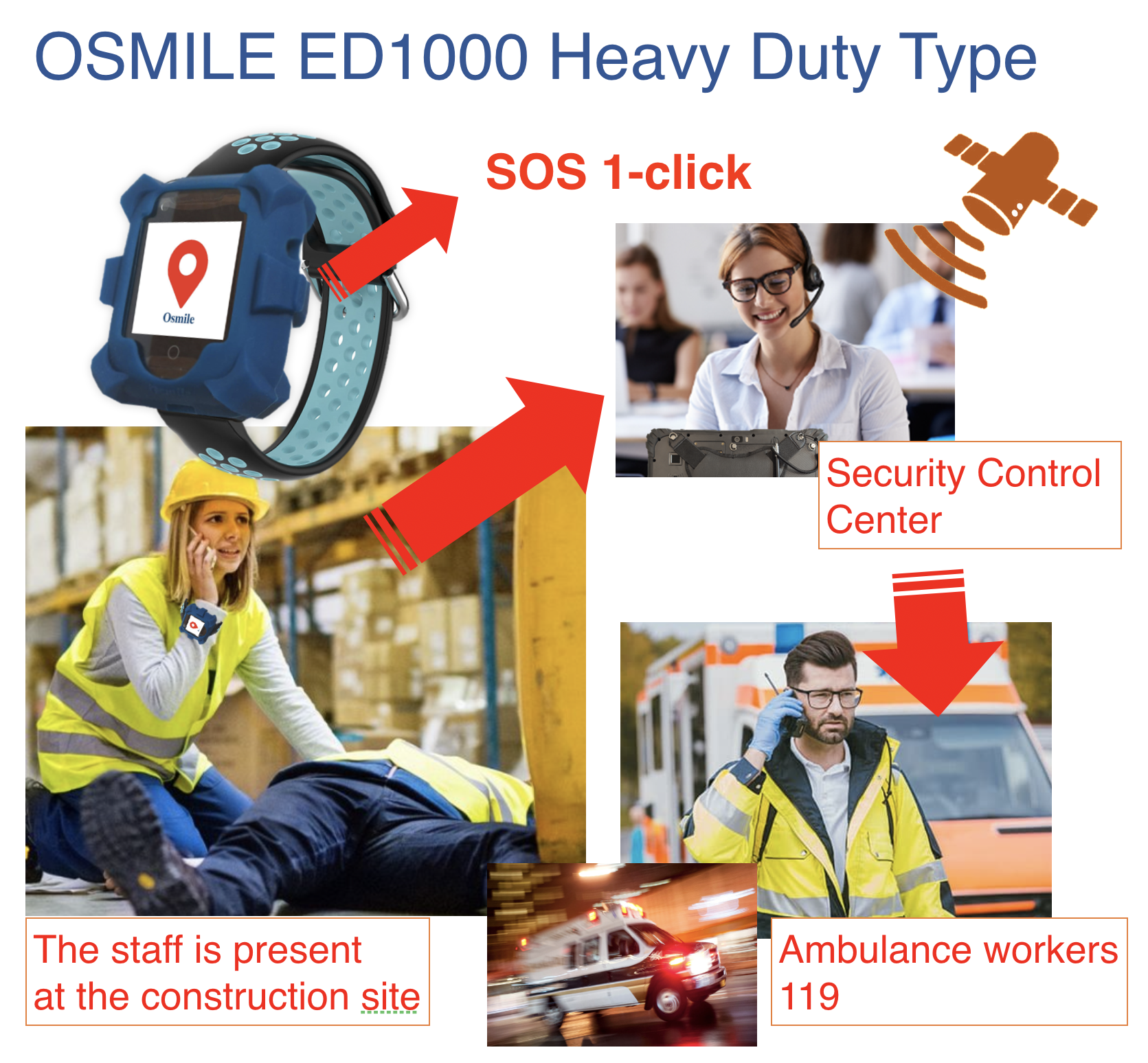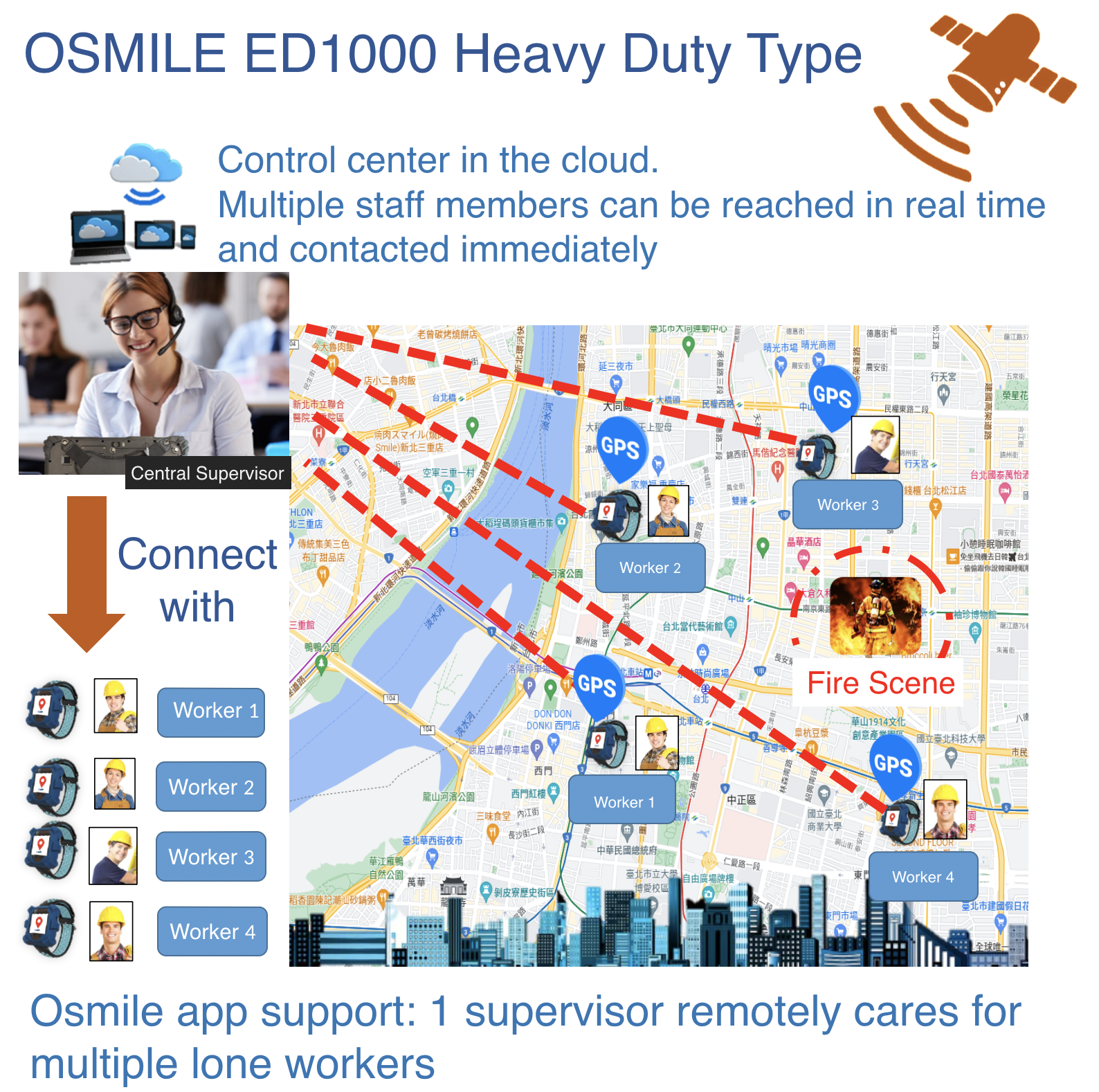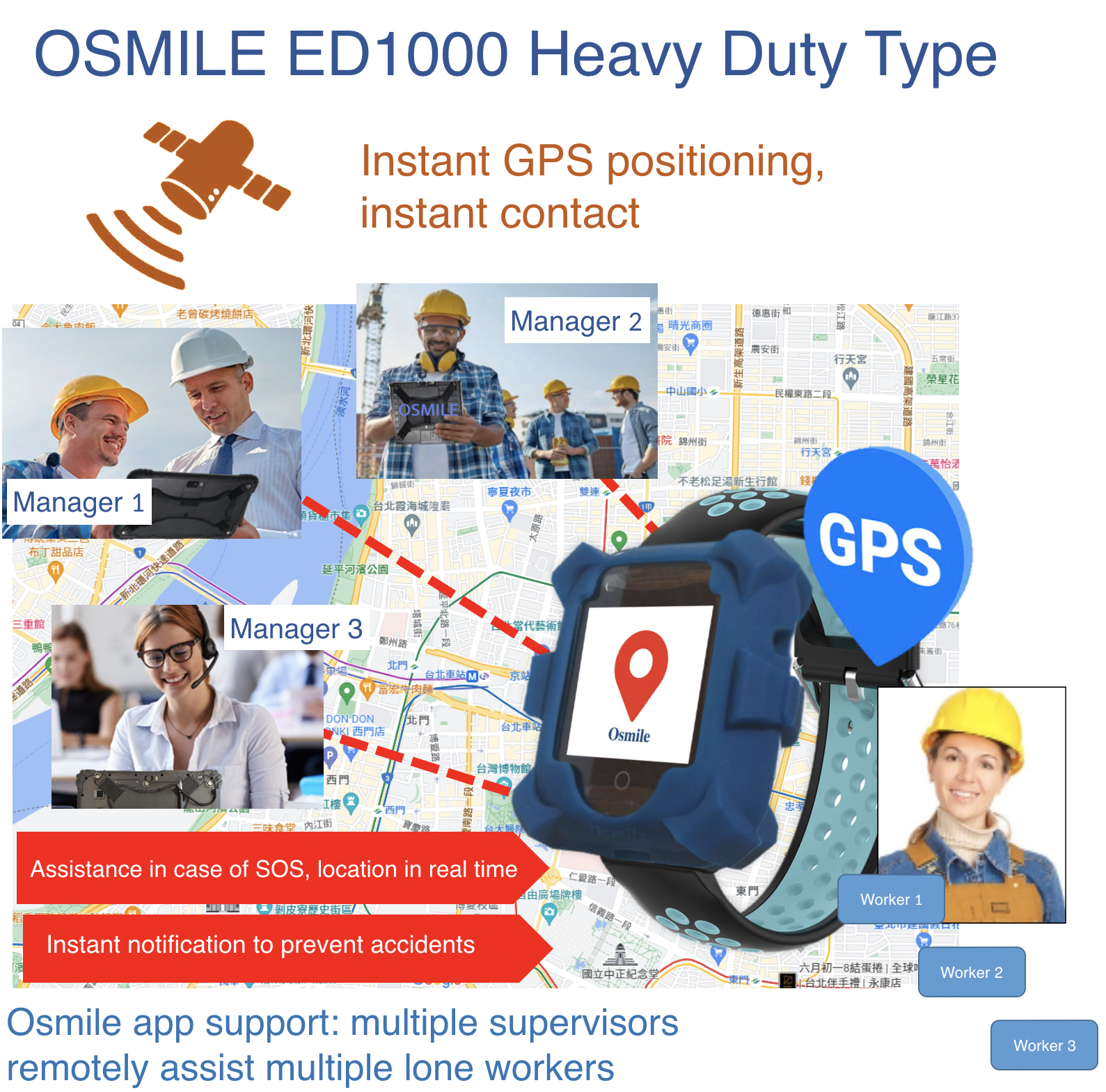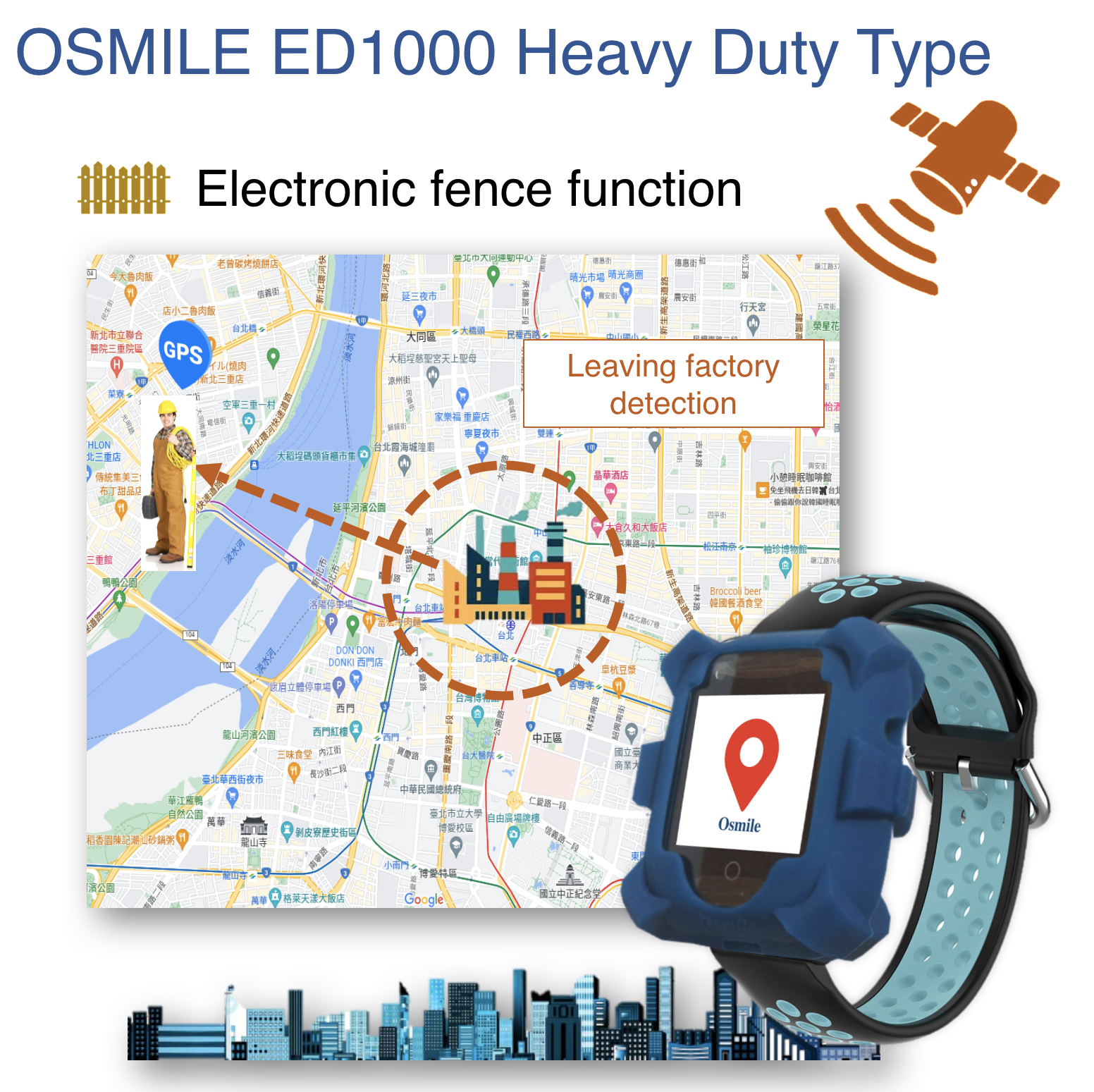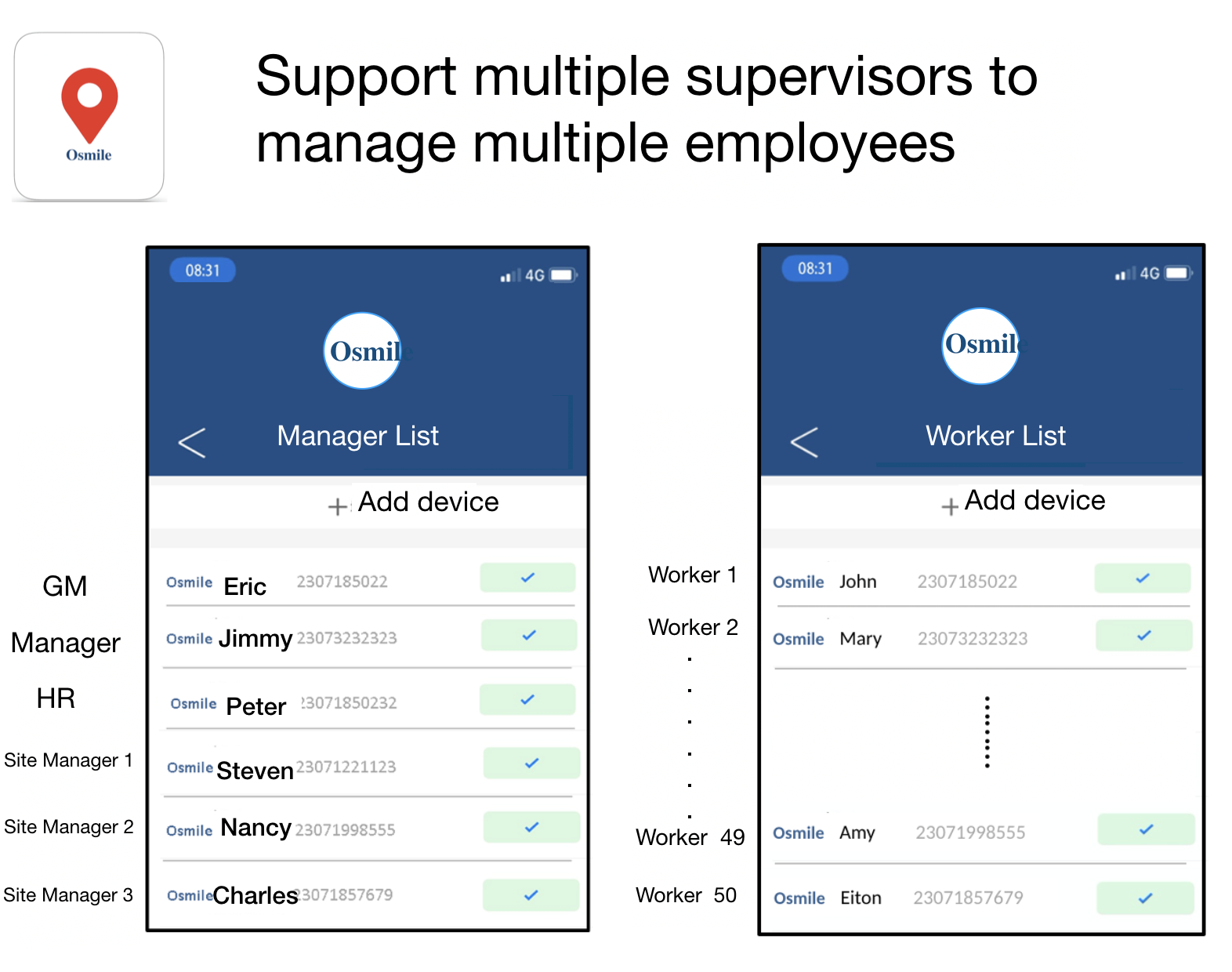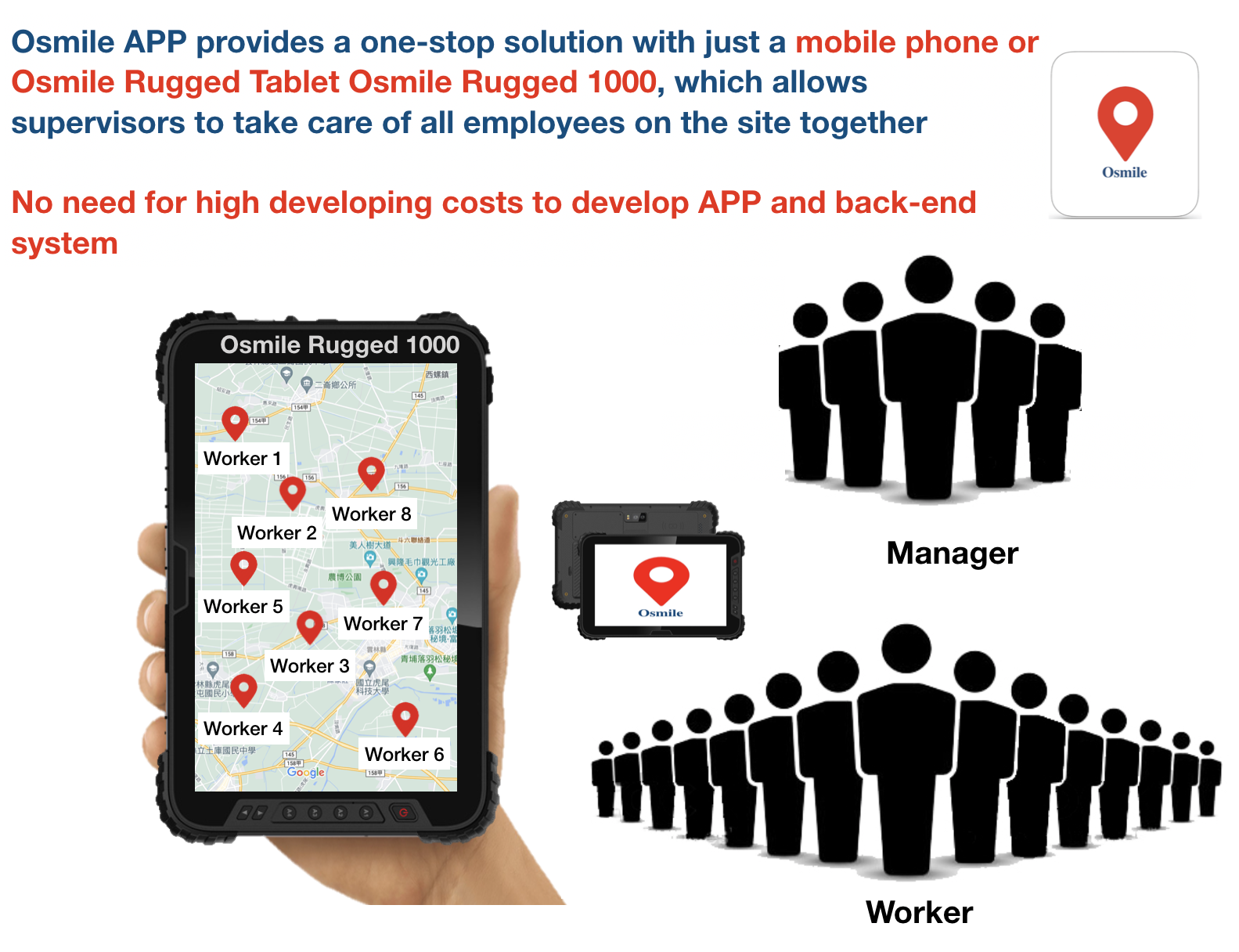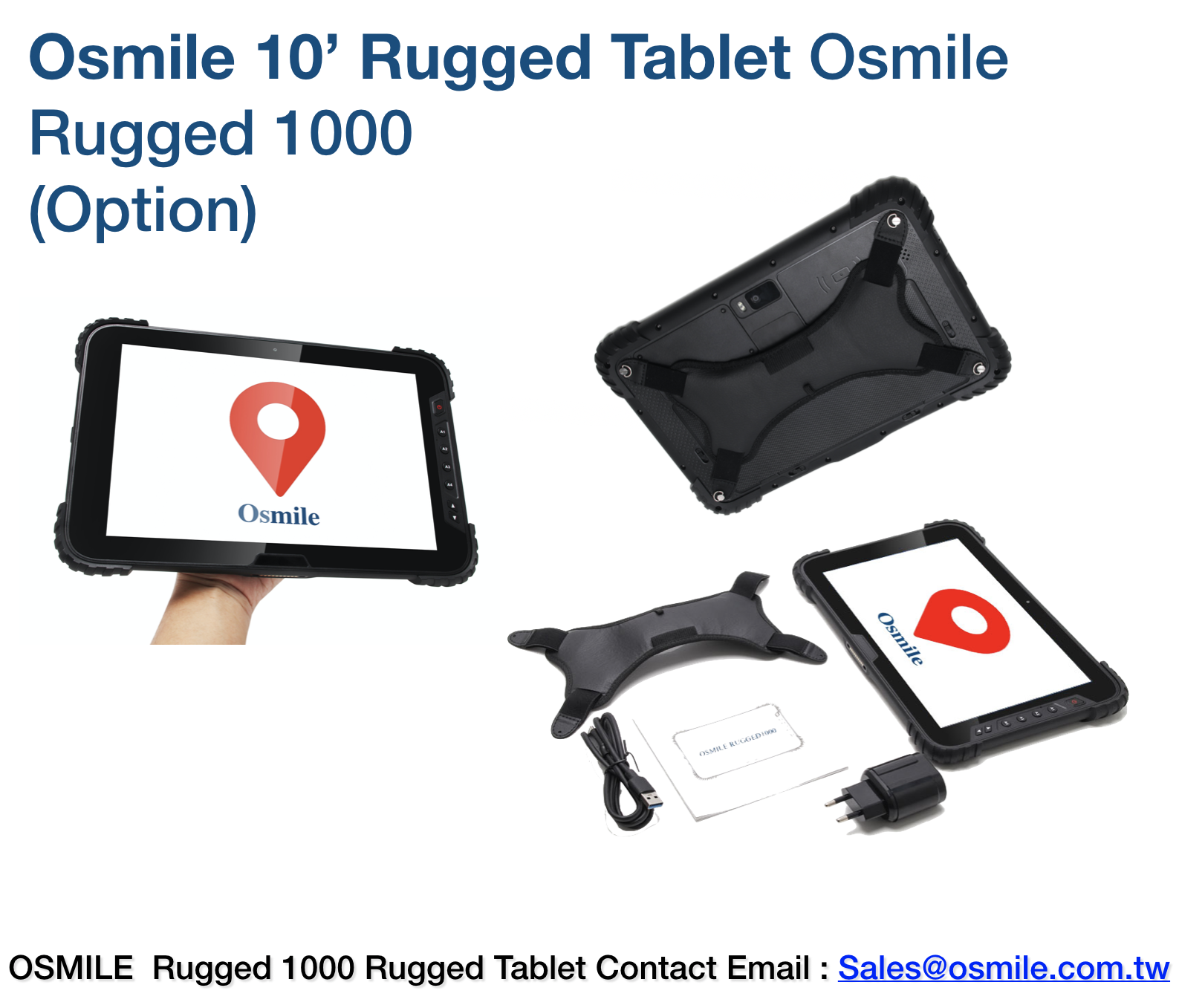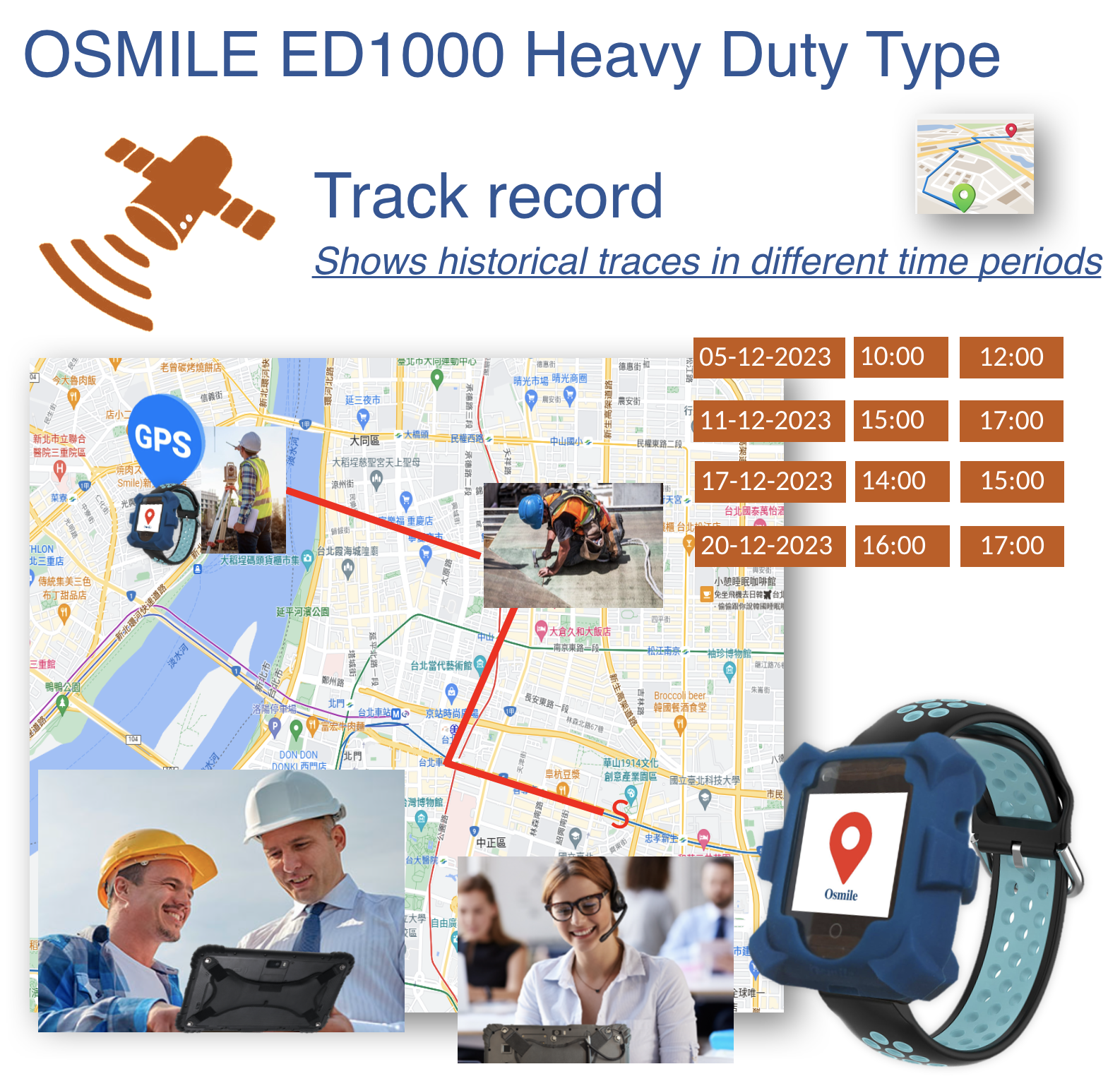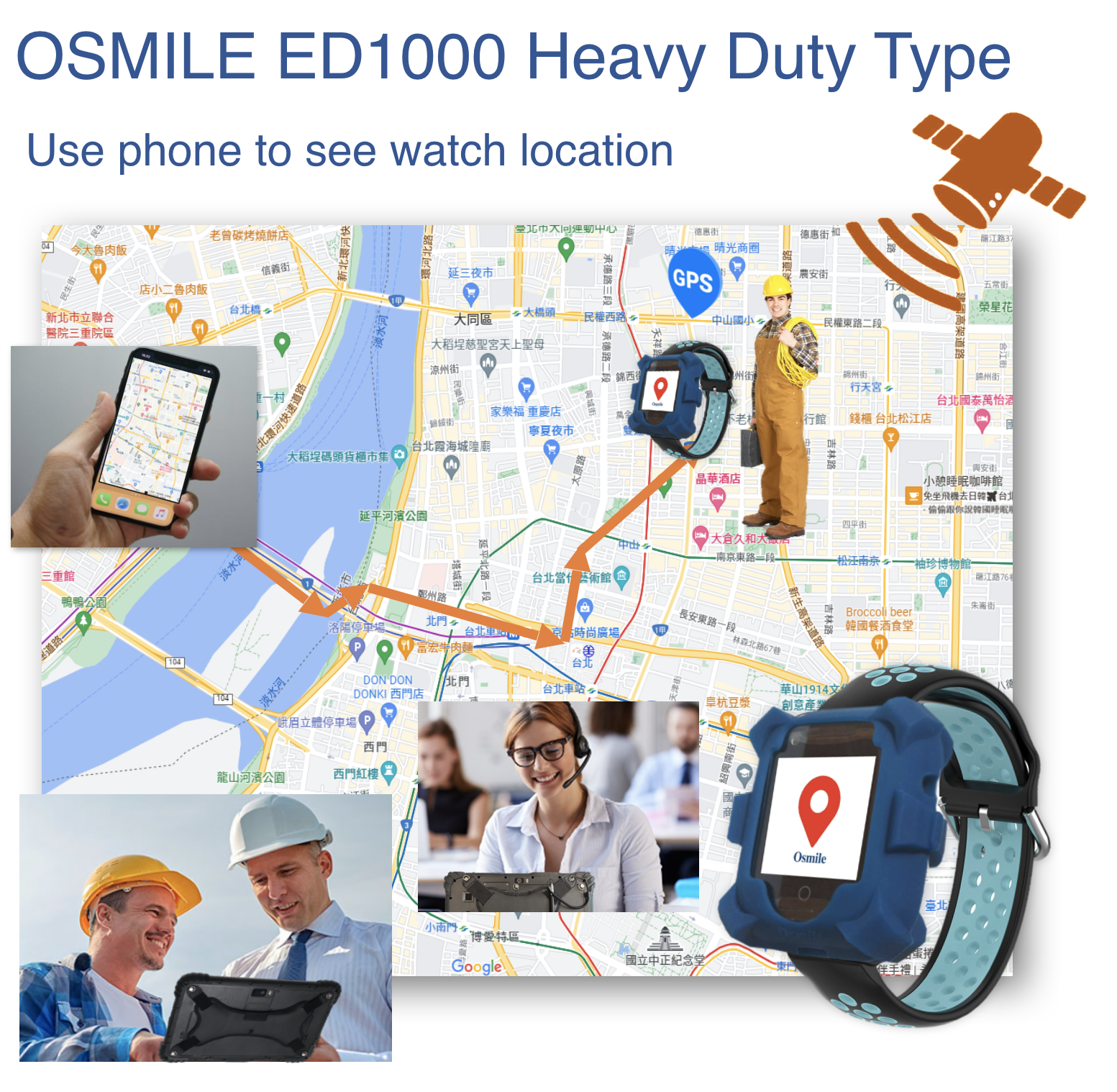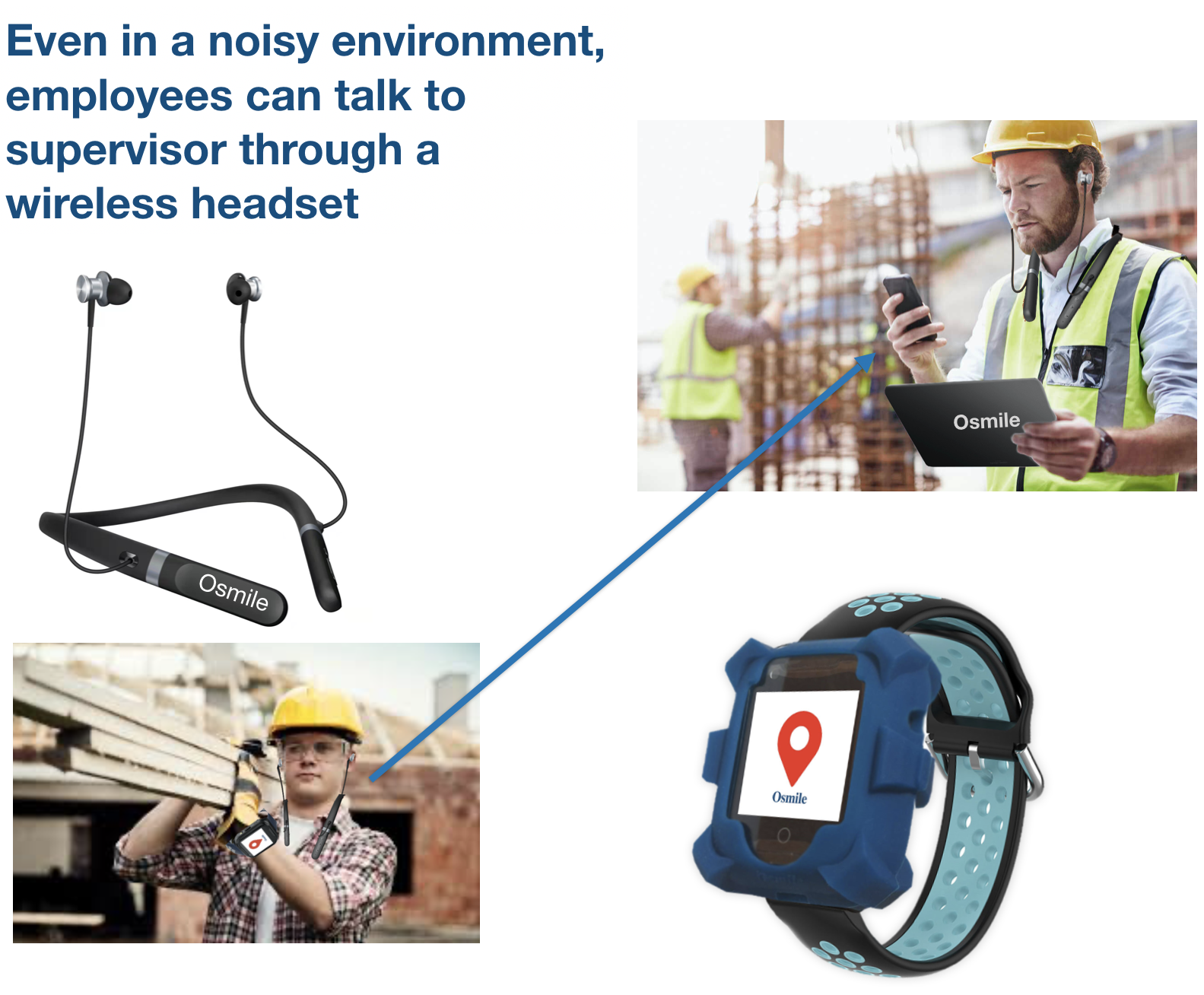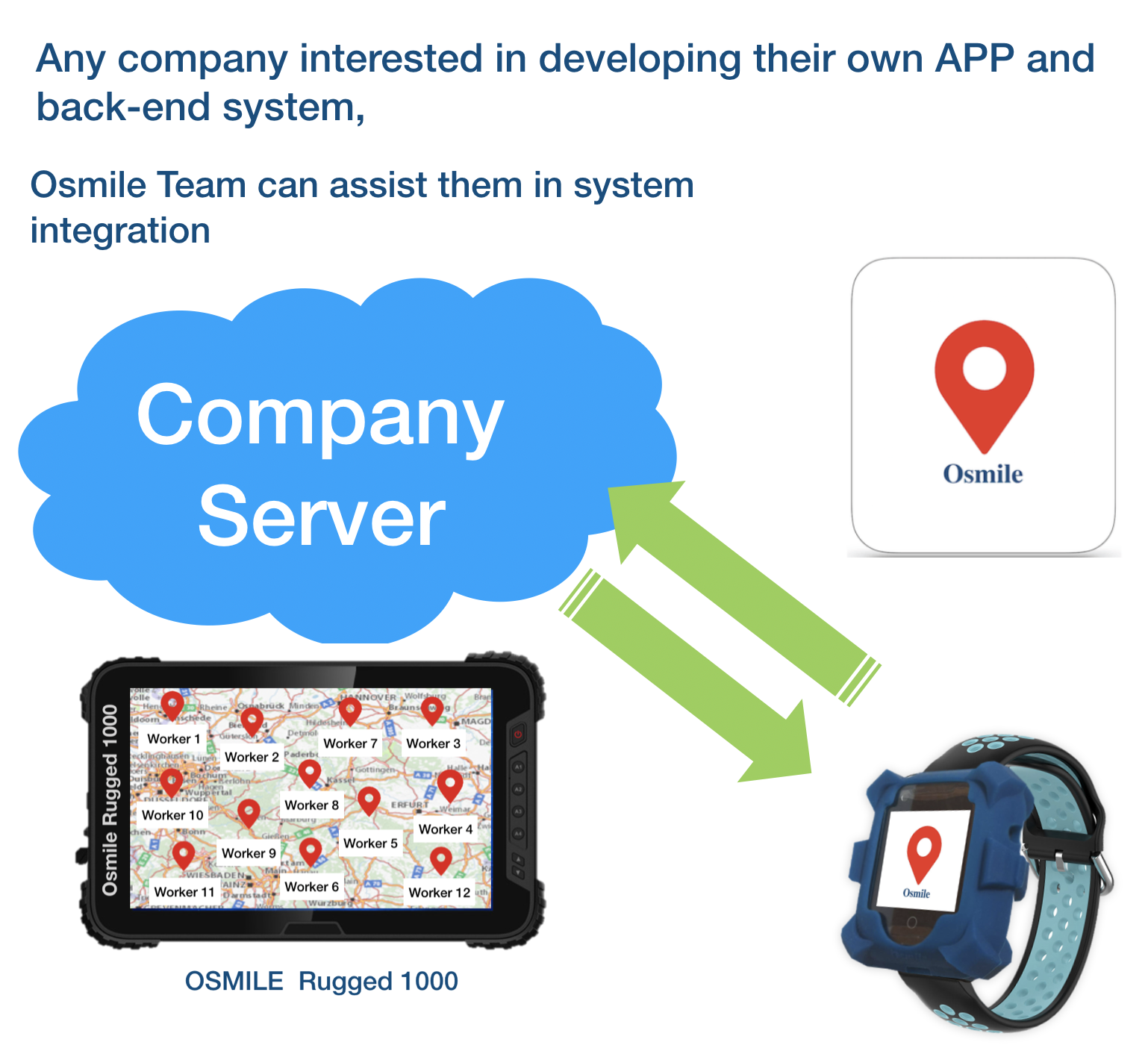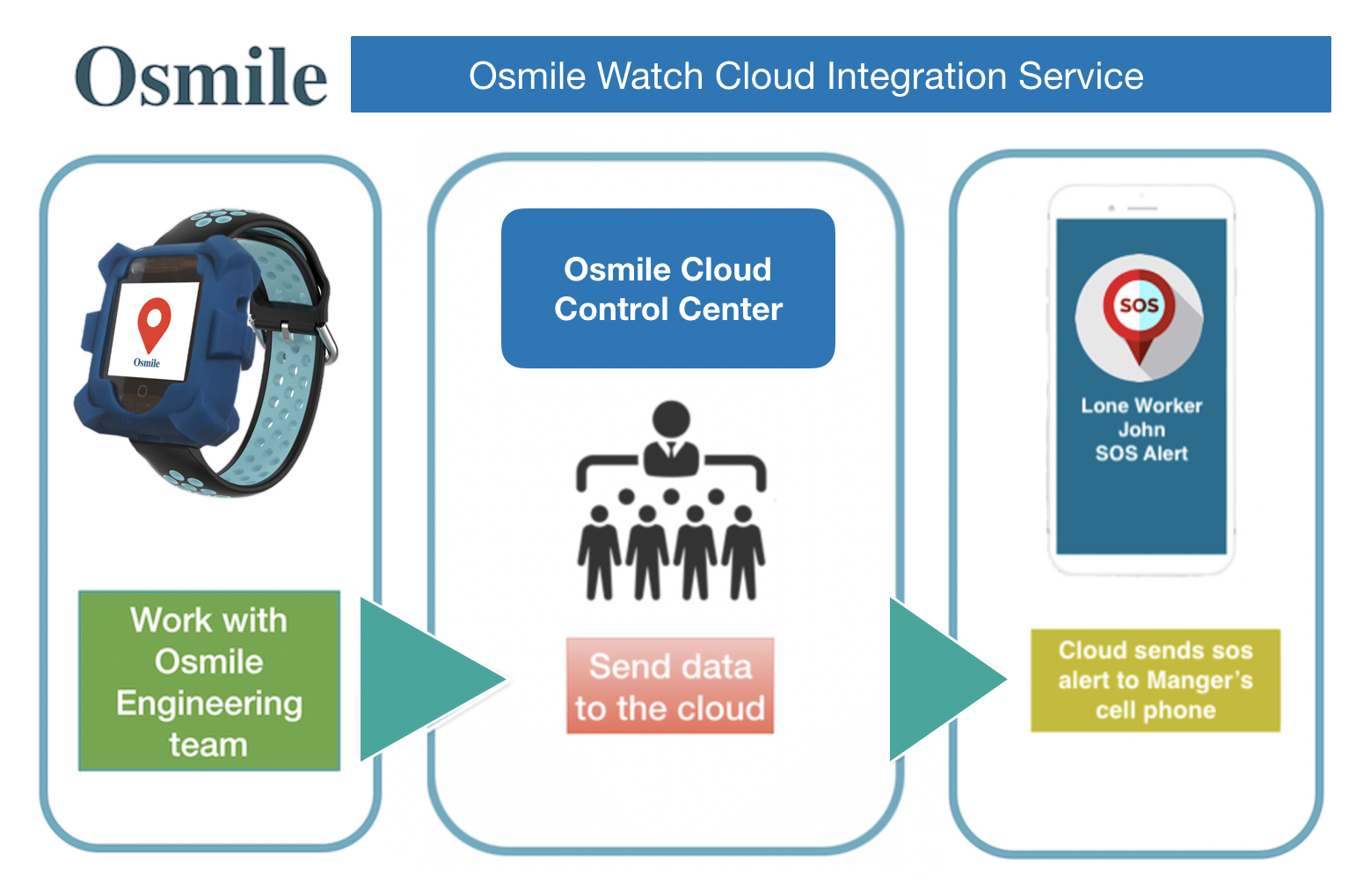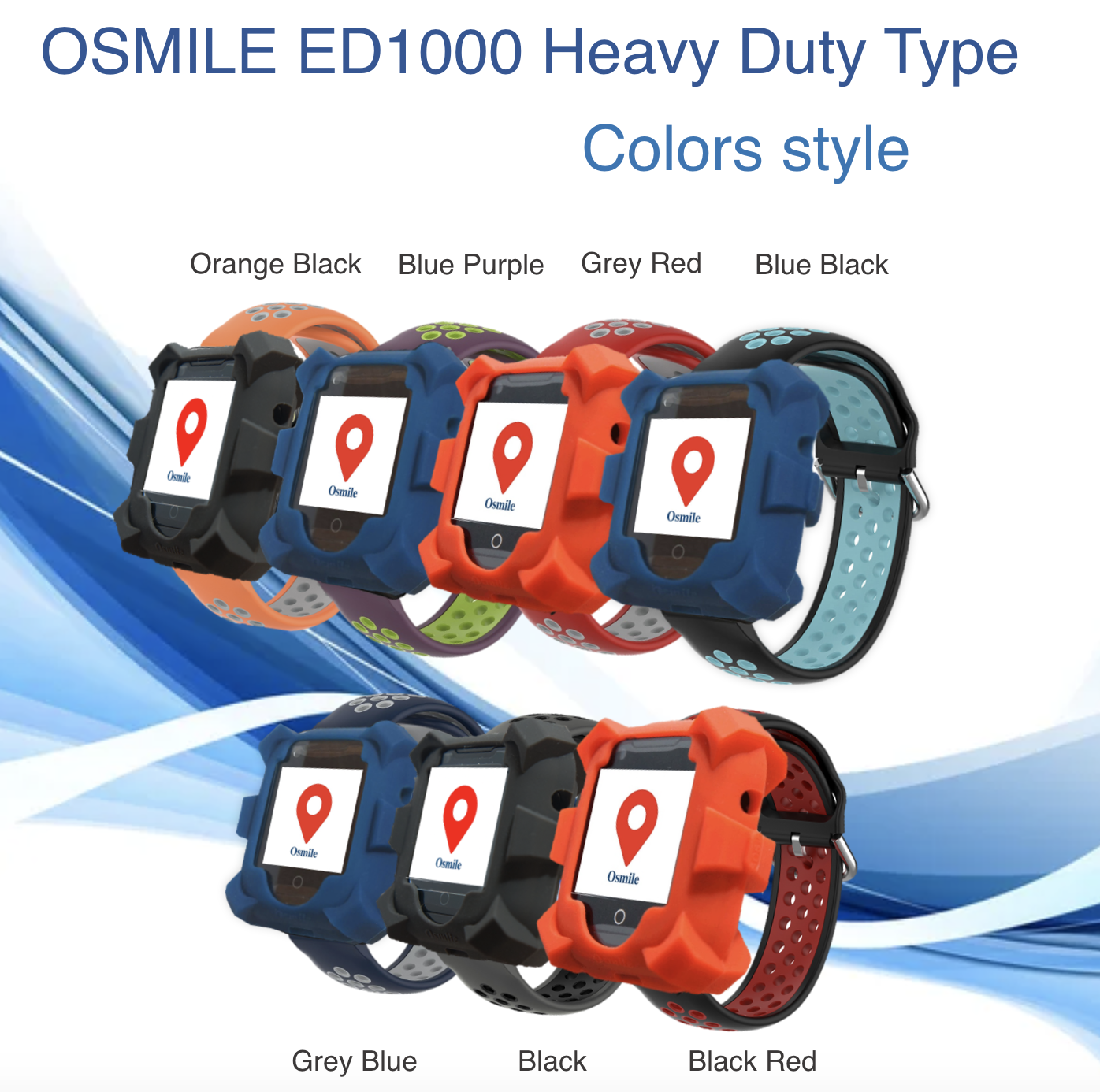 Osmile ED1000 Rugged GPS Watch - Lone worker solutions for Enterprise security management up to 50 lone workers
Osmile provide lone worker solutions at a very low cost, 1 Osmile lone worker alarm APP can manage 50 lone worker watch. Once you purchase Osmile ED1000 lone worker watch, you are authorized to down load Osmile APP. (You can see all your 50 lone workers daily activities through your Android or IOS cell phone)
Osmile ED1000 Lone Worker Protection Function:
1. 4G/5G Phone Call (Two ways communication)
2. 4G/5G Video Call (Two ways communication)
3. Precise real time GPS Positioning
4. GPS motion tracker (Historical Path)
5. Remote camera (Assisting to locate parents)
6. Remote Microphone (Assisting to locate parents)
7. Geofence (Notification, when worker is out of set distance)
8. SOS Alert Emergency Button (lone worker alarm)
9. Multi-language translation
10. Watch Anti-lost function
11. Support multi-manager caring worker function
12. Watch can stand free fall from 200 cm height
13. 9H Tempered Glass, can stand up to 15kg pressure
14. (Includes Wireless Headset) For lone worker to speak to manager in a noisy environment.
Osmile ED1000 Lone Worker Health Monitoring Functions:
1. Heart rate monitoring
2. Blood Pressure monitoring
3. Blood Oxygen Monitoring
4. Medicine Reminder
5. Sedentary
6. Sleep
7. Steps
Osmile ED1000 sos alert lone worker monitorning device is not a medical device, should not use for medical purposes. All data derived are only for reference.
Osmile ED1000 lone worker device other functions:
1. Social Medical Communication: Line, WeChat etc
2. Find watch function
3. Alarm Clock
4. Phone Book
5. Multi-language support : Chinese/ Danish/ Dutch/ English/ French/
German/ Greek/ Hindi/ Hungarian/ Indonesian/ Italian/ Malay/ Pilipino/ Polish/ Portuguese/ Russian/ Spanish/ Swedish/ Thai/ Turkish/ Vietnamese
Osmile ED1000 Spec:
Model:Osmile ED1000
Wireless transmission:4G/5G Nano Sim Card
System requirement:Android 4.4 含以上 ; IOS 9.0 以上
CPU : SP9820E
Screen Size : IPS 1.4'
Resolution:240 * 240 pixel
Touch:Capacitive touch
Screen : IPS touch screen
Camera:3.0 mp
GPS Sensitivity : - 159 dBm
Battery Capacity:780 mAh Lithium Battery
Voltage:5V
Charging method:Magnetic USB Charging
Charging time:3 hours
Operating time:Around 3 days
Watch material:ABS + PC
Strap Color:Black White, Black Dark Green, Black Dark Grey, Light Green Gray, Light Green White, Purple Black, Pink Black, Green Black, Grey Red, Blue Black, Green Purple, Grey Orange, Grey Blue Grey Black, Red Black
Watch Size:25.7 * 4.1 * 1.5 cm
Watch weight:53g
Waterproof Level:IP67 (not support hot shower and swim)
Warranty:12 months (Support fast repair, but not artificial damage)
Life Customer Support:Osmile lone worker alert watch come with lifetime customer support
Buy Osmile lone workers systems today! Very easy to set up! Osmile gives your company best lone worker protection at very low cost!
Remarks:
Osmile ED1000, needs to be charge once in 3 weeks, when it is not in use.
Osmile ED1000, not support hot shower, or swimming.
Declaration
Osmile does not be resiponsible for leagl issue such as SOS dial out function failure, or GPS positioning. Customer should aware that SOS dialing out, and GPS positioning may not succeed for factors such as 4G/5G signal of Telecom company is too weak or no signal, human operation error, setting error etc.
Osmile Technology Co., Ltd
B2B professional cloud health analysis smart bracelet manufacturer
Customize: Hospital, Heath Centre, Care Home, Cloud Smart Bracelet

IFSEC, the UK's largest and longest-running security event celebrates its 50th anniversary in 2023

In partnership with the British Security Industry Association (BSIA), IFSEC returns to ExCeL London from 16-18 May this year with a packed expo hall, tech talks seminar program, live demos, new Distributor Network and a partnership with charity Mates in Mind.

New for 2023, the Distributor Network recognizes the essential role distributors play in the security market. In bespoke distributor hubs on the show floor, 11 of the UK's leading distributors will meet and greet the installer audience and meet suppliers. Distributors involved include ADI Global, DVS, CIE-Group, COP, Dynamic CCTV, Oprema, PureTech, DTS Solutions, Mast UK, and Nimans.

Thousands of senior security professionals are expected to attend, keen to explore innovative products and solutions and collaborate with the entire community, including key security associations and over 650+ exhibiting companies across all co-located shows.

Osmile also participating the exhibition, showing the latest Osmile ED1000 Ruggedized GPS Watch for Lone Worker Solutions


SOS Alert Application : Fast Help When You Need it
Most
SOS Alert : Emergency Support
SOS Alert helps lone workers in a crisis. If they feel at risk or need support, they simply select the SOS Alert option on their device Osmile ED1000 . This will immediately open a two-way call with highly trained staff at the Alarm Receiving Centre (ARC). The ARC operates 24/7/365, guaranteeing a response in seconds.
Escalation
The ARC officer has secure access to the worker's personal emergency escalation protocol and real-time GPS location. This lets us direct emergency services straight to the worker, bypassing 119 call centers and saving critical time. If there is a false alarm, the worker can simply tell the ARC to stand down.
Virtual buddy
SOS Alert can also be used as a virtual buddy. The ARC operative will stay on the call with a worker, should they feel at risk. For example, if they're working late at night and are uncomfortable in a poorly lit car park, ARC staff can stay alert as they walk to their vehicle.
Active Listening
The ARC staff use the initial seconds of the call for active listening, in case a vulnerable worker can't speak freely. Calls are recorded, and the recordings are admissible as evidence in court, for example in case of prosecution for an assault.
Worker Down Application : No-movement and fall alarm
Osmile ED1000 uses the built-in motion sensors in the watch to enable Worker Down. Osmile ED1000 then monitors the movement of the watch and its orientation. If, for example, lone worker after a fall, and the Osmile ED1000 fall alert is triggered, and the lone worker didn't touch the Osmile ED1000 button to switch it off, then an alarm Worker Down will send to (ARC) to call for help.
The operatives there will access the worker's GPS location and call the worker's phone to see if they're OK. In the event of a false alarm, the worker can simply, switch off the fall alarm or advise the ARC to 'stand down'. If ARC staff can't contact the worker via their watch, they will automatically follow the next steps in the person's individual escalation procedure, and can quickly dispatch emergency services to the worker's location.
GPS Application : Locate Finding your workers in a crisis
GPS Locate : Pinpoint accuracy
When using Osmile ED1000, the lone worker's GPS location is reported to the system every ten minutes as standard (although this frequency can be customised), and whenever a SOS Aler or Worker Down Alert is raised.
About GPS
The Global Positioning System (GPS) tracking system uses a network of satellites linked via Osmile ED1000 to the lone worker's device or app. The network consists of 30 satellites broadcasting radio signals in a permanent near-earth orbit of approximately 20,000 km. Now used widely around the globe, GPS was initially set up for US military navigation. The first satellite in the system, Navstar 1, was launched in 1978.
Trilateration
From any point on the globe, four GPS satellites are visible all the time. At regular intervals, they each transmit the current time and their location. The signals reach your lone working device, and Safe Hub calculates how long the message took to reach you and your distance from the satellite. By overlaying the information from three of the visible satellites, GPS can pinpoint your location. This process is called trilateration.
Customized use
Osmile ED1000 lets us customize the settings for each client to ensure the use of GPS Locate complies with their individual policies and procedures around privacy. So you can choose exactly who can see a worker's GPS location, and how that information can be used. Each activity performed within Safe Hub is tracked to allow for monitoring and compliance.
Benefit of Lone Worker GPS Watch
1. Reduction of Risk for Lone Workers
2. Reduction of Liability for Employers
3. Call for Emergency Help Immediately
4. Tracking Enables More Effective Administration
5. Fewer Employees Required in the Field
Lone workers
A Lone Worker (LW) is an employee who performs an activity that is carried out in isolation from other workers without close or direct supervision. Such staff may be exposed to risk because there is no-one to assist them and so a risk assessment may be required. Lone workers are now often supported by cloud-based automated monitoring systems and specialised monitoring call centres - often referred to as an 'Alarm Receiving Centre' or 'ARC' in the UK, or 'Emergency Dispatch Center' or 'EDC' in the US.
Examples of lone workers
There are different types of lone workers including:
People working at home such as telecommuters, affiliated marketers, writers
Workers in the energy industry or oil and gas Industry including upstream workers like surveyors, land managers, drillers, and midstream or downstream workers such as refinery workers and drivers
Construction workers
Mobile workers such as traveling salesmen, truck drivers, health visitors, repair technicians
People who work in any type of manufacturing facility
People working outside normal hours such as security guards, cleaners
Utility workers such as meter readers or technicians