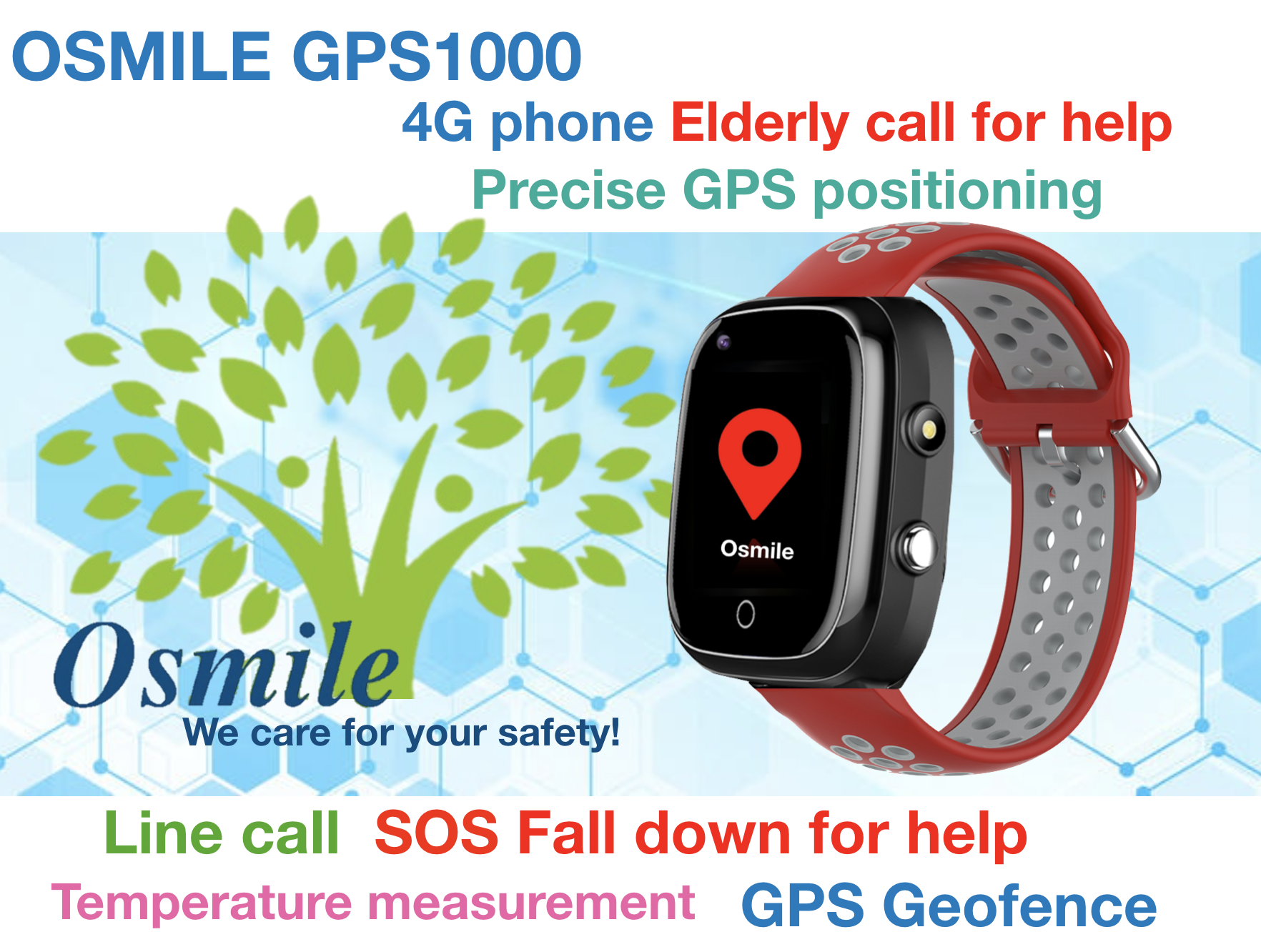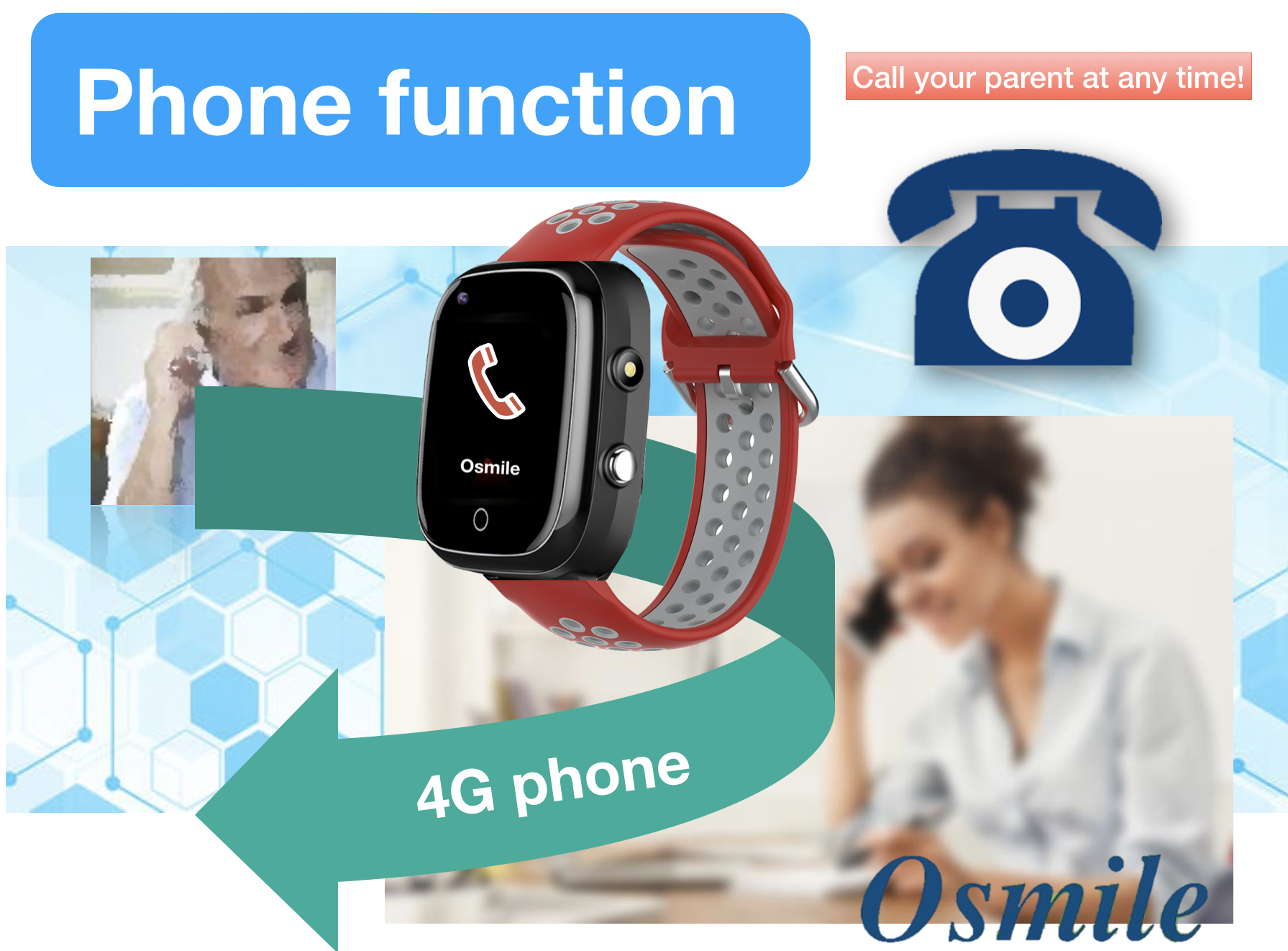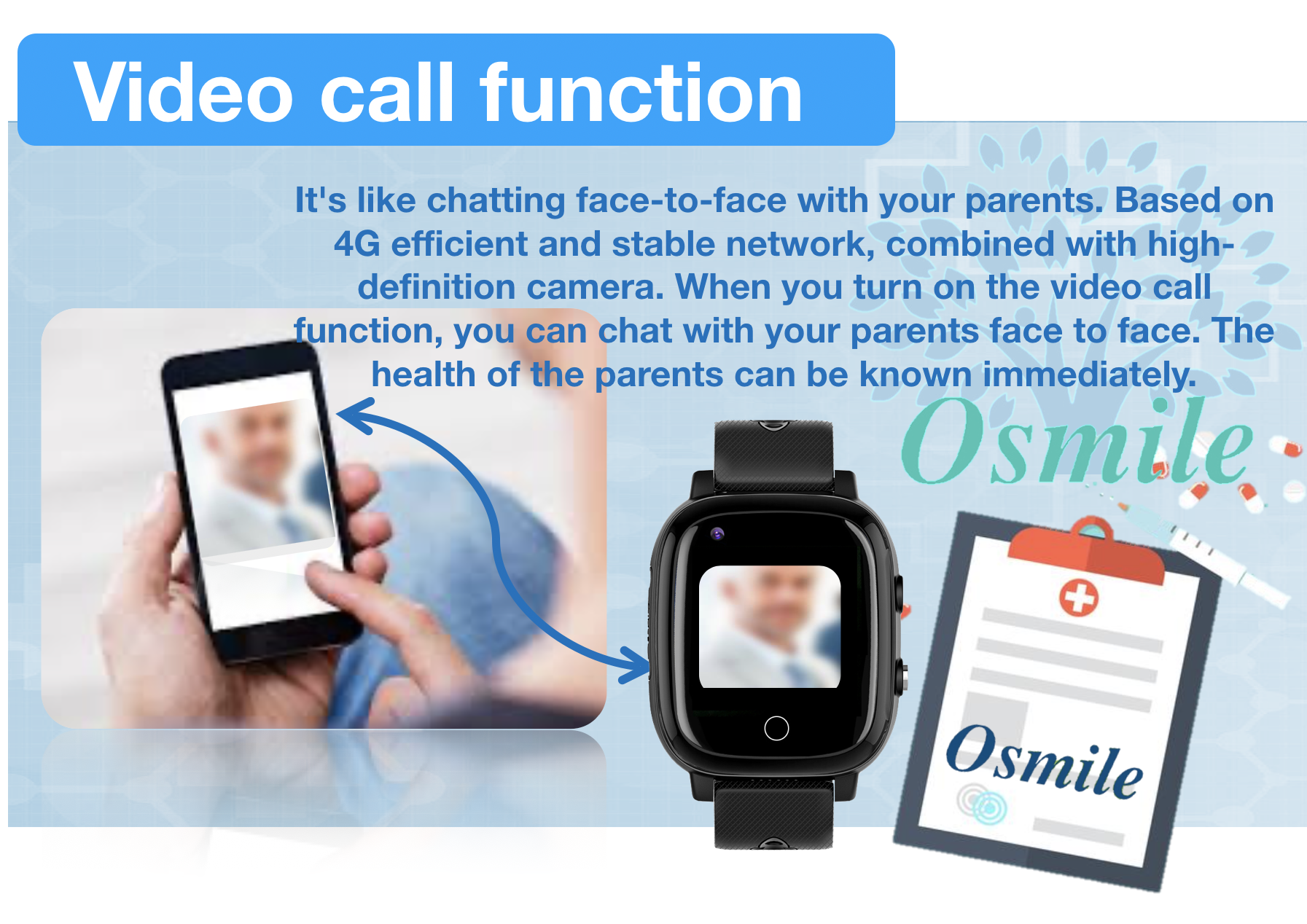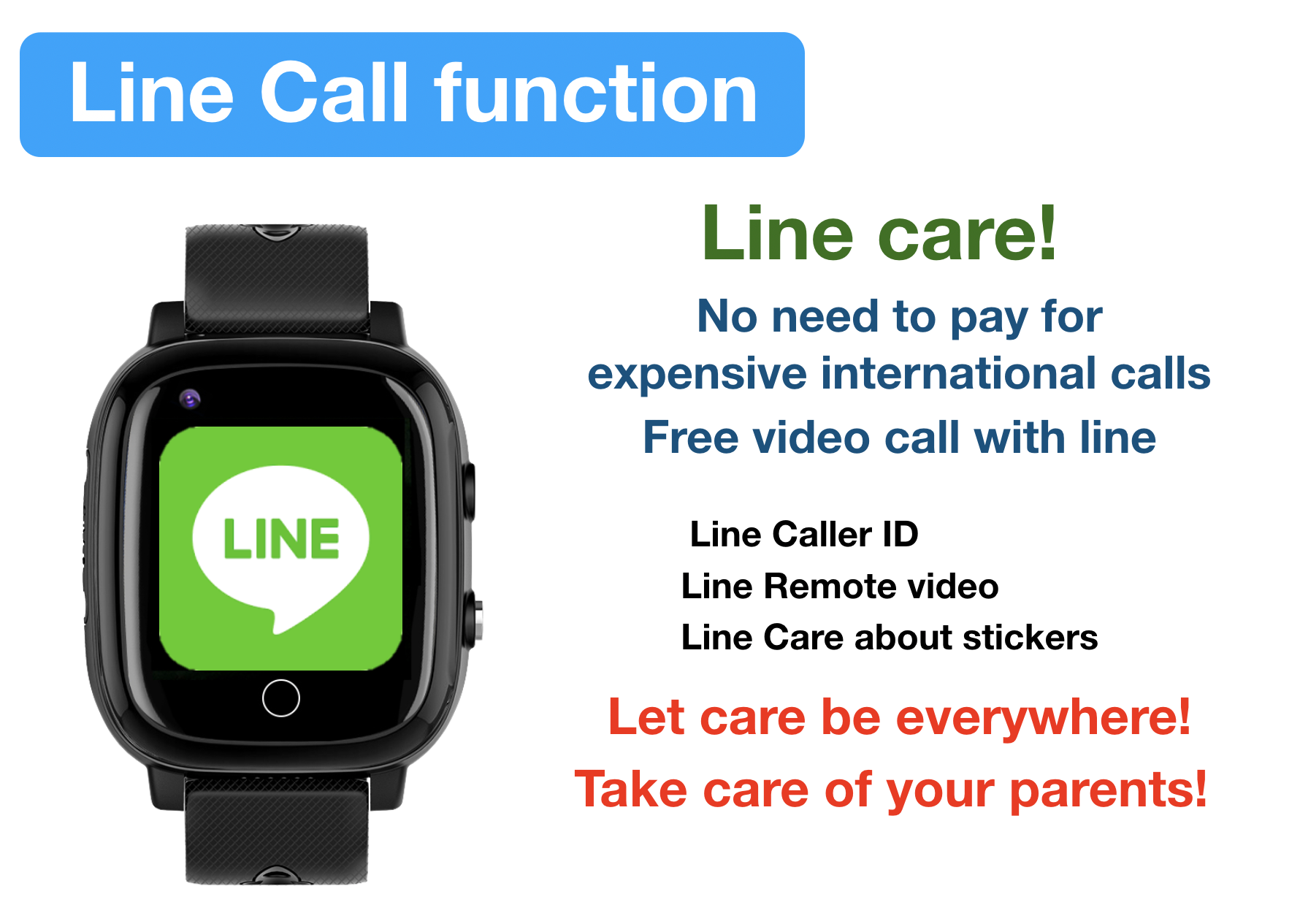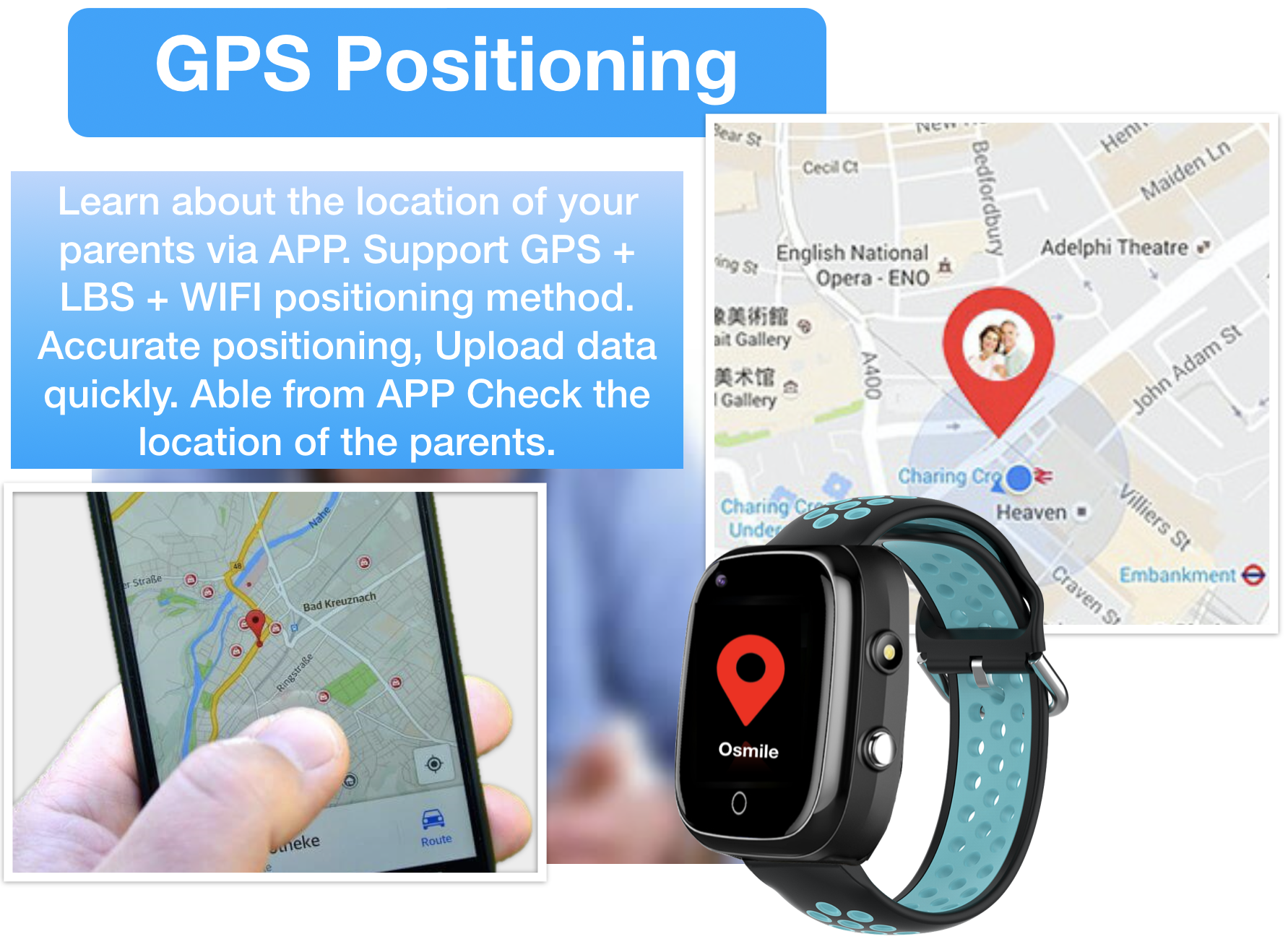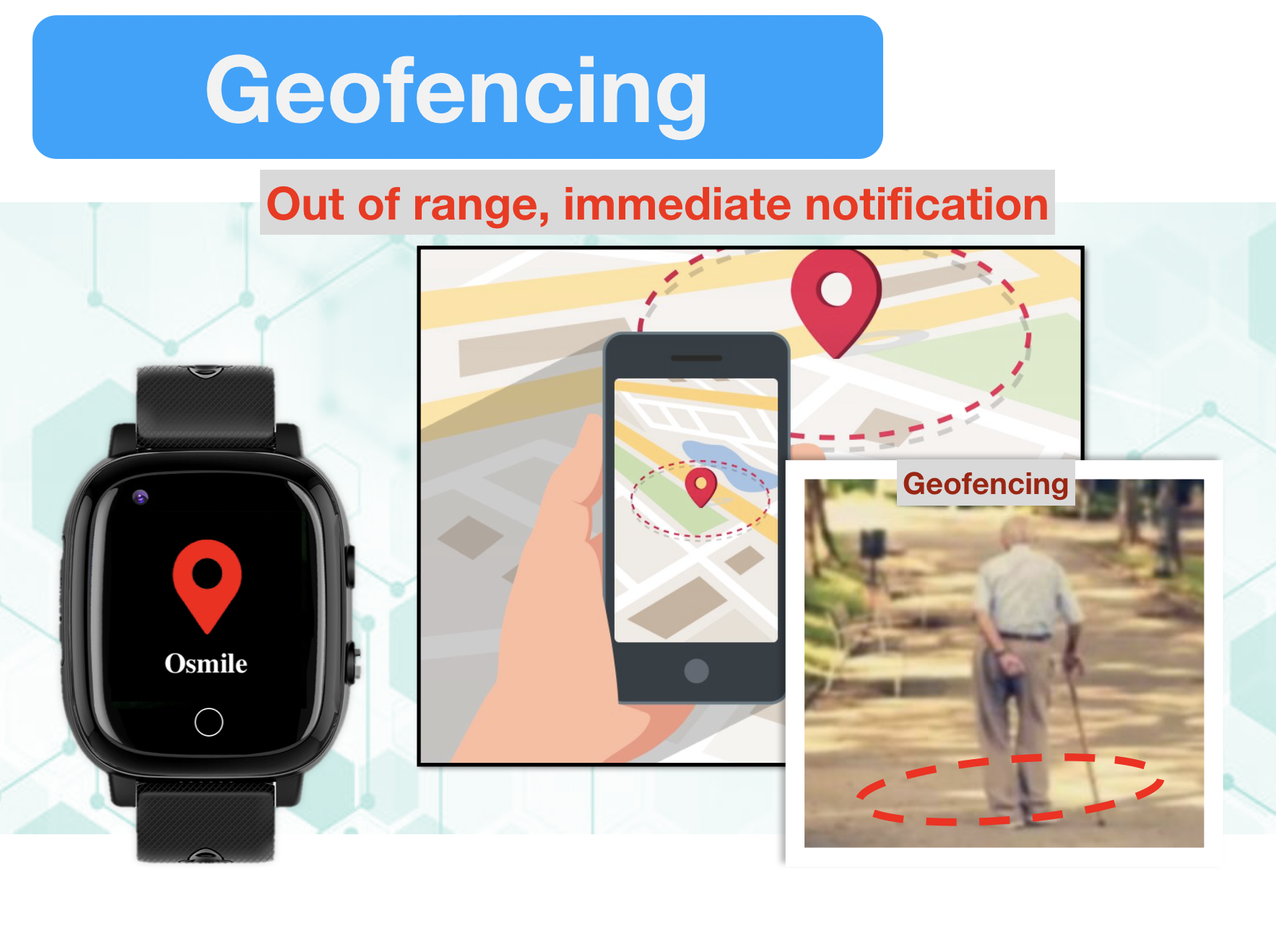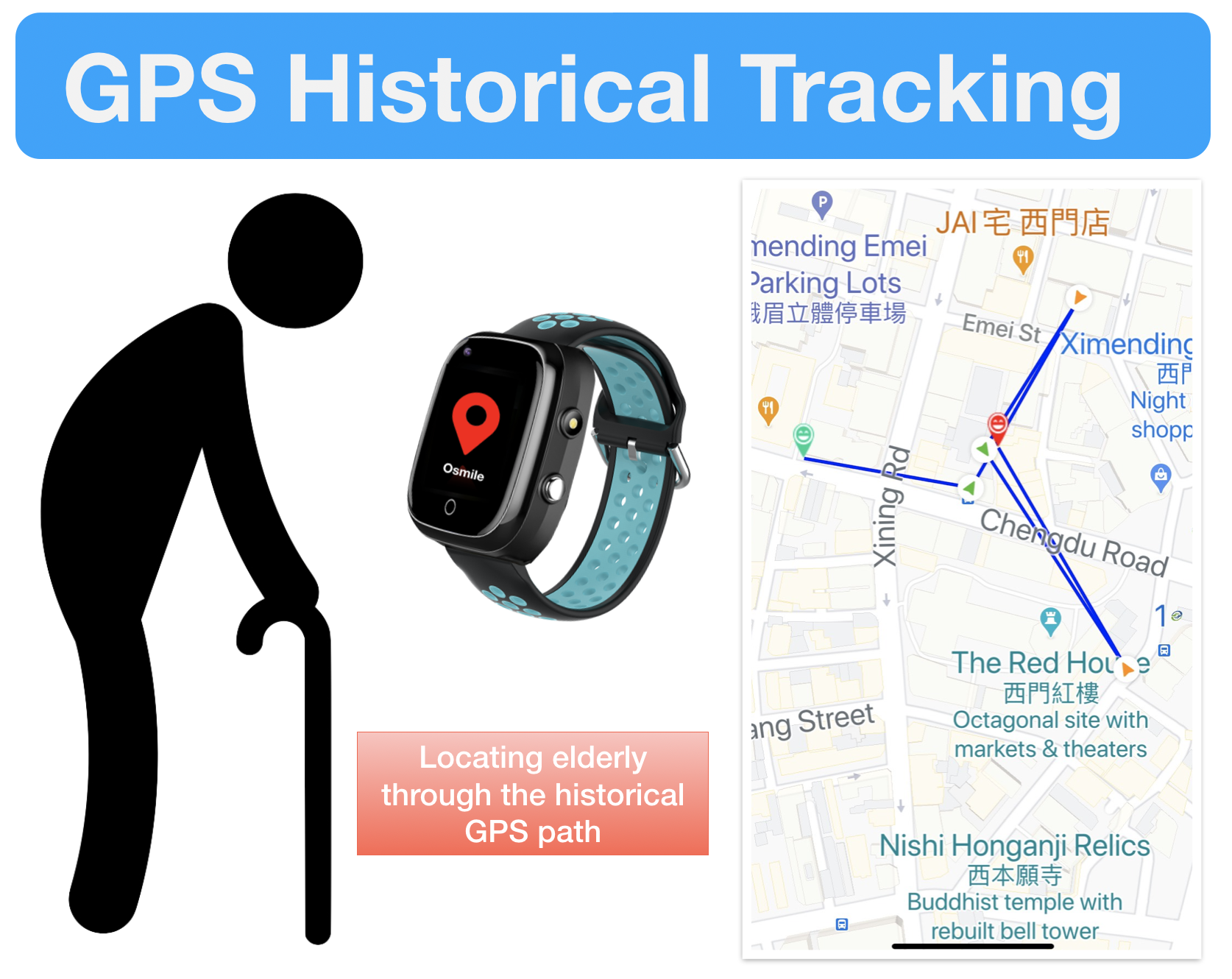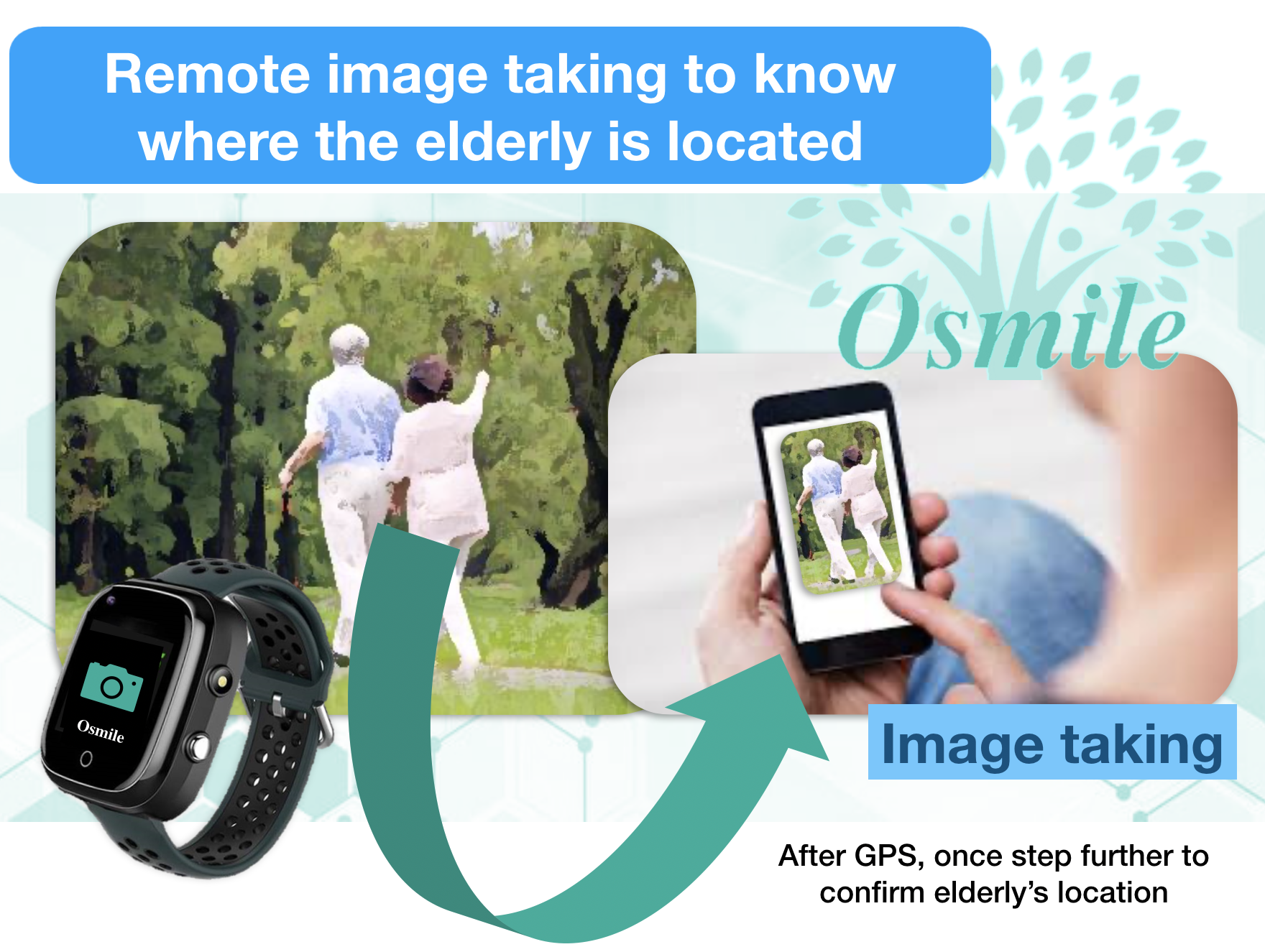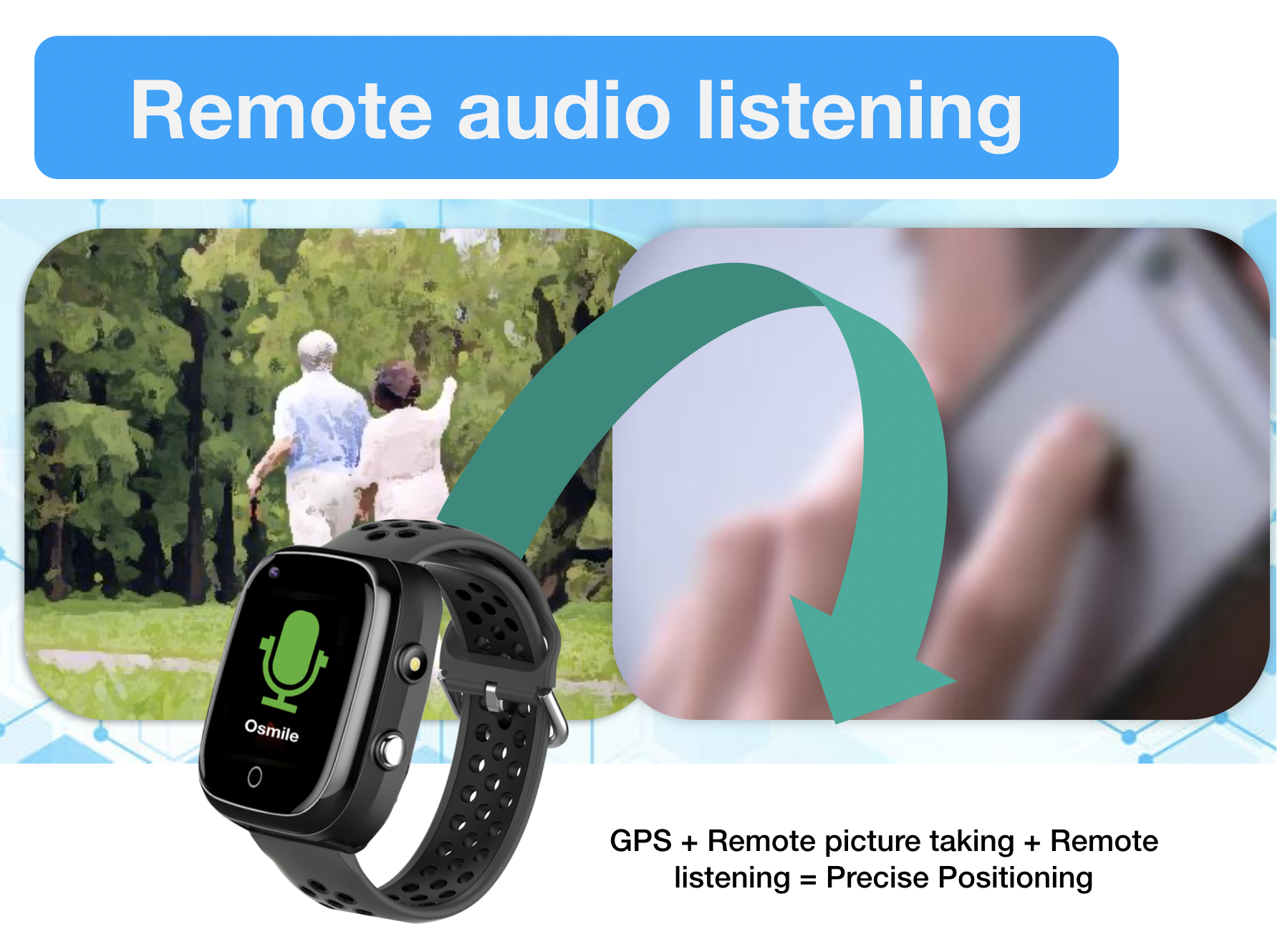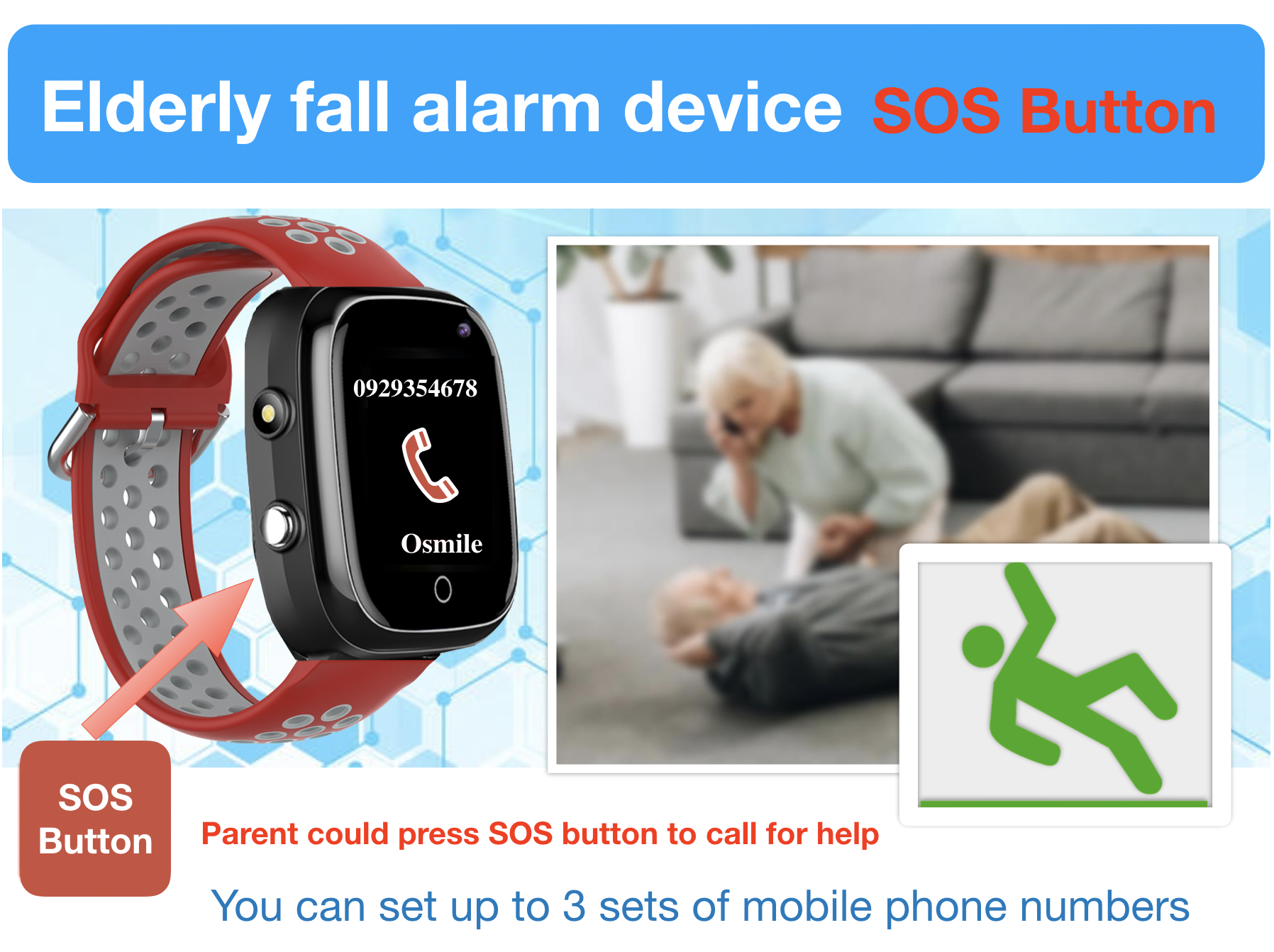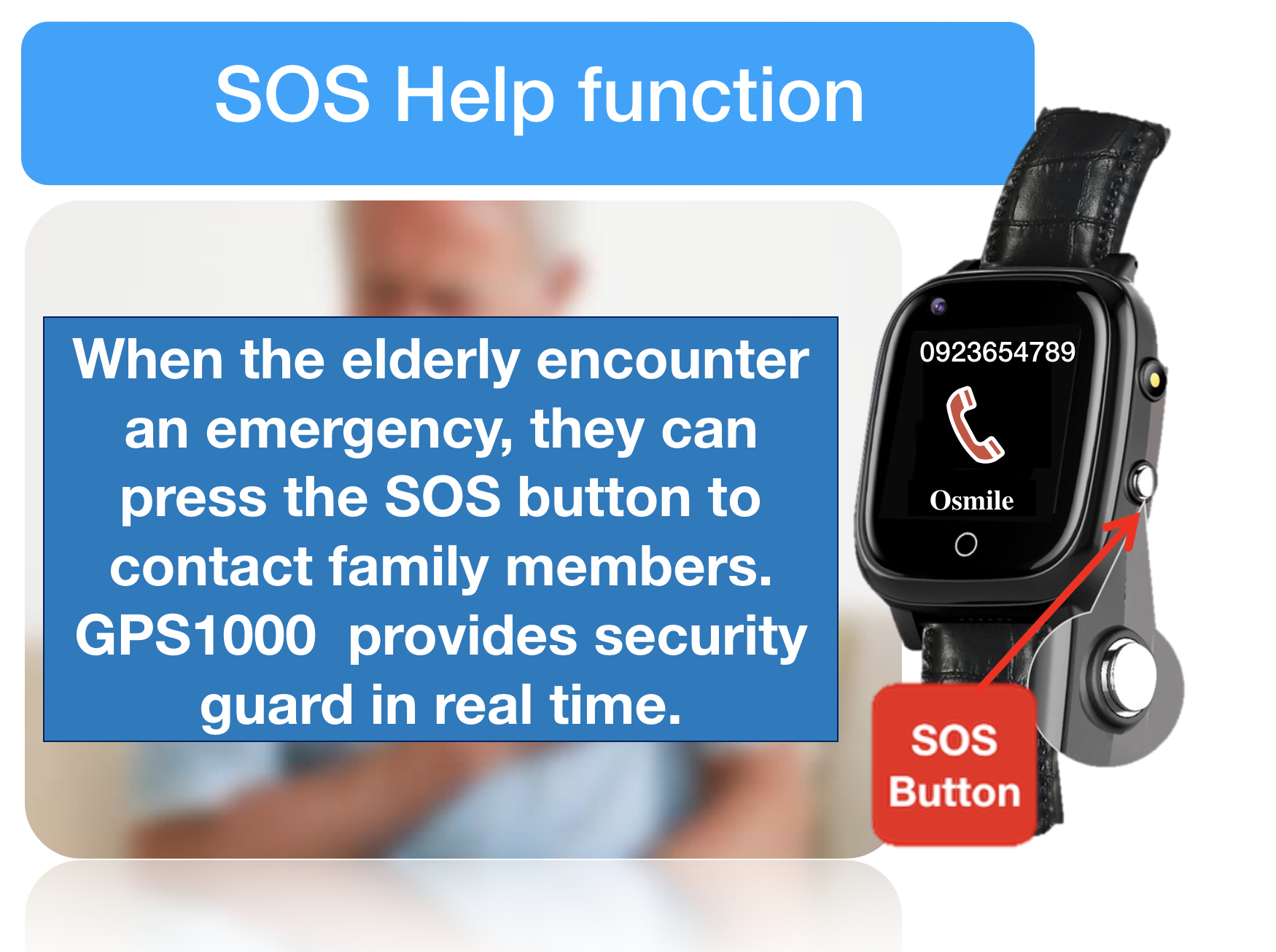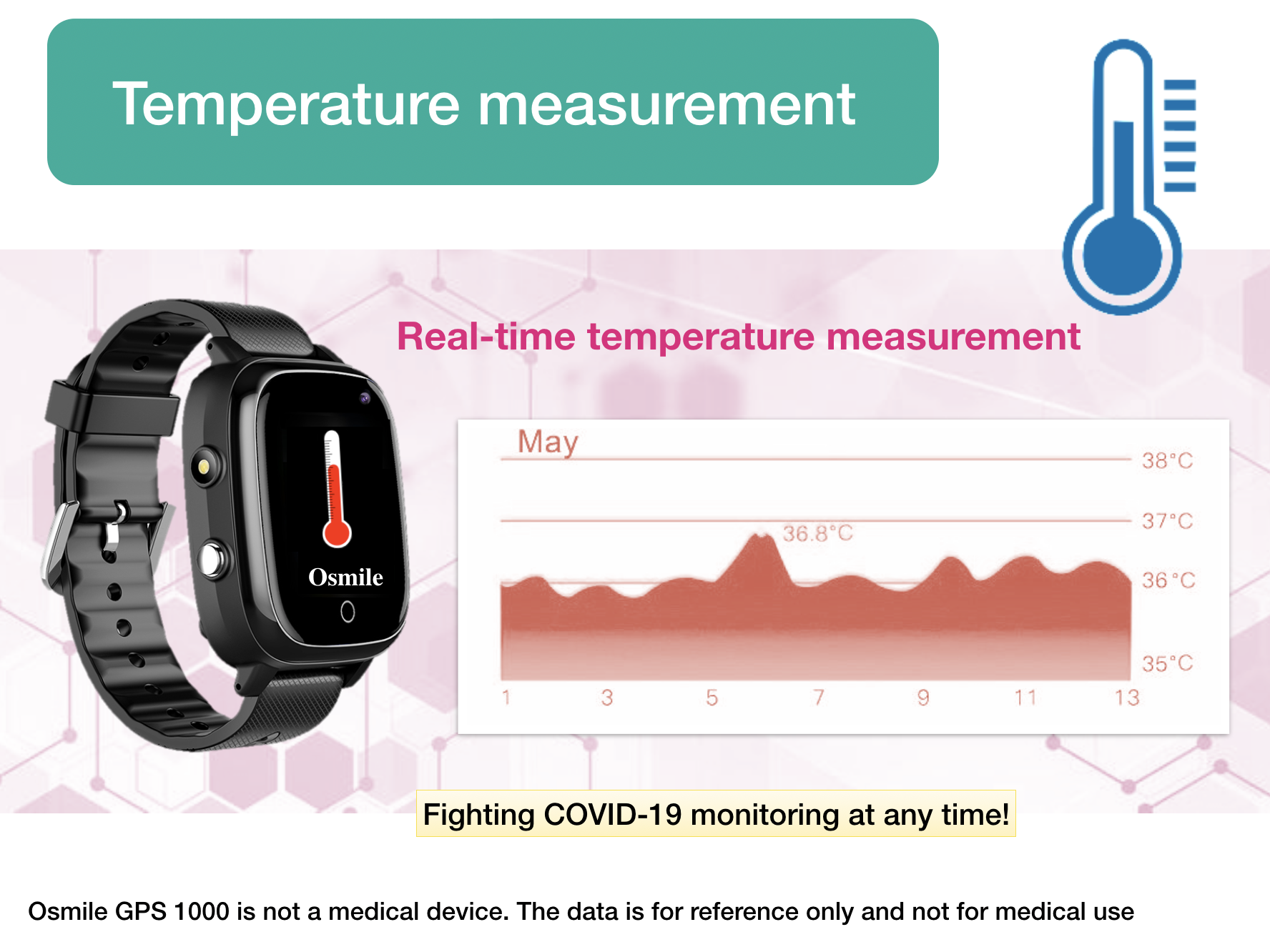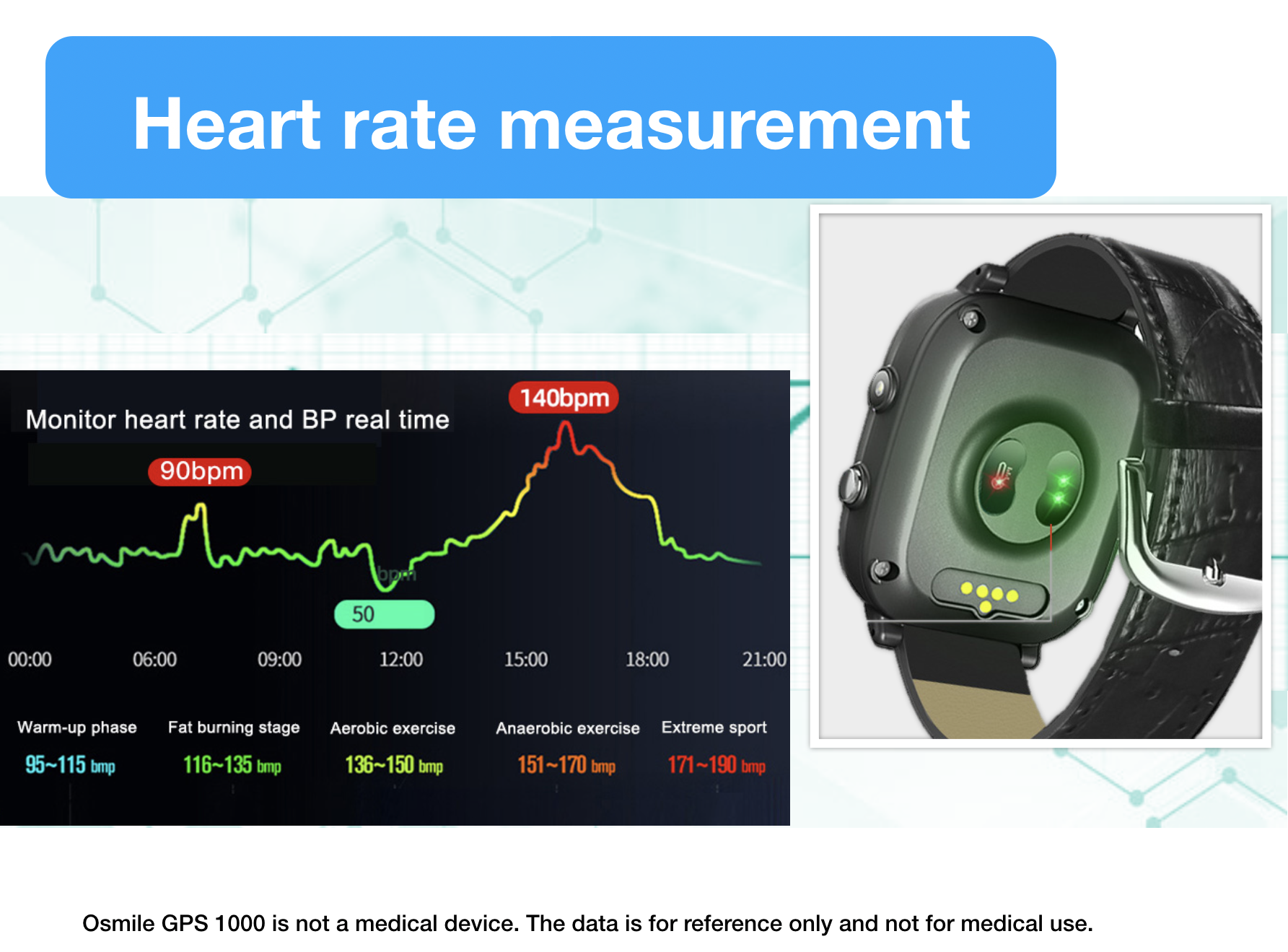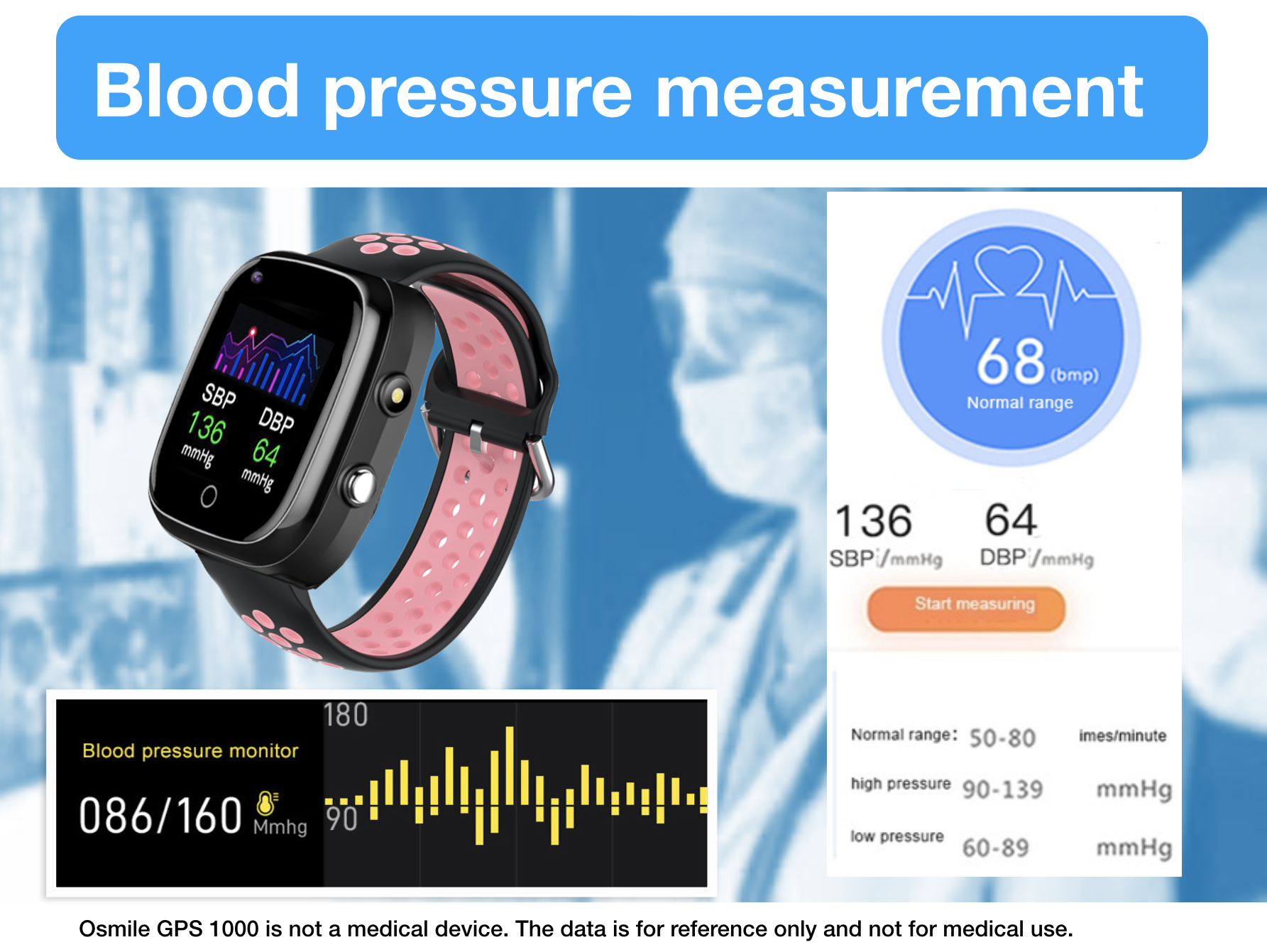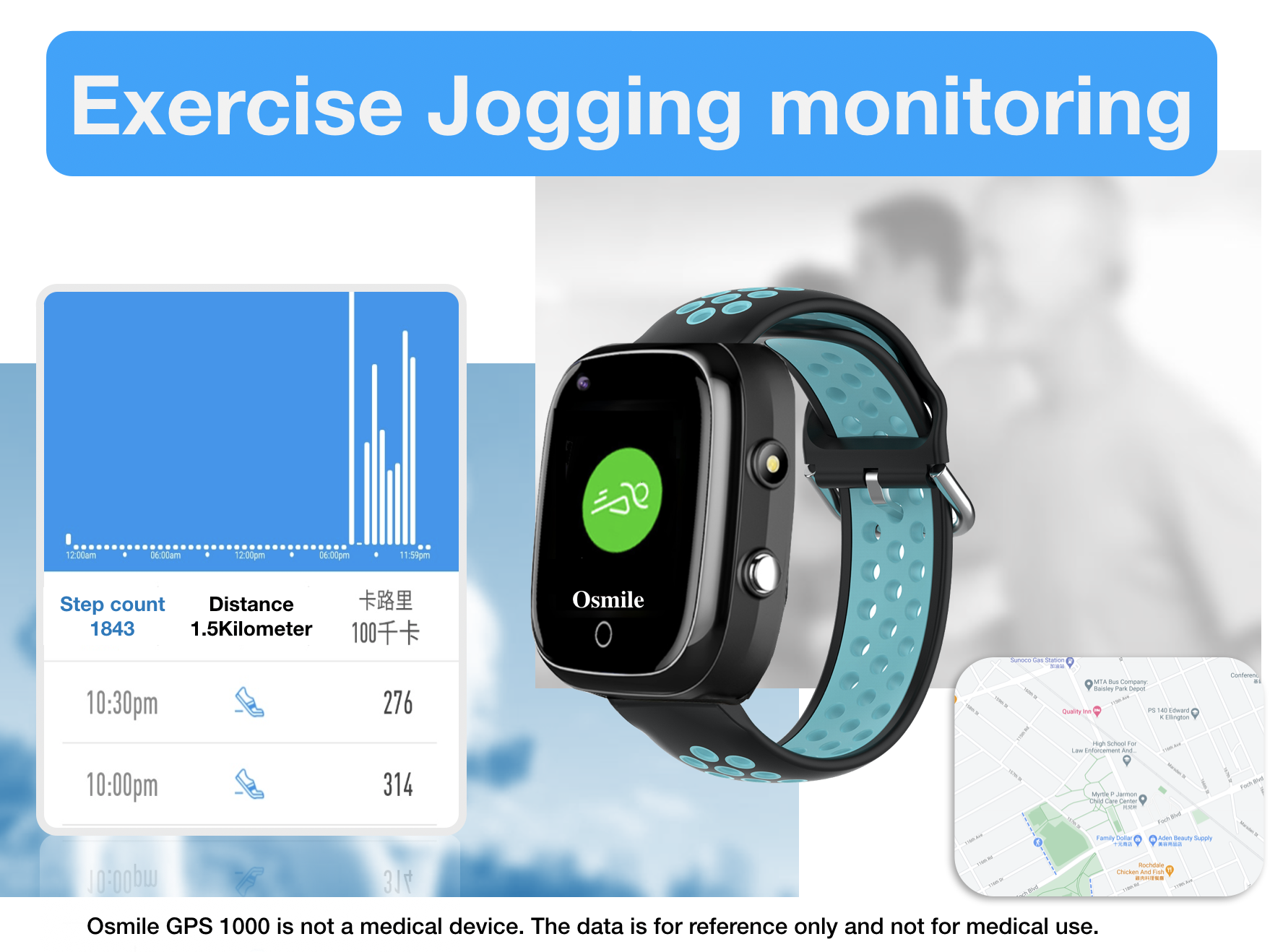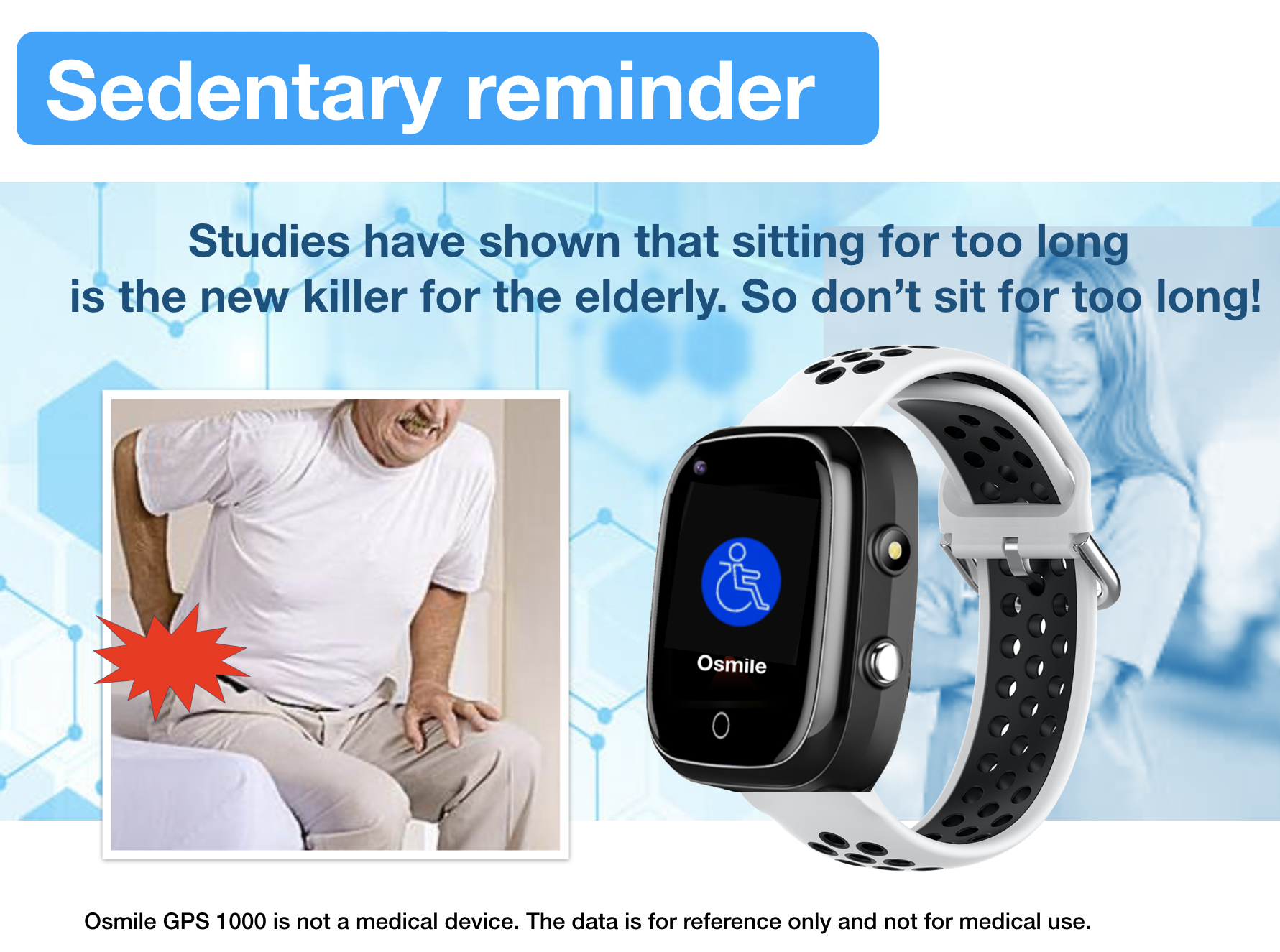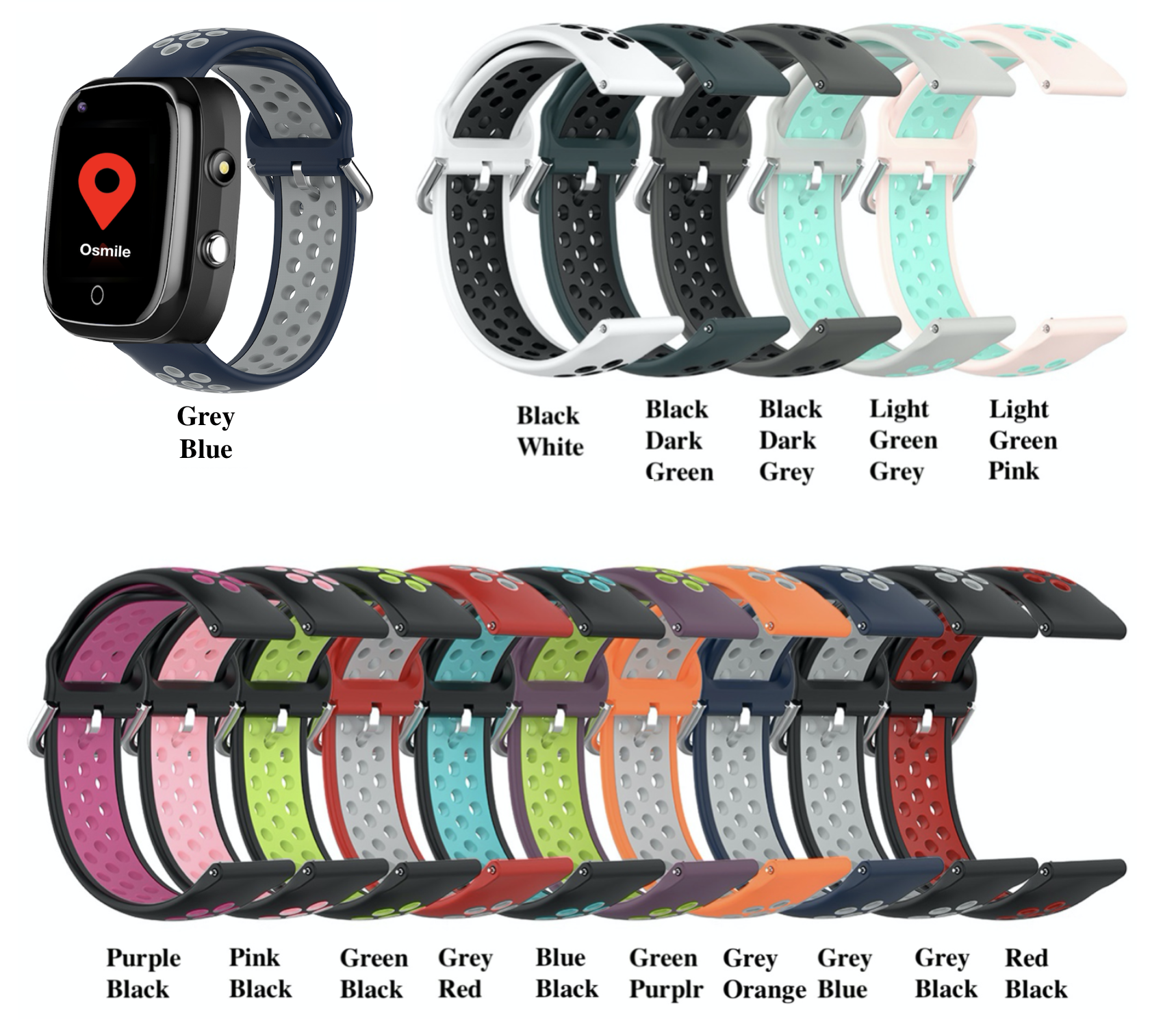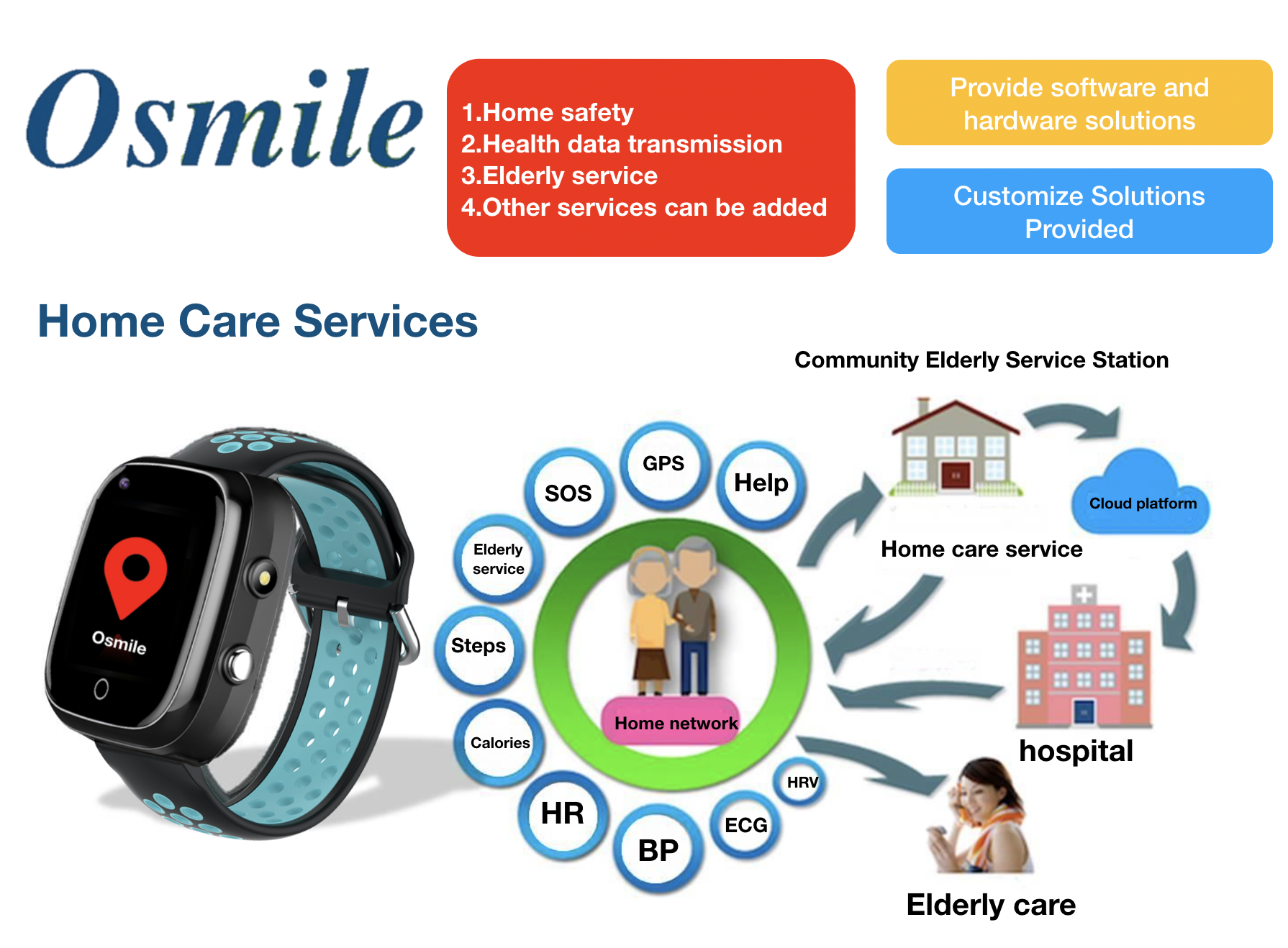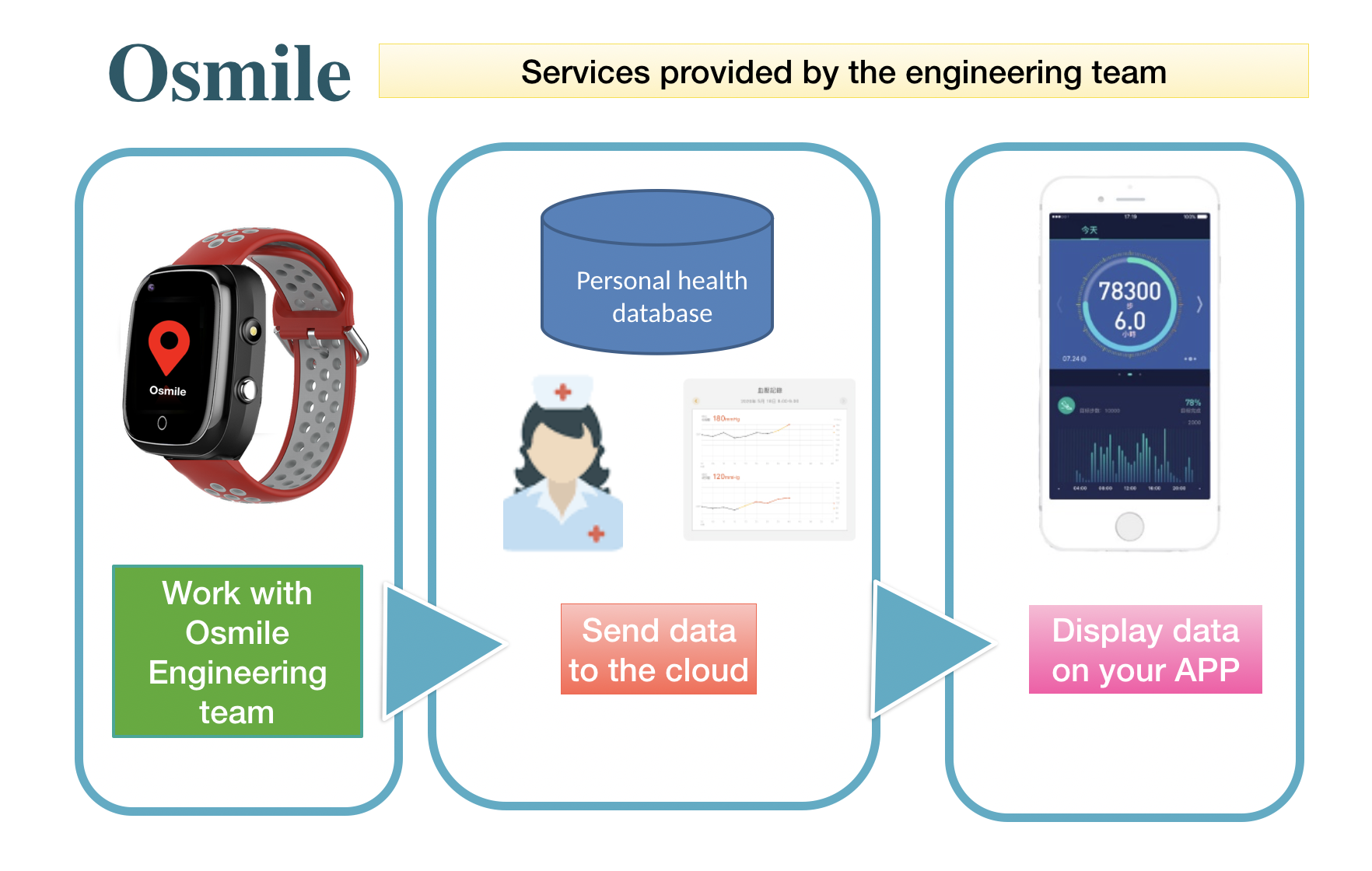 Osmile GPS1000 Watch for elderly with Alzheimer's disease & Dementia
4G phone call / SOS emergency button / Accurate GPS location tracking / Electronic Geofence / COVID-19 Temperature measurement
Osmile GPS1000 4G Phone function:
1. Phone call
2. Video call
3. Line, FB Messenger, Messenger Video Call
(If elderly lost can call him or her at any time)

Osmile GPS1000 Anti-Elderly lost function:
1. GPS + WiFI + LBS (Multiple Positioning Method to locate elderly)
2. Electronic Geofence (notifies the elderly when they leave the set distance)
3. GPS motion tracking (Tracking elderly's historical positions on the map)
5. Remote camera (Taking picture on the surround of the lost elderly)
6. Remote control microphone (Through listening to the surrounding sound to locate elderly)
7. SOS emergency button (Elderly could call when encounter a fall, or emergency)
8. Automatic answering incoming call
9. Support more than 10 family members to care for one elderly
10. 1 cell phone can manage 50 elderly
Osmile GPS1000 healthcare management functions:

1. Remote Heart rate measurement
2. Remote Blood pressure measurement
3. Blood Oxygen measurement
4. Continuous Body Temperature measurement
5. Sleep measurement
6. Pedometer
7. Medication reminder
Osmile GPS1000 is not a medical device and should not be used for medical purposes. All data is for reference only.
Other functions of Osmile GPS1000:
1. Multi-language translation
2. Watch finder function
3. Alarm clock
4. Phone book
5. Block strange calls
7. All kinds of warning message notification
8. Multi-language support: Chinese/Danish/Dutch/English/French/.
German/Greek/Hindi/Hungarian/Indonesian/Italian/Malay/Philippines/Polish/Portuguese/Russian/Spanish/Swedish/Thai/Turkish/Vietnamese/Japanese
Osmile GPS1000 Specifications:
Model: Osmile GPS1000
Wireless transmission: 4G/5G Nano Sim card
Network Support: 4G/5G, WCDMA, GSM
System requirements: Android 4.4 or above; IOS 9.0 or above.
CPU: OSP98201E
Running memory: 512MB
Screen Size: IPS 1.3
Resolution: Display resolution 240 * 240
Touch: Capacitive touch
Screen: IPS touch screen
Camera: 3.0 w
GPS Sensitivity: -159 dBm
Location: GPS + WiFI + LBS
Radiation is lower than the international standard for cell phones, no effect on human body
Battery capacity: 680mAh lithium battery
Voltage: 5V
Charging method: Magnetic USB charging
Charging time: 2 hours
Standby time: 72 hours
Operation time: about 3 days
Watch material: ABS + PC
Strap material: silicone
Strap color: Black White, Black Dark Green, Black Dark Grey, Light Green Gray, Light Green White, Purple Black, Pink Black, Green Black, Grey Red, Blue Black, Green Purple, Grey Orange, Grey Blue Grey Black, Red Black
Watch size: 25.7 * 4.1 * 1.5 cm.
Watch weight: 53 grams
Waterproof level: IP67 (Cannot wear the watch for swimming or shower)
International Warranty: 12 months (Not including artificial damaged)
Customer service: Provides watch installation service
Remark: Osmile GPS1000 needs to be charged once every 3 weeks when not in use:
Osmile GPS1000, needs to be charged once in 3 weeks when not in use.
Osmile GPS1000, does not support hot water bath or swimming.
Osmile Technology Co. Ltd
B2B professional GPS cloud healthcare analysis smart bracelet manufacturer

In today's modern world, people are living longer and longer. While this means we're able to stay with our loved ones for more time and really step outside and see what amazing things the world has for us, there are some problems that come with old age.
Most commonly, we're referring to mental health conditions. There are dozens of commons conditions and illnesses ranging from Parkinson's and Alzheimer's to Dementia and more. With the ability to impair brain functions, this can cause problems in an elderly person's everyday life.
For example, a common issue is an elderly individual in question wandering off from their home. They can become forgetful of where they are or where they're going, which of course, can put them in danger.
While these mental health problems are unavoidable, using GPS tracking watches, you can quickly see where your loved ones are at all times. If you do find your loved one missing, you can simply look it up in a matter of seconds. Osmile GPS1000 is one of the best GPS tracking watch in the world, with best technical team to assist you, whenever a help is needed on using the GPS watch!

10 Early Signs and Symptoms of Alzheimer's

1. Memory loss that disrupts daily life

2. Challenges in planning or solving problems

3. Difficulty completing familiar tasks

4. Confusion with time or place

5. Trouble understanding visual images and spatial relationships

6. New problems with words in speaking or writing

7. Misplacing things and losing the ability to retrace steps

8. Decreased or poor judgment

9. Withdrawal from work or social activities

10. Changes in mood and personality

Osmile GPS1000, assist to get connected with the elderly at home at all time!
Most questions asked by people whose familly member has a problem of demantia:
How do you track someone with dementia?
How do I trace my grandmother?
What is the best personal GPS tracker?
What is the smallest GPS tracking device available?
What to do if someone with dementia goes missing?
How do you track someone using GPS?
Should dementia patients be left alone?
How do I locate a tracking device?
How far do GPS trackers go?
Do GPS trackers really work?
Can I track my wife's phone without her knowing?
Can I track my husbands car without him knowing?
Is there a GPS tracker without monthly fee?
Can you put a tracking device on a person?
Osmile GPS1000 can assist to help with most of situations above
What is GPS?
Discover everything you need to know about GPS and how it is used today.
GPS, or the Global Positioning System, is a global navigation satellite system that provides location, velocity and time synchronization.
GPS is everywhere. You can find GPS systems in your car, your smartphone and your watch. GPS helps you get where you are going, from point A to point B.
What are the uses of GPS?
GPS is a powerful and dependable tool for businesses and organizations in many different industries. Surveyors, scientists, pilots, boat captains, first responders, and workers in mining and agriculture, are just some of the people who use GPS on a daily basis for work. They use GPS information for preparing accurate surveys and maps, taking precise time measurements, tracking position or location, and for navigation. GPS works at all times and in almost all weather conditions.
There are five main uses of GPS:
Location — Determining a position.

Navigation — Getting from one location to another.

Tracking — Monitoring object or personal movement.

Mapping — Creating

maps of the world

.

Timing — Making it possible to take precise time measurements.
Some specific examples of GPS use cases include:
Emergency Response: During an emergency or

natural disaster

, first responders use GPS for mapping, following and predicting weather, and keeping track of emergency personnel. In the EU and Russia, the

eCall regulation

relies on GLONASS technology (a GPS alternative) and telematics to send data to emergency services in the case of a vehicle crash, reducing response time. Read more about GPS tracking for

first responders

.

Entertainment: GPS can be incorporated into

games and activities

like Pokémon Go and Geocaching.

Health and fitness: Smartwatches and wearable technology can track fitness activity (such as running distance) and benchmark it against a similar demographic.
Construction, mining and off-road trucking: From locating equipment, to measuring and improving asset allocation, GPS enables companies to increase return on their assets. Check out our posts on

construction vehicle

tracking and

off-road equipment

tracking.

Transportation: Logistics companies implement telematics systems to improve driver productivity and safety. A

truck tracker

can be used to support route optimization, fuel efficiency, driver safety and compliance.
How Do Medical Alert Systems Work?
Need an alert system for someone who rarely leaves their home or yard? Want a device that wears like a smartwatch? Osmile ED1000 GPS Watch is the one yo needed!
Medical alert systems are designed to enable older adults to maintain their independence and age safely in place. If this is your first time learning about these devices, you will probably be amazed to see the variety of products for differing tastes and needs.

Maybe you've heard these systems referred to as Personal Emergency Response Systems (PERS).
Different name; same around-the-clock protection for seniors.
Here's how medical alert systems work:
A medical alert system operates either via landline connection or a cellular connection (we prefer cellular connections). Most companies that sell medical alert systems offer one or more of three types of systems: in-home, mobile, and hybrid. Of course, smartwatch alert systems are hybrid; they can be used at home and on-the-go, and they are powered via a cellular signal (no landline required).
The in-home system is especially important for seniors who live alone. This type of system usually includes a base unit that should be placed in a central location in the house. The base unit is like the central nervous system; everything else runs through it. It might feel a little weird at first, but if you end up choosing one of these, you will be talking to a response center associate through this box-like communicator.
Many systems include a help button that you or your loved one will wear around the neck or wrist. Some, but not all, systems also include help buttons that can be placed in different locations around the house, usually in spots that are high risk for falls such as the bottom of the staircase. If you or your loved one is wearing a smartwatch style alert system, you won't have to worry about reaching a wall-mounted button, as help is right there on your wrist!
We think the mobile systems offer lots of value and peace of mind for seniors who are on the go. They come in various forms. Some are help buttons worn around the neck. Others are smartwatches, as noted, or help buttons that can be attached to a belt. And some are specifically made for cars.
Now, imagine that you are having a medical emergency, perhaps a fall or symptoms of a heart attack. You push a help button either on a button placed in your home or on your smartwatch. You often can communicate directly through this button. If the button does not include two-way talk, you can speak through the base unit.
A trained response center associate will respond to you, usually in 30 seconds or less, and ask you a few questions to assess the situation. If you are unable to speak, the associate will call 911 and your predetermined contacts. The response center also has your medical history and contact information on file, so they are able to quickly provide EMS important information.