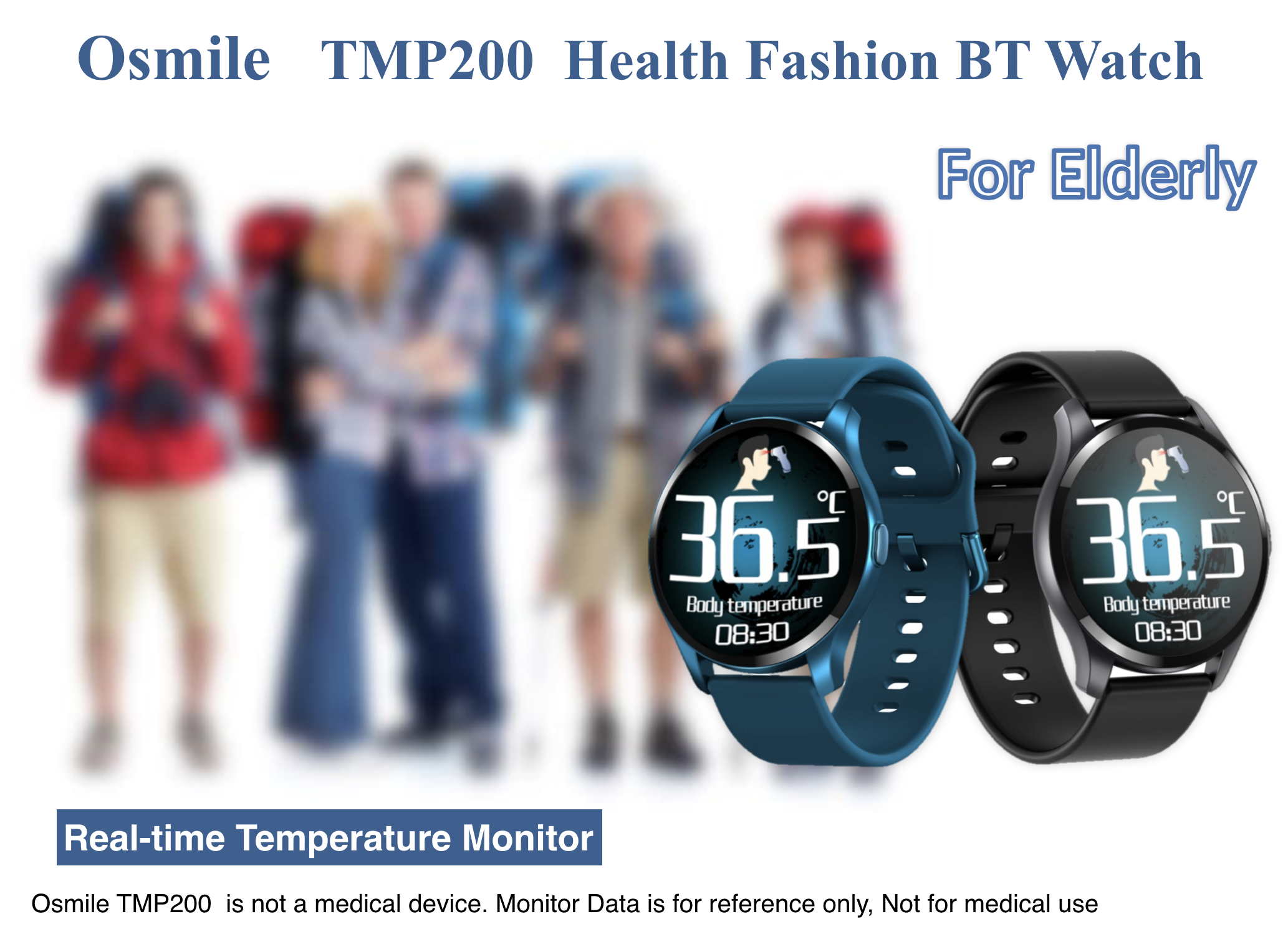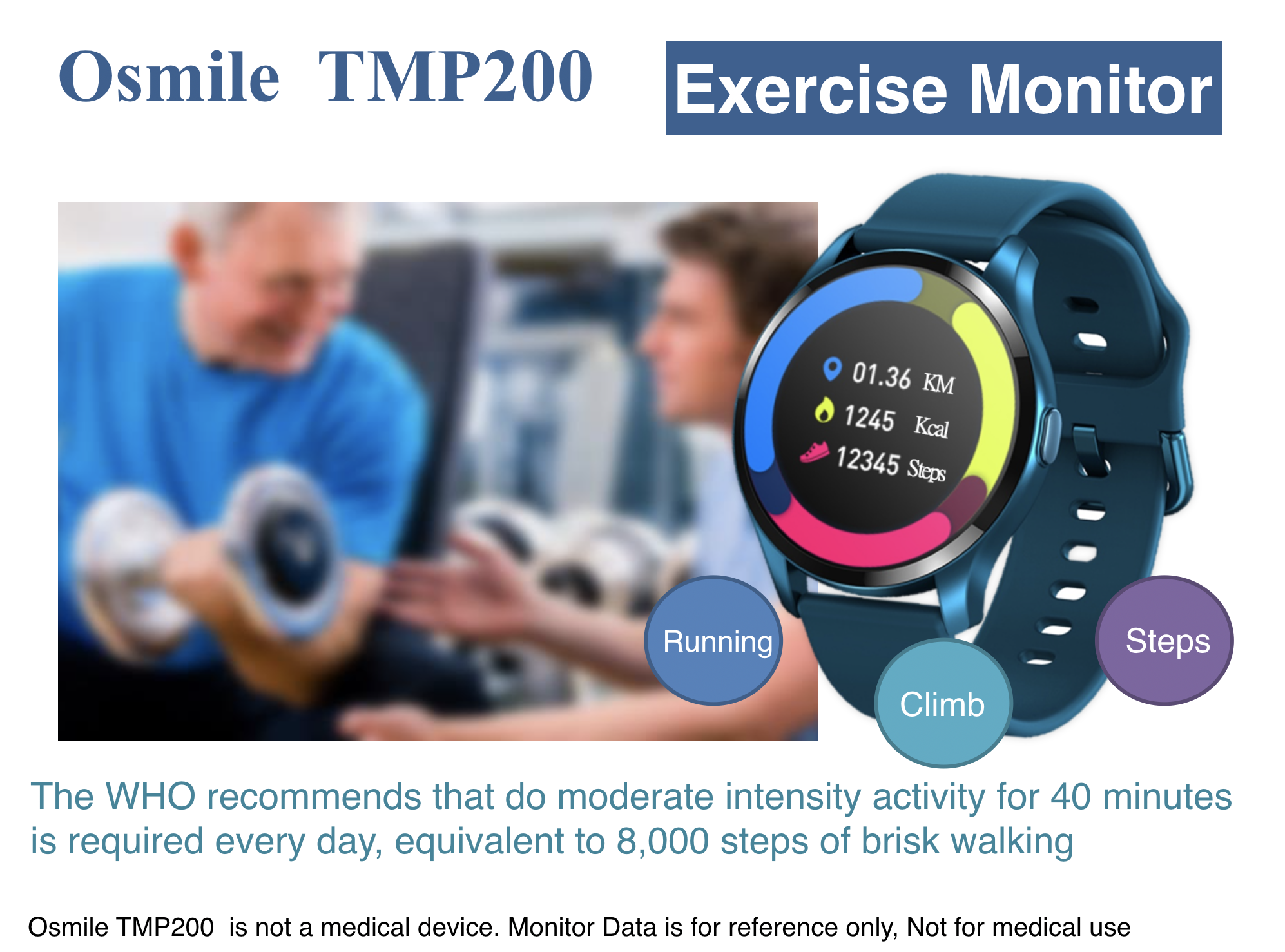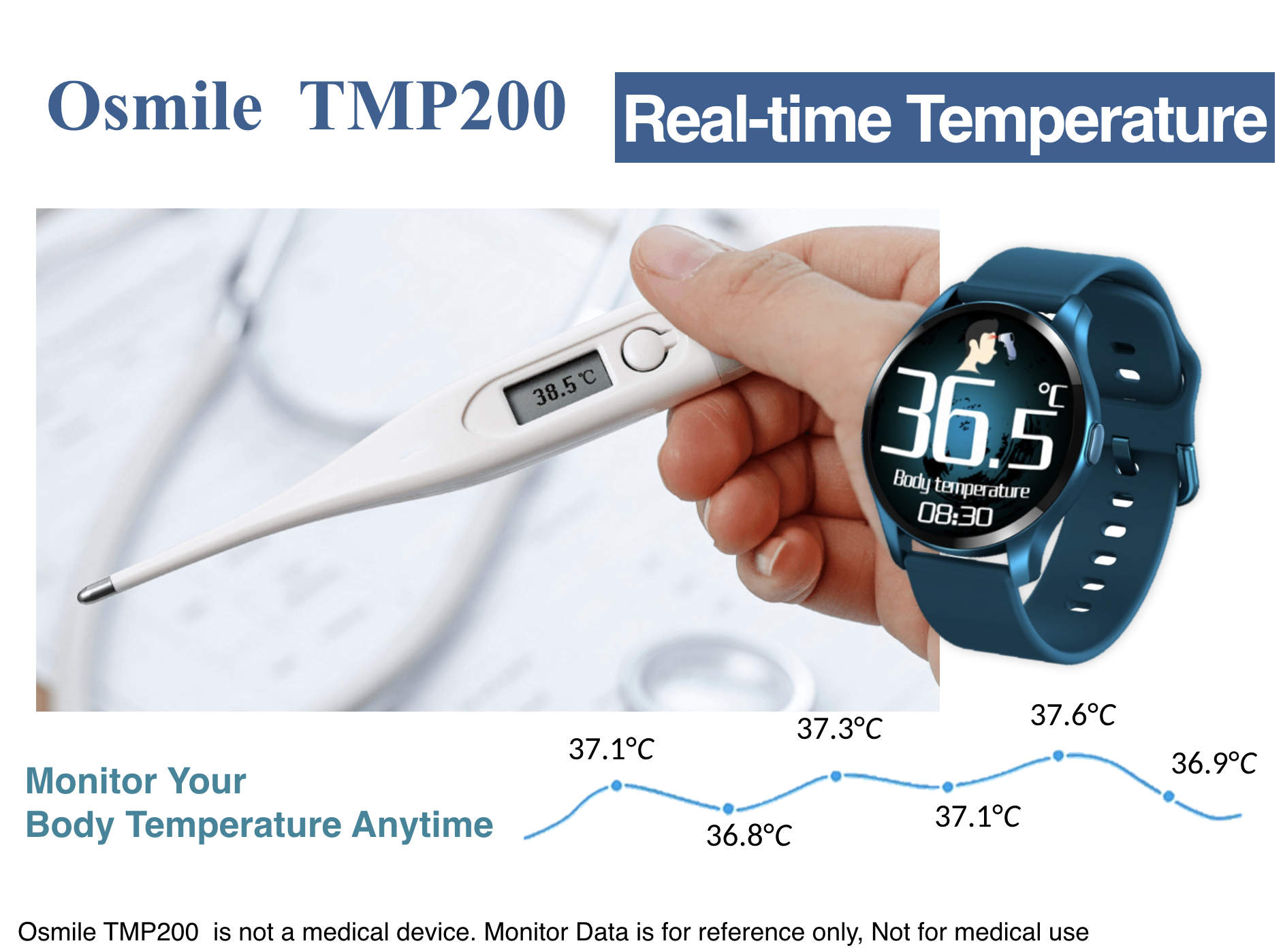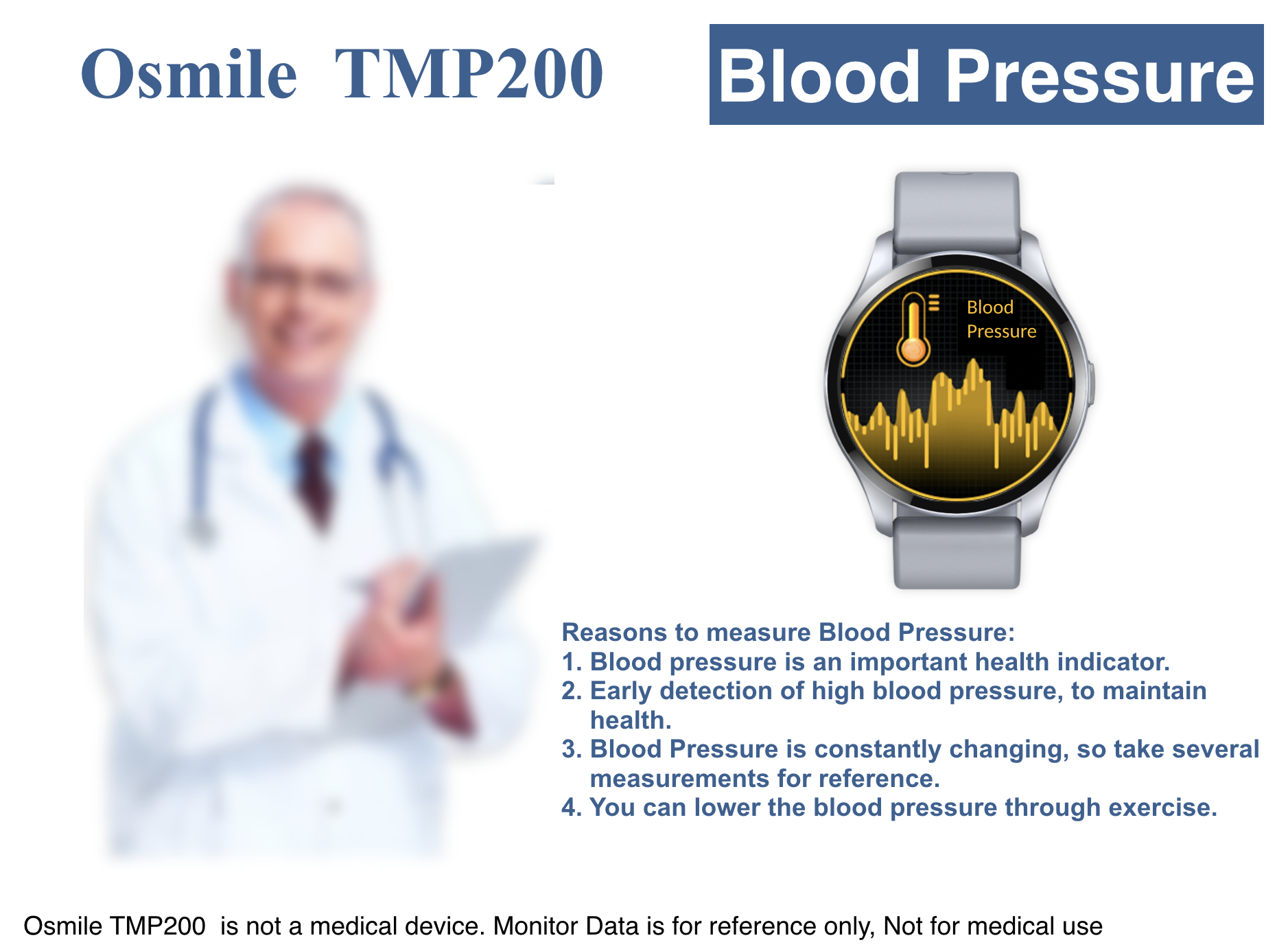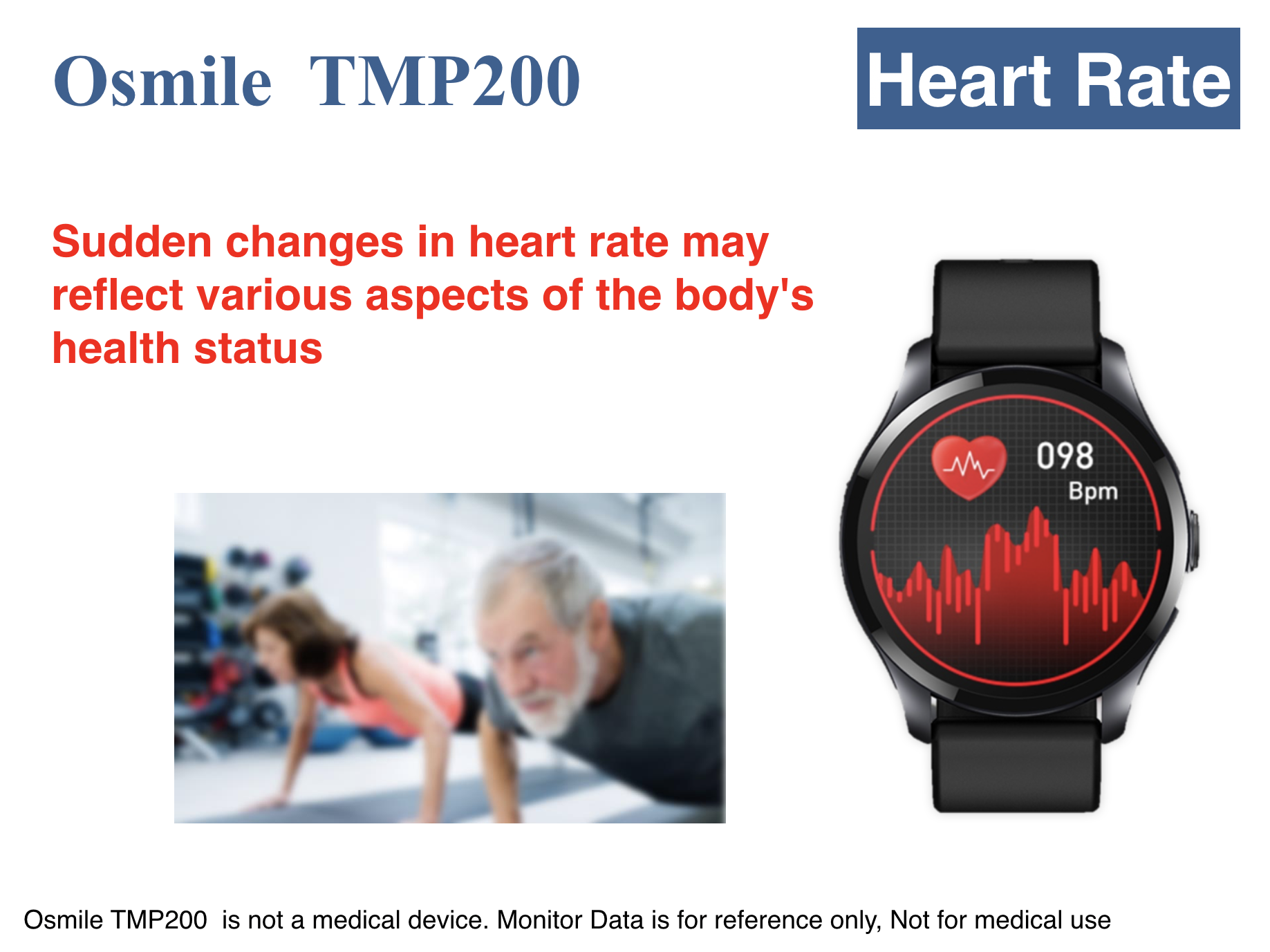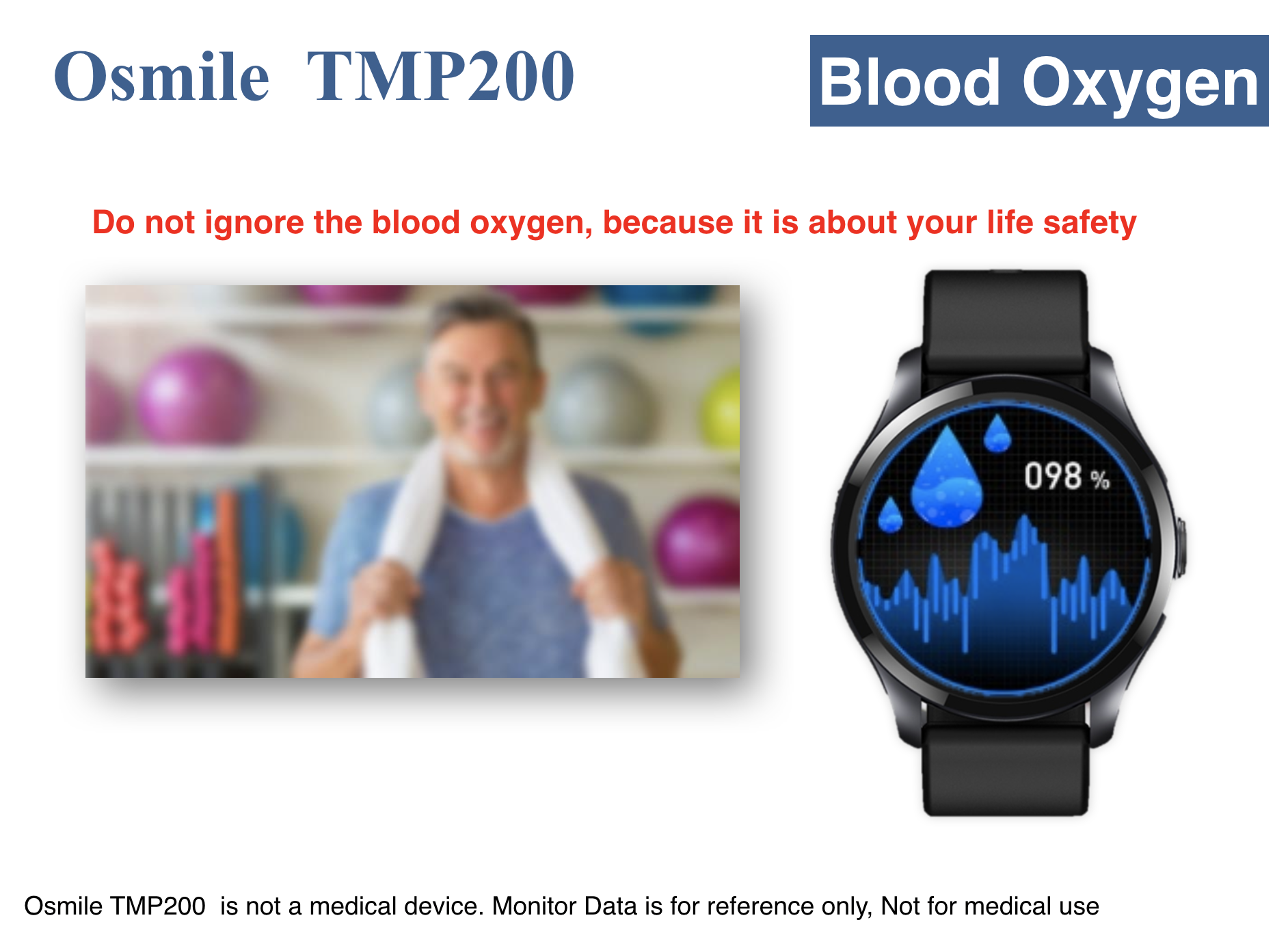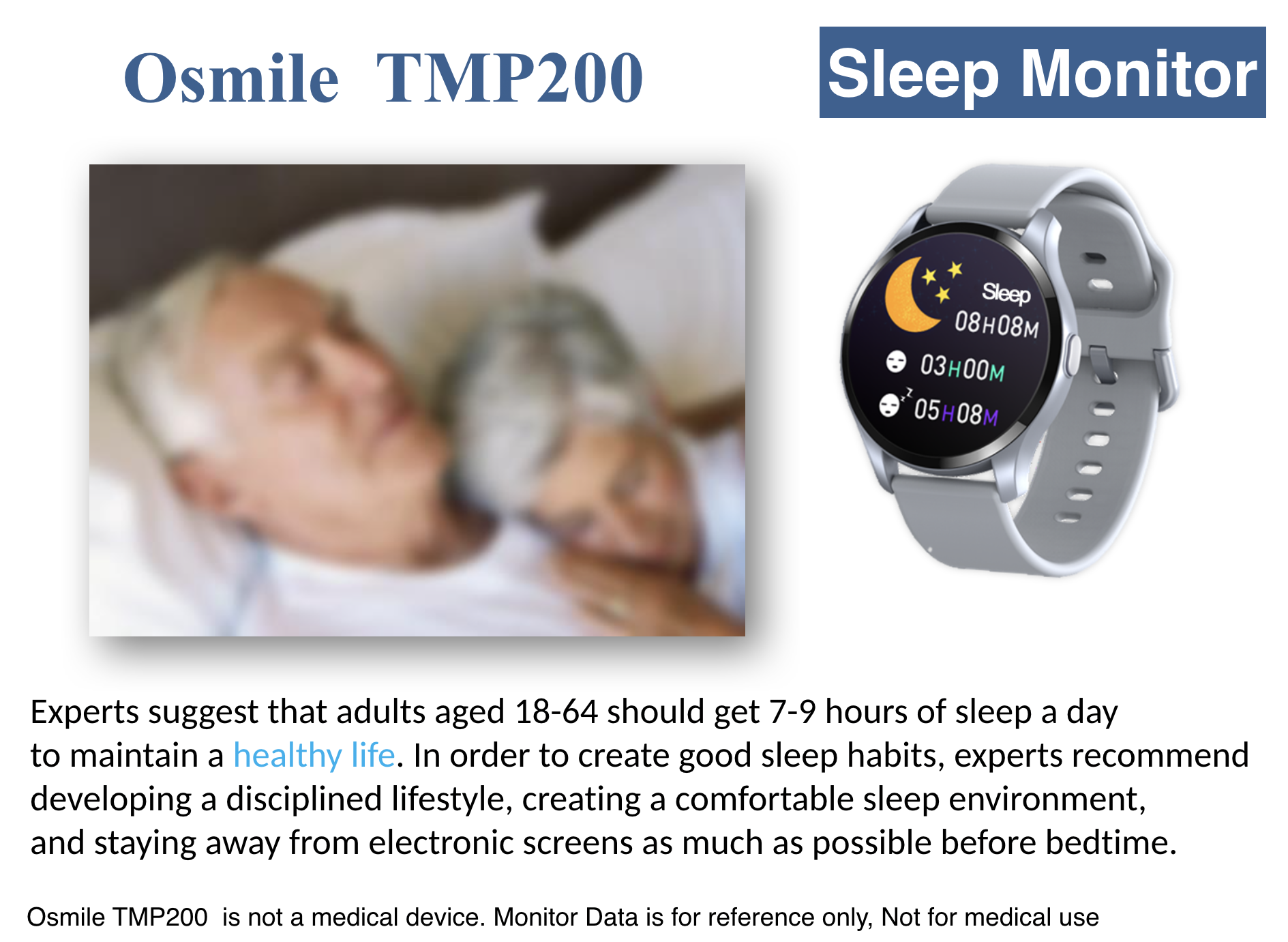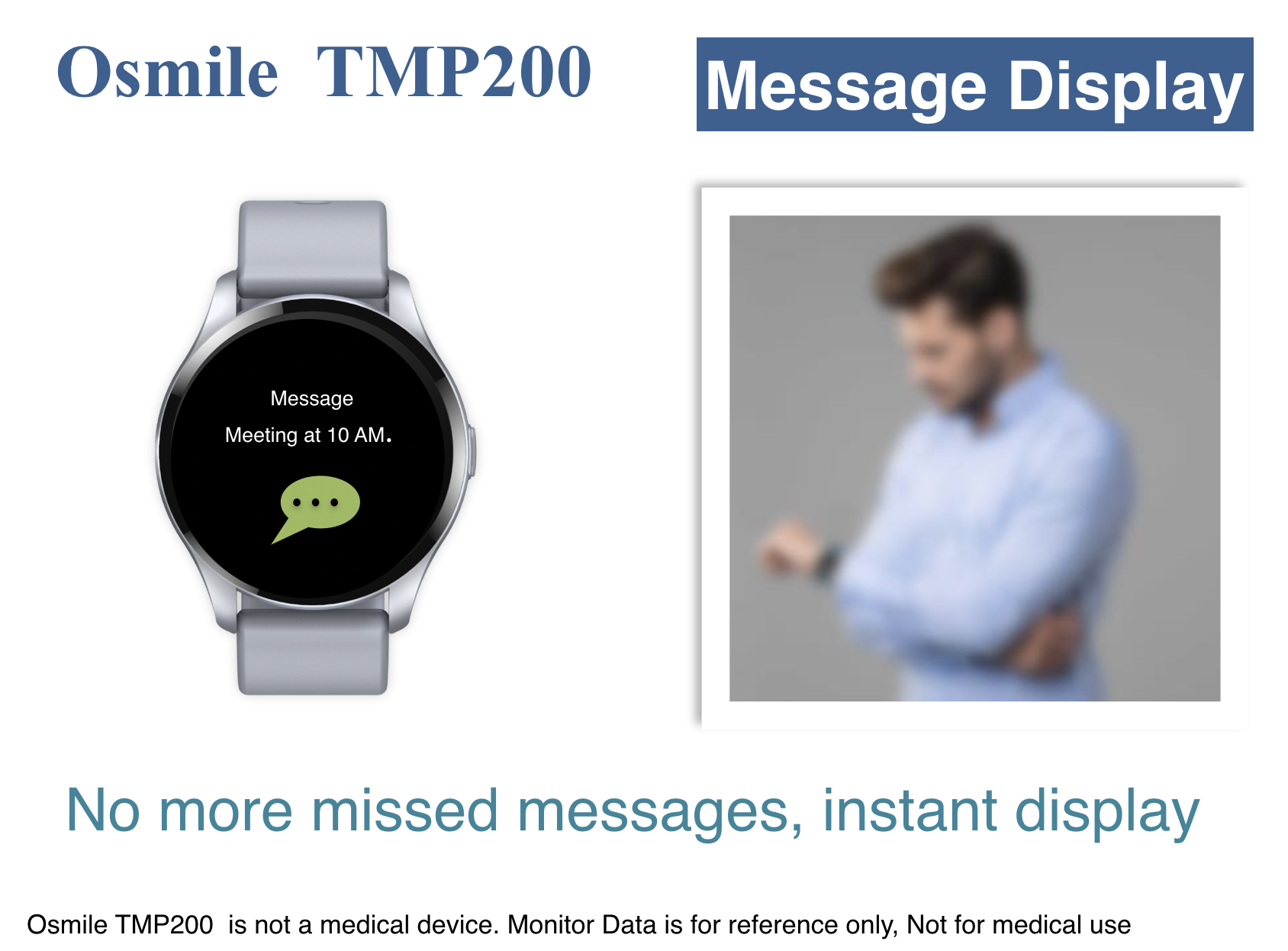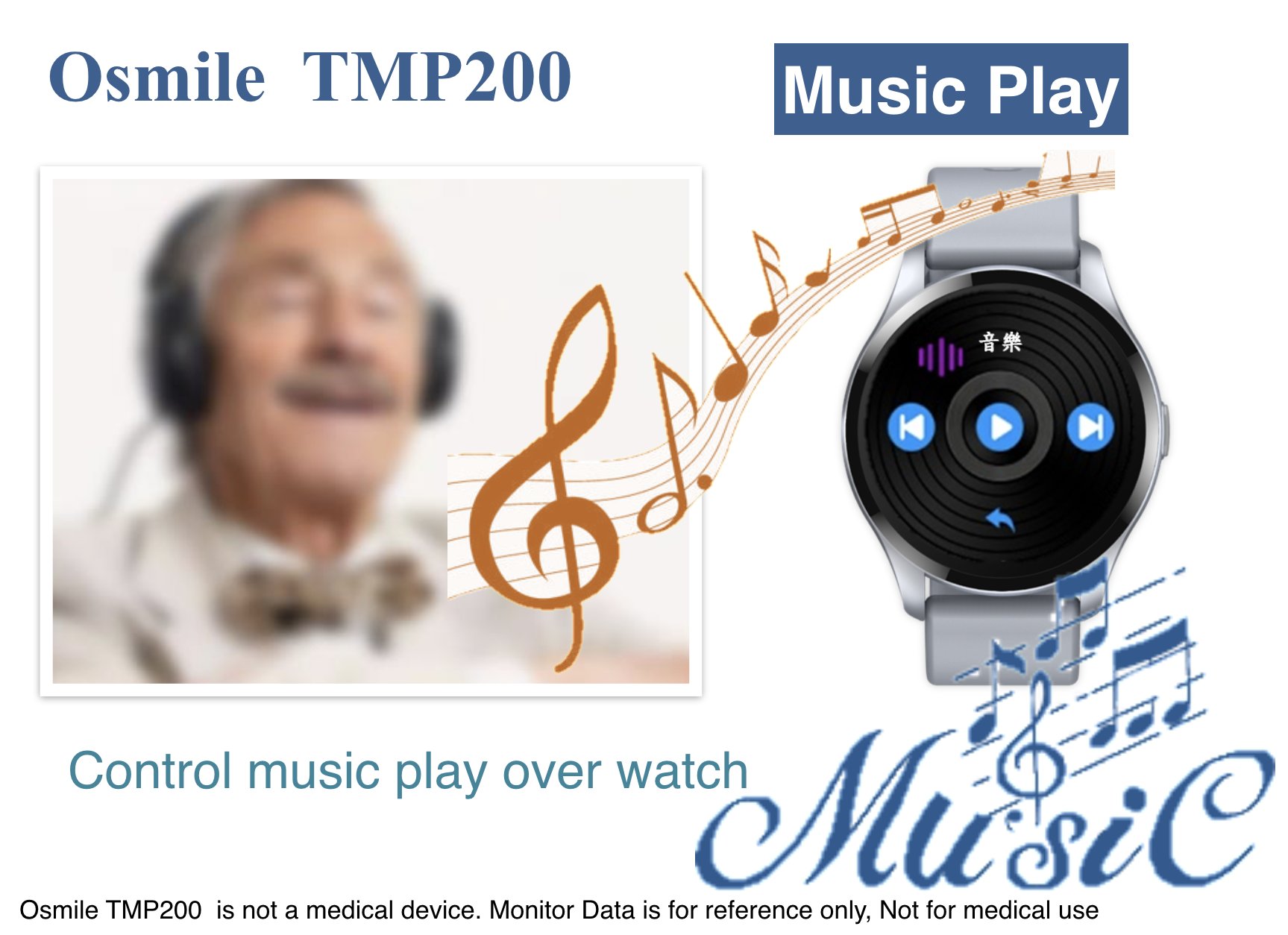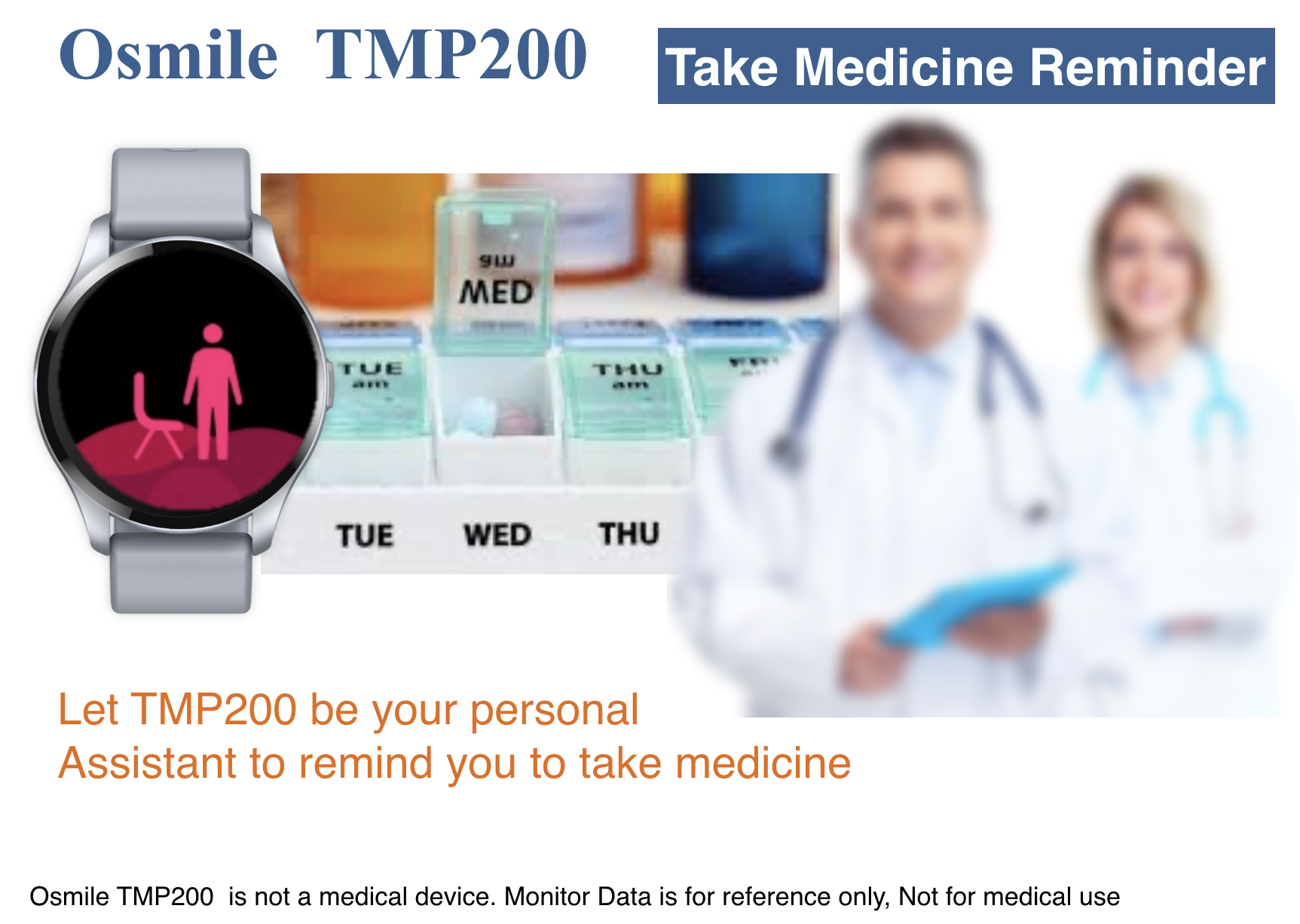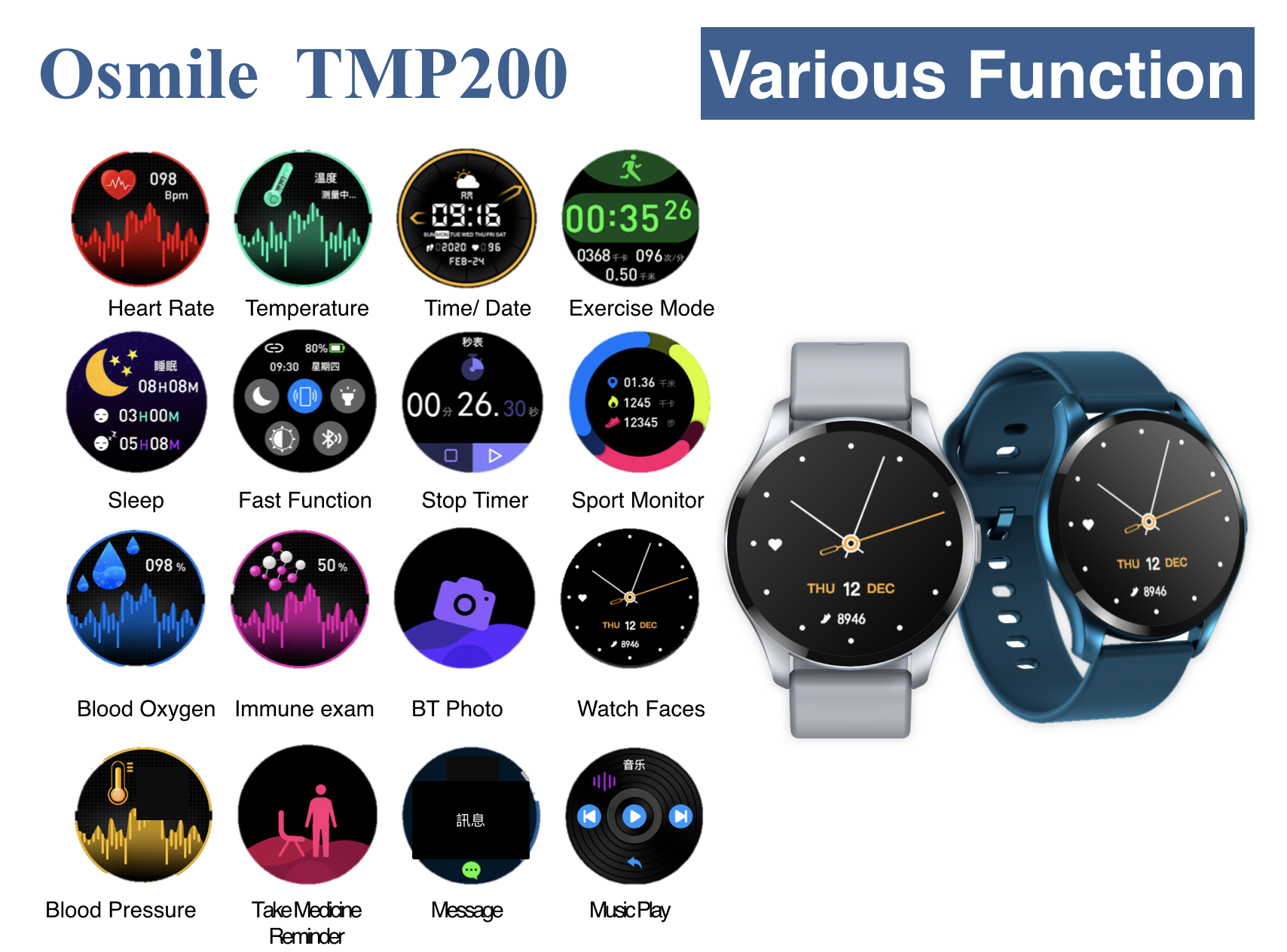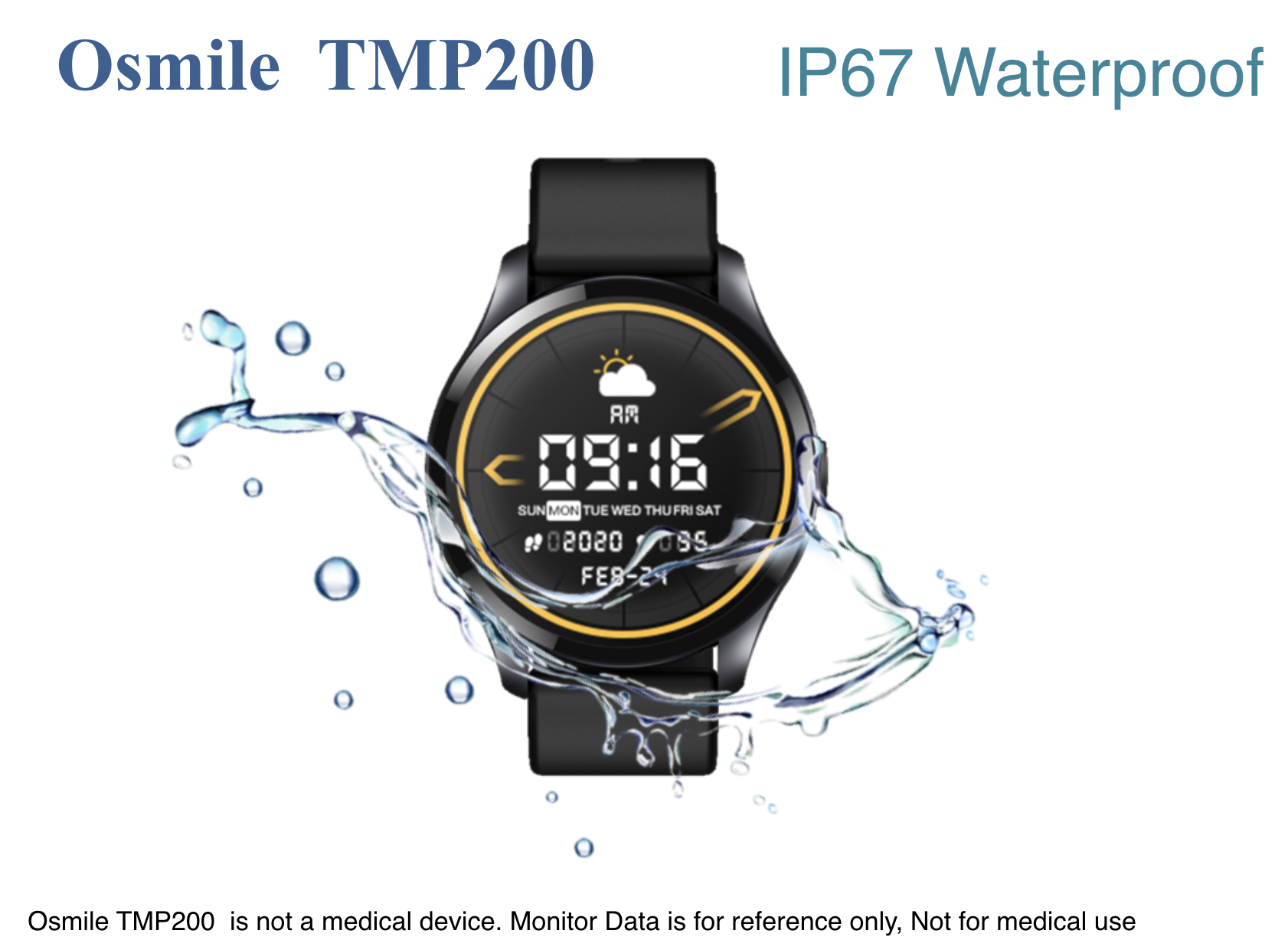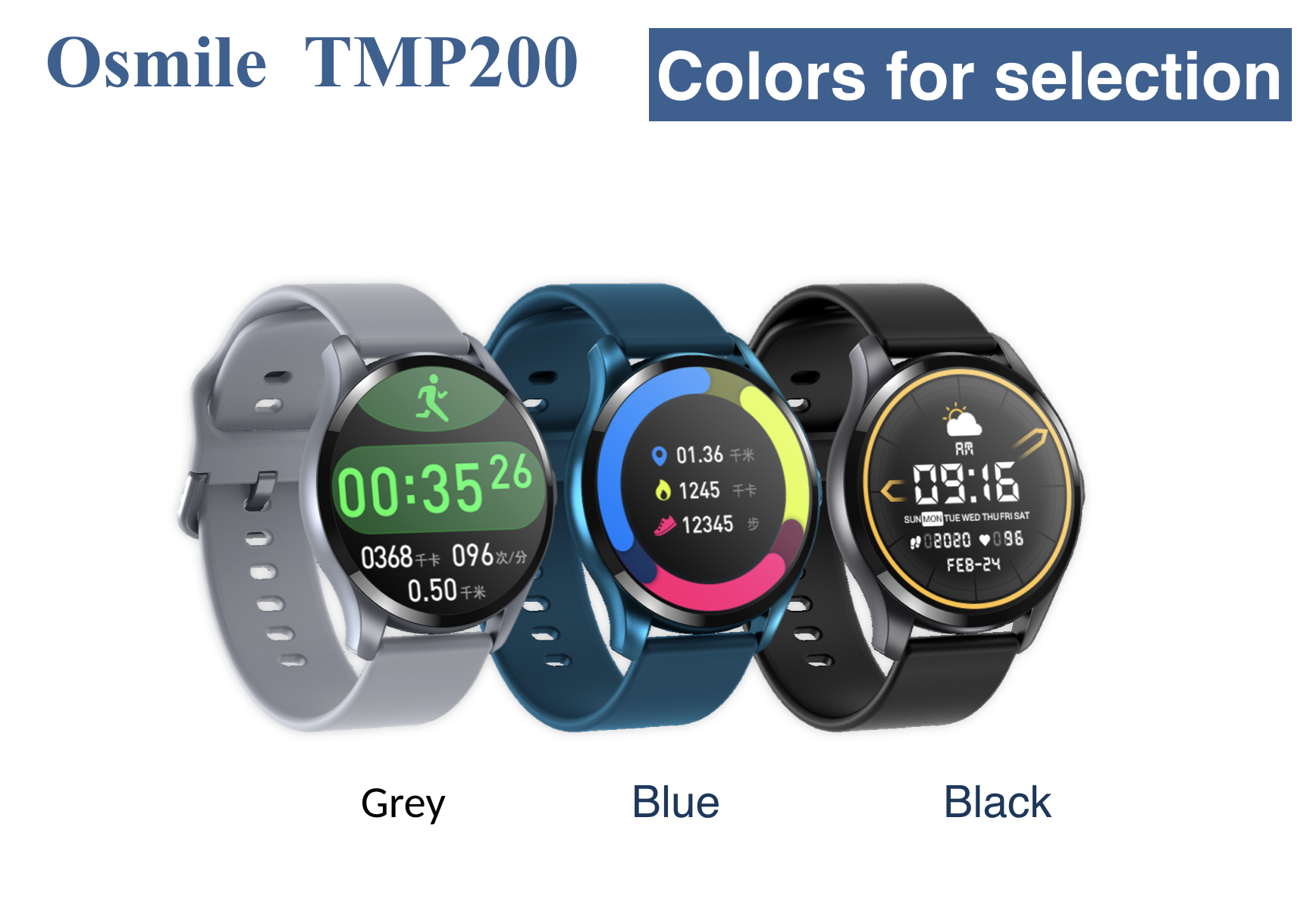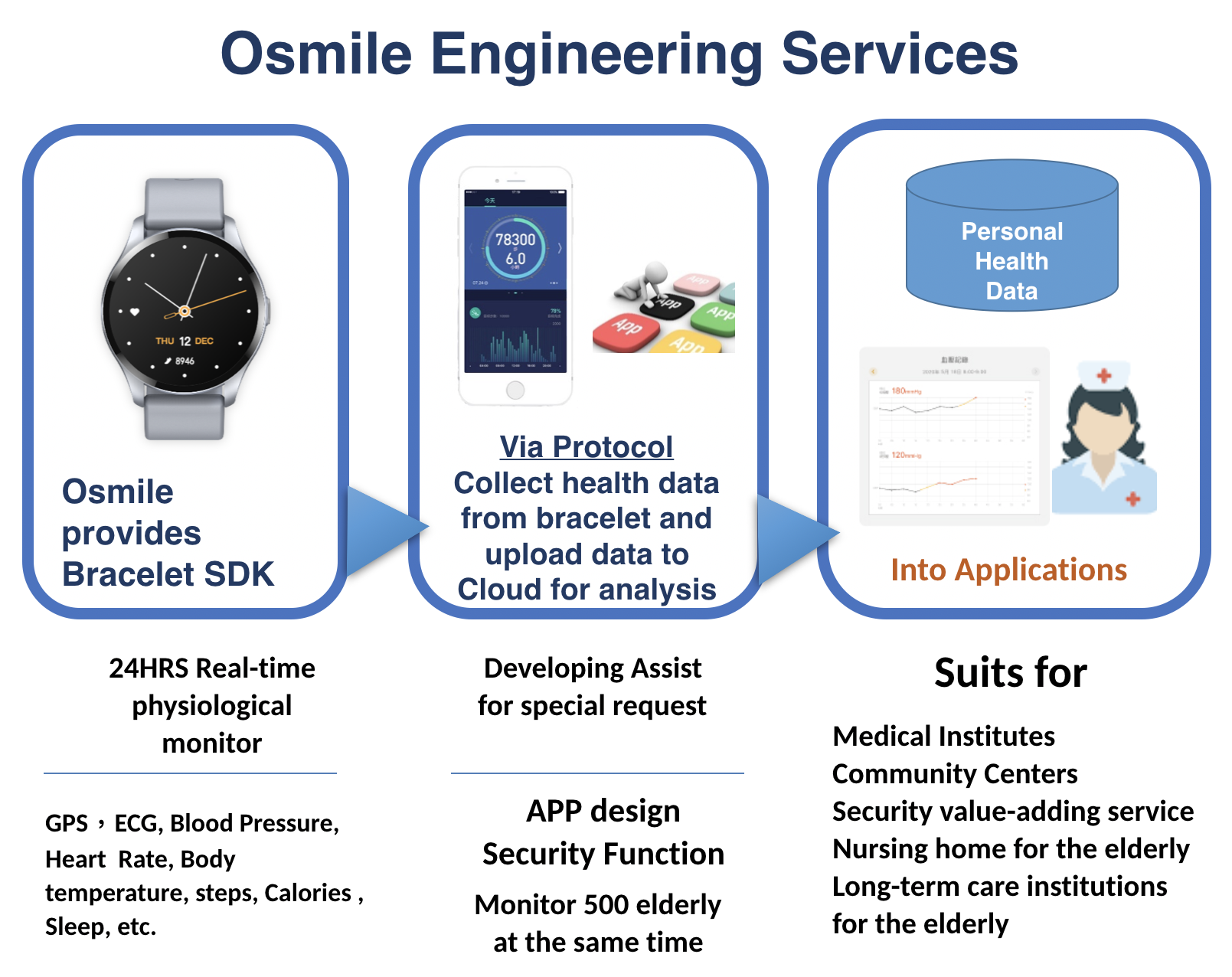 Health management functions :
1. Body temperature measurement
2. Oxygen measurement (pulse Oximeter)
3. Heart rate measurement
4. Blood Pressure measurement
3. Sleep measurement
5. Immunity measurement
6. Sedentary reminder
Osmile TMP200 smart bracelet is not a medical device and is not intended to be used to diagnose disease conditions. The monitored health-related data measurement results are for reference only. Please do not adjust your medication based on the Osmile TMP200 measurement results. Please take your medication as prescribed by your physician, who is the only person qualified to diagnose and treat diseases. All data are for reference only and should not be used for medical diagnosis. This product is not a medical device.
Osmile TMP200 Exercise Tracking.
1. Pedometer
2. Exercise time calculation
3. Running distance calculation
4. Calorie consumption calculation
5. Exercise stopwatch
6. GPS map for sports tracking
Other careful function of Osmile TMP200:
1. Alarm clock vibration reminder
2. Incoming call vibration reminder
3. Message vibration alert (Text, Line, FB, WeChat, QQ, Twitter, Linkedin, WhatsApp, Instagram, Snapchat, Skype, Gmail)
4. Bluetooth disconnection notice.
5. Low power consumption mode
6. No disturb mode
7. Exercise goal notice.
8. Countdown timer service
9. Beautiful selfie service
10. Find phone service
11. Forgetting to bring watch alarm
12. Raise hand display
13. 5 kinds of watchfaces
14. Switch setting
15. Device broadcast
16. Reset password
17 Female functions
18. Photo taking.
19. Multi-sport mode: climbing, running,
20. Make /Receiving calls
21. Call record.
22. Contact record and search.
Osmile TMP200 Specifications:
Model : Osmile TMP200
CPU model HS6620
Internal memory SRAM 512MB
ROM flash memory 64M
Touch mode: single touch
Acceleration sensor G sensor: 3 axis
Oscillating motor patch
Bluetooth built-in with FPC
Bluetooth 4.0
Languages supported: Chinese, Japanese, Korean, Latin, Cyrillic; Latin includes: (English, French, Spanish, Portuguese, German, Dutch, Vietnamese, Scandinavian, Central European, Southern European Italian, Southeast Asian, African); Cyrillic language package (Russian, Eastern Europe, Asia), can cover 150 countries.
System requirements: Android 4.4 or above ; iOS 8.4 or above
Screen size : 1.28" TFT color touch screen
Watch size : 245 * 22 * 2.5 mm
Bracelet (watch) : Weight 48 g
Band Material: Silicone
Bezel material : Zinc alloy
Battery Capacity : 310 mAh Li-polymer battery
Charging voltage: 5V
Charging method : Magnetic type
Charging time : 2 hours
Operating time : Approx. 3 -5 days (depending on usage)
Standby time: 7 days (depending on usage)
Color of bracelet : Grey, Blue, Black
Waterproof level : IP67
Ambient temperature: 10 - 50 °C
Warranty : 12 months
Accessories : Bracelet, USB charging cable, manual, warranty book, after-sales service instruction card
NCC certification code : CCAH19LP1250T7